SURVITEC'S SEAHAVEN RECEIVES LLOYD'S REGISTER TYPE APPROVAL CERTIFICATION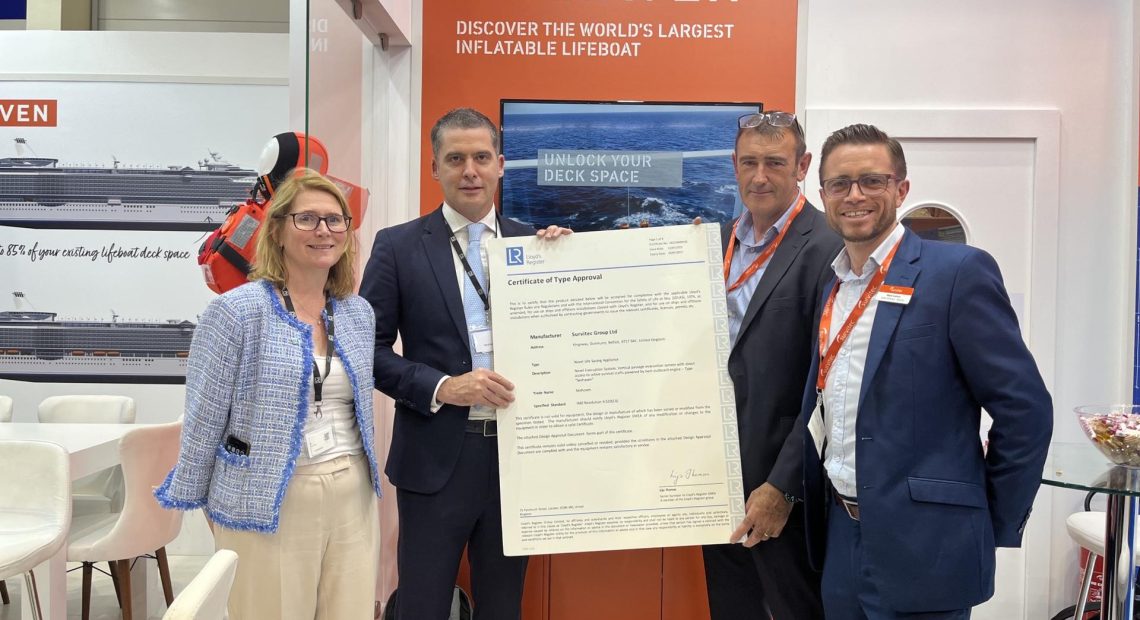 Survitec's Seahaven, the world's largest inflatable lifeboat, is now ready to be installed on cruise vessels, having received full type approval certification from classification society Lloyd's Register.
A Certificate of Type Approval was presented by Lloyd's Register Chief Operations Officer Mark Darley to Mark Cotton, Survitec Sales Director, during the SMM trade fair, which is taking place this week, in Hamburg, Germany.
Certification follows the successful completion of heavy weather sea trials (HWST) in December, and all environmental and physical testing concluded in April as defined by Lloyd's Register Type Approval (A.520).
Seahaven is unique in that it is the first lifeboat to have completed an exhaustive reliability testing programme that far exceeds the mandatory testing requirements set out by SOLAS.
"We are delighted to receive Lloyd's Register Type Approval," said Cotton. "The Certificate of Type Approval signifies all required regulatory testing has been successfully completed. Receiving this certificate is a significance achievement both for Survitec and the maritime industry at large."
Certification not only confirms Seahaven is compliant with the International Maritime Organization's stringent rules for the evacuation of cruise ship passengers and crew, but it offers industry an alternative to the traditional lifeboat arrangement.
The award-winning 1,060-capacity inflatable lifeboat solution takes all the safety features associated with a conventional lifeboat and MES arrangement. With the compact design and higher evacuation capability of Seahaven, up to 85% of cruise ship deck space is freed up yielding up to $8.4 million increased revenue per year for cruise operators.
Richard McCormick, AES and MES Product Manager at Survitec, said: "Commercially, the Seahaven journey is really just beginning. Since we officially launched this ground-breaking technology earlier this year, we have advanced our discussions with key industry players on the numerous benefits and the value of installing Seahaven onboard their vessels."
"Seahaven not only redefines safety at sea but also revolutionises the vessel design and the cruise experience," he said. "Cruise ship operators and naval architects are already looking at remodelling the space normally given to conventional lifeboats and davits for additional cabins, enhanced passenger experience and revenue generating opportunities."
Mark Darley, Chief Operations Officer at Lloyd's Register, said: "Survitec's Seahaven inflatable lifeboat solution is a breakthrough in innovative space saving design and will present significant opportunities for cruise ship owners whilst prioritising safety at sea. Lloyd's Register are extremely proud to award Type Approval Certification to Survitec for this design."
Representatives from Survitec will be available to discuss in detail the space-saving safety attributes of Seahaven and other Survival Technology solutions on Stand 528, in Hall B of the SMM trade fair, which takes place this week at Hamburg Messe + Congress.
Nicola Good, Head of External Relations, Lloyds Register; Lloyds Register Chief Operations Officer Mark Darley; Stew Gregory, VP of Innovation at Survitec and Mark Cotton, Survitec Sales Director.
Editors' Notes
Seahaven is a unique inflatable lifeboat system providing helical (spiral) slide-based evacuation from large passenger vessels. Its innovative design increases available deck space by up to 85%, making it appealing to ship designers, architects and operators looking to fit more into the limited space available onboard passenger ships. Because the system eliminates the need to locate lifeboats in conventional locations on the port and starboard waists of a ship, it introduces flexibility for designers to introduce more cabins and other amenities. Deployment can be achieved within four minutes at the touch of a switch instead of using davits, while multiple slides make access easier for mobility-impaired passengers and enable evacuation of family groups. The self-propelled evacuation system is accessed by high-pressure inflatable slides and can be stowed in a rigid pod alongside the ship. It is also the largest-capacity evacuation system currently available, with each of its two units able to carry 530 people. Once launched, it can travel independently at six knots for 24 hours.
About Survitec
Survitec is a global Survival Technology leader to the maritime, defence & government, aerospace and energy sectors. Survitec has over 3,000 employees worldwide, covering 11 manufacturing facilities and over 400 service centres. They operate in over 2,000 ports, spanning 96 countries. Survitec are the world's largest manufacturer and supplier of liferaft, Marine Evacuation Systems (MES) and offshore rental PPE. They are a leading supplier of fire solutions to the maritime industry and hold a market leading position for Pilot Flight Equipment in the aerospace & defence market. The Survitec team live by their purpose "We Exist to Protect Lives". Throughout its 168-year history, Survitec has remained at the forefront of innovation, design and application engineering and is the trusted name when it comes to critical safety and survival solutions – survitecgroup.com
For more information or to arrange a media interview, please contact Seaborne Communications
Mobile: +44 0203 758 8703
Email: pr@seabornecomms.com
Website: www.seabornecomms.com
This email is intended for the addressee named above only. If you are not the intended recipient please notify the sender immediately, and in the meantime do not disclose the contents to any other person nor use, copy or store the e-mail in any medium. We can accept no liability if this e-mail is accessed by third parties during the course of transmission or is modified or amended in any way following despatch.
To unsubscribe and no longer receive our emails please click
unsubscribe