Sikafloor Marine Ultra-Light Floating Floor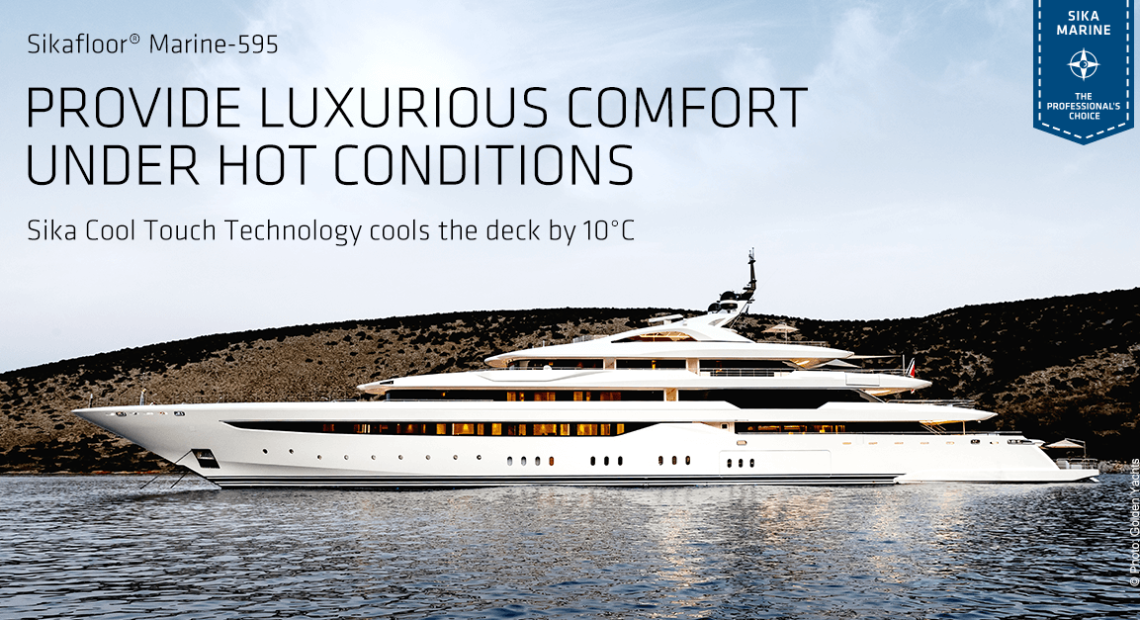 All ships have a significant environmental impact during construction, operation, and even when they are scrapped. Fortunately, new technology and modern approaches to building ship components have the potential to make them more sustainable, recyclable, lightweight, and less noisy for marine animals. Floating floor systems are an important innovation with solid potential for positive ecological impact.
Floating floors for ships, smaller vessels and yachts improve comfort by enhancing the ship's acoustic qualities. They are also very lightweight and consume less fuel and energy. Last but not least, these floor systems are extremely durable – they eliminate the need for heavy, thick, solid flooring in the ship.
How Does the Floating Floor Work?
A floating floor, as the name suggests, has no connection to the super-structure of the vessel. It is applied on insulation. To achieve this, all pipes, foundations for machinery, columns etc. must be disconnected from the structure.
Floating floors are built above the existing subfloor and can use various insulation materials. The floor system is separate from the steel deck, and it is covered by the floor finish. The acoustic features of such floor systems can be described using the mass (insulation) and spring (top layer) concept.
About Sikafloor Marine Ultra-Light Floating Floor
This new floating floor system from Sikafloor is a state-of-the-art solution that has never been seen before in the marine industry. By using the latest technology, the ultra-light floating floor is extremely lightweight and can save up to 33 kg/m2. To explain all the various benefits and ecological impact of this system, GSR Services GMBH created a whitepaper that describes the CO2 footprint reduction, energy savings and how the new flooring system can help save tons of steel during ship construction. Cost Smeralda cruise ship was used as an example in this whitepaper.
Application Areas
Sikafloor Marine Ultra-Light Floating Floor can be used for cabins located at the upper or lower areas of the ship. Yachts, vessels, and ships can utilise this advanced floating floor system to cover all non-acoustic, solid flooring areas, including kitchens, engine rooms, cabins, and decks. It is also suitable for all interior installations in public, passenger, and crew cabin areas. If an extremely heavy load is expected in the area, then the traditional Sikafloor Marine floating floor systems are a more suitable choice.
Key Characteristics
There are several key advantages, features, and characteristics of Sikafloor Marine Ultra-Light Floating Floor. These include the following:
Excellent weight savings, up to 33 kg/m2
Durable and robust
A60 fire rated flooring solution for improved fire protection
No VOC and EH&S issues
Documented Visco Elastic solution
Fully documented acoustic performance
Suitable for heavy loads, up to 2,500 kg/m2
Fast and easy to install, resulting in reduced labor costs and time on site
Corrosion resistant
100% recyclable flooring panels
Flexible, waterproof membrane layer
IMO/SOLAS certified. Also has US Coast Guard, Wheelmark MED-B and -D, and EC-Type examination certificate.
A Sustainable and Eco-Friendly Solution
The maritime industry contributes significantly to global greenhouse gas emissions with millions of tons of CO2 being released annually. Ship construction and building itself consumes a lot of energy. Waste is produced even when it's time to scrap the ship at the end of its life. This is because only a handful of a ship's parts are repurposed. Building ships and vessels that are less heavy is one of the strategies to reduce emissions. Floating floor solutions like Sikafloor Marine Ultra-Light Floating Floor can reduce the weight of the ship as well as its overall fuel consumption. Less fuel consumption means less pollutant gas emissions.
Sikafloor Marine Ultra-Light Floating Floor has positive ecological implications, and it is sustainable in multiple ways. Thanks to its lightweight floating design, the maritime industry can save millions of dollars every year in fuel consumption as opposed to traditional flooring systems. Additionally, the use of the ultra-light floating floor reduces the overall amount of steel on the ship, allowing it to increase its capacity, or sail faster or further for the same amount of fuel.
Apart from this, using the Sikafloor floating floor system could also extend a ship's lifetime and reduce resources required for its maintenance. Traditional flooring systems are vulnerable to corrosion and require frequent repairs, but this is not a problem with Sikafloor Marine Ultra-Light Floating Floor. There is also a potential to better reuse ships that feature this floating floor system as these ships can be recycled at the end of their life.
The Bottom Line
Minor differences can bring major benefits. The demand for floating floor systems on ships and vessels is increasing as their economic advantages and positive ecological impact become more evident. Developed by Sikafloor Marine, the new ultra-light floating floor solution is sustainable and offers many amazing features. Sikafloor Marine views this solution as a long-term project and is determined to further improve it as the flooring technology evolves and demand for sustainability increases.
Contact details
Michiel Bos
Corporate Market Field Manager Marine
Sika Nederland B.V.
Zonnebaan 56 · 3542 EG Utrecht · Netherlands
Phone: +31302410120 · Mobile: +31651407014
bos.michiel@nl.sika.com ·
www.sika.nl