Orkney port – MV Hamnavoe 'Green Energy' Initiative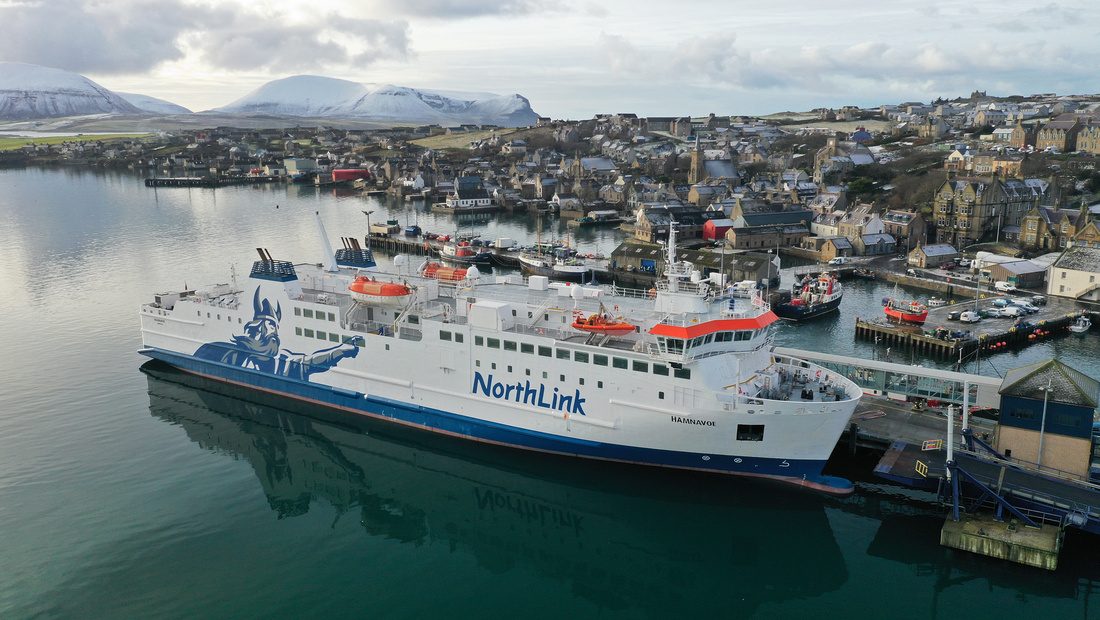 Recent environmental initiatives introduced at Orkney port include some extensive projects that focus on reducing carbon emissions and preserving marine ecology. Back in 2019, Orkney Islands Council announced the beginning of a project to reduce the environmental impact of the ships docked at Orkney port. The project was delayed because of the COVID-19 pandemic.
The main purpose of the project is to supply local green electrical power to the MV Hamnavoe NorthLink ferry when it is docked in Stromness.
NorthLink ferries offer frequent, fast sailings to the Orkney and Shetland Islands from mainland Scotland. MV Hamnavoe runs the Pentland Firth route – a service between Stromness in Orkney and Scrabster, near Thurso, on the Scottish mainland.

The UK's First Large Commercial Ship-to-Shore Connection
To reduce carbon emissions and promote green shipping, Schneider Electric announced the initiative to supply local green, eco-friendly electrical power to MV Hamnavoe NorthLink ferry when it is docked in Stromness, Orkney. It is considered the UK's first large commercial ship-to-shore connection. This specific project is a part of the low carbon shipping and travel project for the island town.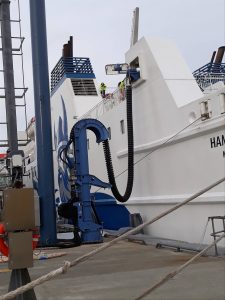 The power supply system that will be used to provide green electrical power is called 'cold ironing'. It will be connected to MV Hamnavoe when it is docked in Stromness at nighttime, allowing the ferry's onboard generators to be switched off. The supply of green electrical power that is produced locally will cut the carbon footprint from the generators, hence lowering fuel consumption and leading to a significant reduction in carbon dioxide emissions. It is expected that it will lower the ferry's fuel consumption by at least 500 tonnes annually. Apart from this, it will also make a contribution towards further reducing sulfur oxides, nitrogen oxides and noise.
Schneider Electric will carry out the shoreside installation work for this project. They are a market leader when it comes to digital transformation for energy automation and management. The project will include installation of the cable connection system to MV Hamnavoe to provide overnight shore power, a transformer upgrade and new pier cables – with the power coming from green, renewable energy resources.
The project is essentially a fresh approach towards preserving marine ecology and reducing marine pollution.
Other Key Elements
Apart from the primary aim, there are three other key elements of this project. These include the following:
Electric bus charger installation at the ferry terminal. This will be done to facilitate the use of electric vehicles on the Stromness to Kirkwall route.
Electric vehicle charging point installation. This will be available to both ferry users and other electric vehicle owners.
The procurement of electric bicycles. These bicycles will be made available to the general public, in addition to charging facilities and shelters.
The Vision
According to the chairman of the council's development and infrastructure committee, achieving a sustainable future for transport in Orkney is the primary vision of this project. This project will help bolster various transport decarbonising initiatives that cover ferries, cars and buses, allowing them to take advantage of the unmatched tidal and wind energy produced in Orkney.
According to another statement, this project is the cornerstone of the continued progress towards sustainable, low carbon shipping and transportation in Orkney. The state-of-the-art ship-to-shore connection will contribute to reduced emissions and improved air quality in the area.
Contributing to Marine Ecology
The zone president of Schneider Electric, Mike Hughes, acknowledged the concerns related to marine pollution. Maritime emissions from the UK's fleet alone amount to a large portion of the entire transport sector's nitrogen oxide emissions. These emissions have been linked to various health problems and even early death. The UK has been quite slow to adopt ship-to-shore connections technology despite being aware of its commercial and environmental benefits. By plugging into the power grid with a green, renewable supply for electrical power, UK maritime transport could significantly reduce environmental impacts and minimise a major health hazard.
Orkney is one of the world's leaders in sustainable, renewable energy, and the Orkney port management is hopeful that this specific project will bring many benefits, environmental and commercial, to the island, its people and its wildlife.
Reducing the Environmental Impact
Managing director of Serco NorthLink, Stuart Garrett, has stated that the MV Hamnavoe green energy initiative is yet another example of their efforts to reduce the environmental impact and improve quality of life in the local communities.
Project Funding and Futureproofing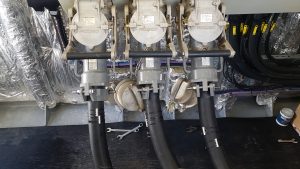 The European Regional Development Fund provided £670,000 of funding for the project. Additional funding for this initiative came from HITRANS and the council's Miscellaneous Piers and Harbours fund. Transport Scotland and Serco Northlink has helped to futureproof the project via a detailed technical upgrade and rewire, facilitating full compatibility with the state-of-the-art cold ironing technology.
Apart from this, the project received funding from several other sources, including the Low Carbon Travel and Transport Challenge Fund. This is a capital fund that aims to facilitate the delivery of low carbon paths and hubs.
Conclusion
As the Orkney Harbour Authority unveiled its updated masterplan earlier this year, the focus was made clear – to move the harbour (and wider industry) towards decarbonisation.
The transformation of the harbours will help build towards a more sustainable, greener future, to help the country as a whole meet its climate change targets.
Paul Olvhoj, business development manager at Orkney harbour, said:
'We know what we have to do, we know what net zero targets we have to achieve, whether they're from the Government or Orkney Islands Council, which we are part of.
Sticking to those targets puts us in an interesting position, because our industry needs innovative technological advances to power deep-sea ocean-going vessels with cleaner fuel.
We have to set up base infrastructure so we can make the most of that innovative technology when it comes online.'
Contacts
Paul Olvhoj FICS
Business Development Manager
Marine Services
Harbour Authority Building
Scapa, Orkney, KW15 1SD
Tel: 01856 873636
Mob: 07595 091 393
E-mail paul.olvhoj@orkney.gov.uk
Web: www.orkneyharbours.com