A breakthrough in single-vessel oil spill recovery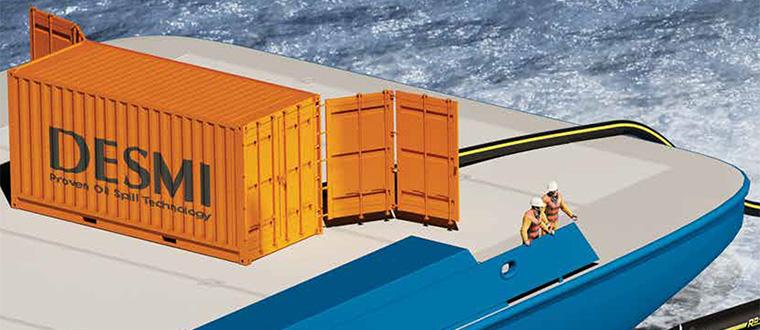 It's finally here: 'Ro-Vane', DESMI's eagerly-awaited, new aquatic device that makes oil spill clean-up efforts with a single boat quicker, easier and less costly. By teaming up a DESMI Speed-Sweep boom and a suitable in-line skimmer (DESMI Ro-Skim or DESMI Octopus Inline Skimmer) in one product, Ro-Vane completely eliminates the need for a second clean-up vessel.
A real game changer
Until now, using one vessel to clean up oil spills was always a cumbersome task, undertaken only as a very last resort. The DESMI Ro-Vane, being the new product from market-leader DESMI, is designed to handle the functions of a second boat. Instead of being the last resort, single-boat clean-ups are poised to become the first choice for a variety of spill scenarios.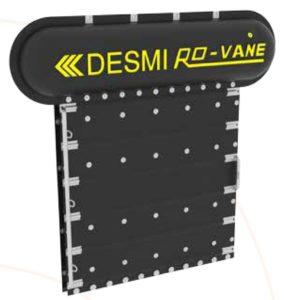 No more trade-offs
The obvious benefit of deploying two boats to clean up a spill carries with it two inherent disadvantages: higher costs and bigger logistical demands. Using a single boat to operate the spill recovery boom, on the other hand, presents its own challenges caused mainly by the cumbersomeness and unwieldiness of the heavy equipment needed for the clean-up. Using one boat takes longer since operating the equipment is a much more arduous task. So it's always been a toss up between cost and efficiency. Or at least it was until now. By incorporating two of their other tried-and-tested products, Speed-Sweep boom and Ro-Skim / In-Line Octopus Skimmer, into the Ro-Vane, DESMI has created a much simpler, quicker and cost-reducing system.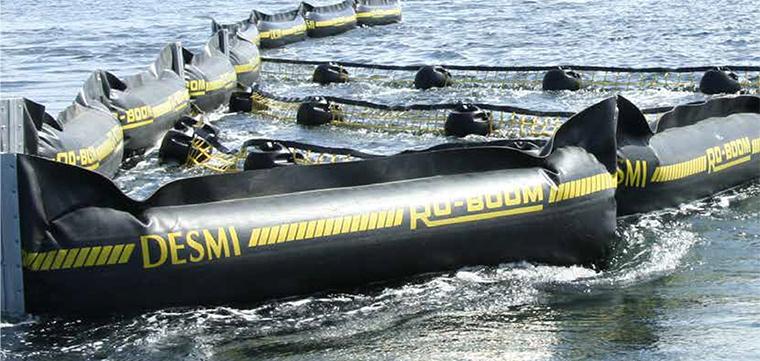 According to Henrik Jensen, Sales and Project Manager for DESMI Ro-Clean A/S, there have been numerous, complicated ways to try cleaning oil spills using a single-vessel system over the past decades, including a jib and a float attached to the stern and aft to maintain the shape of the sweep. "Today, the best approach is to use an aquatic device", he says. "The few devices already on the market, however, have presented their own set of difficulties."
Here's how Ro-Vane basically works. It's deployed behind the recovery boom, so it keeps the sweep in the proper shape. At the apex, there's the integrated Ro-Skim in-line skimmer that removes the oil from the apex. Likewise integrated is the rubber Speed-Sweep boom with its multiple permeable barriers which boosts the recovery speed from 0.7 knots (the industry standard) to up to 3 knots, or in other words, a whopping 350 percent increase. With the necessary equipment on board, one boat can easily handle the workload of two.
Further benefits
Specialists in the field can tell you that it isn't just about speed. Equipment also needs to be easy to handle. The lightweight Ro-Vane with its combined system is both easier and cheaper to use. Without all the loosely-fitted devices at the apex, DESMI's new product offers easier maintenance, and therefore, less potential problems. What's more, the lightness of the Ro-Vane makes it possible to launch without using a deck crane. Having few devices and no crane means that the Ro-Vane is safer to use and so reduces the risk of accidents.
Ease of transport and storage is another area where the Ro-Vane racks up points. Since the Ro-Vane is inflated with air, as opposed to the standard foam, the same air pump used to deploy the Speed-Sweep's boom can also be used for the Ro-Vane. Replacing rigid parts with rubber components wherever possible not only offers additional safety to the crew, but also reduces the risk of damage to the hull, thus delivering even further cost savings.
All under one roof
Recovery contractors will no longer need to deal with different suppliers when it comes to parts and technical support. All parts are manufactured and distributed by DESMI, making delivery easier and faster. In the event of an oil spill, time, of course, is of the essence. Solutions need to set in motion without delay.
Buoyant hose sleeve
Looking like a huge anaconda, except for its fluorescent yellow zipper, the ZUH (Zipper Umbilical Hose) is a fantastic innovation. The floating sleeve houses the hoses that carry the oil from the skimmer to the holding tank. It's a sleek and simple solution to the problem of hose maintenance and one which removes the need for multiple floatation devices for each individual hose. The ZUH's oil skimmer, which is fitted to one end, can be used during winding off, as well as on the reel.
A worthwhile investment
The oil spill recovery market can see huge benefits in the near future, says Jensen, thanks to DESMI's combined products. "The DESMI Ro-Vane and our single-vessel system really stand out. By turning single-vessel systems into a smart choice instead of a poor alternative, we can make an extremely worthwhile difference to how much oil can be recovered – in a shorter time-frame, with fewer resources and greater safety", he believes.
For now, DESMI will be offering the new Ro-Vane and comprehensive training to small and medium-sized boats operating in open coastal waters. Another model for larger vessels operating offshore is in the pipeline.
Get in touch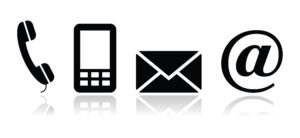 Henrik Jensen
Sales and Project Manager
Direct: +45 6548 1621
Mobile: +45 2042 8201
hj@desmi.com