WISTA International AGM & Conference 2023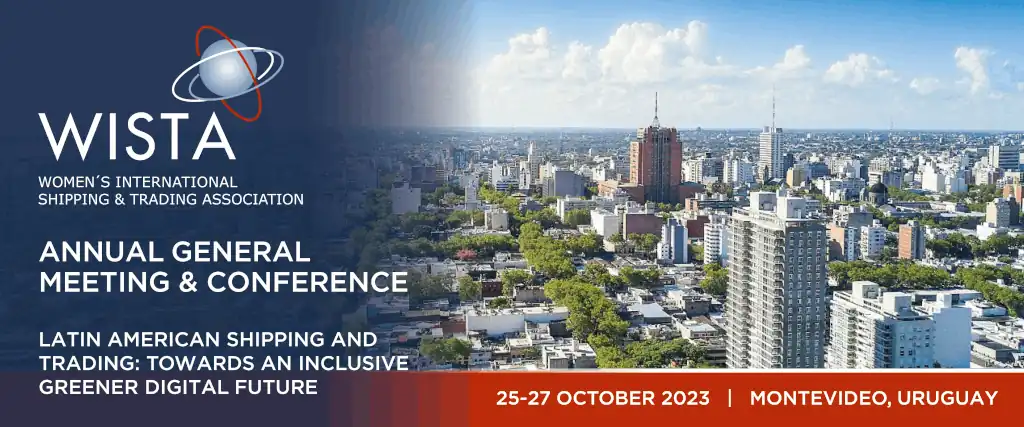 LATIN AMERICAN SHIPPING AND TRADING: TOWARDS AN INCLUSIVE GREENER DIGITAL FUTURE
This year's WISTA International AGM & Conference will be celebrated in October in Montevideo, the beautiful capital city of Uruguay. The conference will focus on the key shipping and trading activities that make Latin America such an essential piece of the global economic jigsaw. But it will also examine shipping's journey towards a greener, more digitalised future, both within Latin America and beyond.
WISTA is a membership organisation of 56 countries with approximately 4,000 managers and leaders within the maritime, trading, and logistics industries. Connecting us all is an ambition to create positive change, and to be an empowering force for inclusion and diversity. WISTA has an unparallel reach, unique collective insight and a vivid ambition to make a difference.
As a sponsor to this conference, this is your opportunity to connect your story and your ambitions with the change makers and thought leaders of our industry. It is an opportunity to tap into the global capital that is WISTA. As a WISTA sponsor, your sustainability ambitions will glow in a new light. That of inclusion, openness and empowerment.
www.petrospot.com/events/wista-2023
Contact
Cheryl Marshall​​​​ | Production Manager
Email: Cheryl@petrospot.com
Mobile: +44 129 581 4455
https://www.petrospot.com/
https://www.bunkerspot.com/
https://ship.energy/
https://www.petrospot.com/events/ses-madrid23
https://www.petrospot.com/events/obc-may23
https://www.petrospot.com/events/mwa23-no
https://ship.energy/category/podcasts/