Cargo Systems to be Delivered to Wärtsilä design MPSVs by PG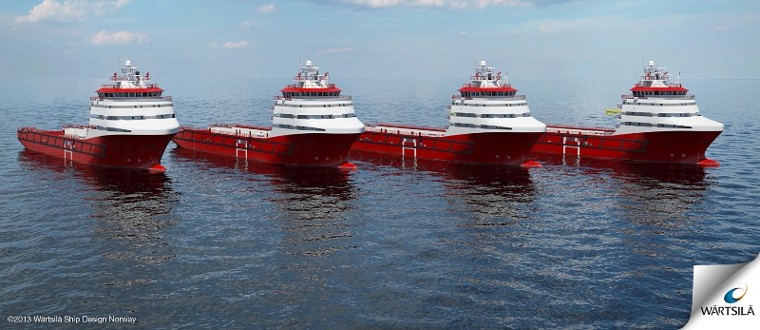 Illutstration by Wärtsilä Ship Design Norway
Fujian Mawei Shipbuilding Ltd has placed orders with PG Flow Solutions to supply large liquid-cargo systems and associated equipment for two MPSVs the Chinese shipbuilder is constructing for an undisclosed shipowner.
Under the contract, Norwegian liquid handling and pump specialist PG Flow Solutions will supply a comprehensive hydraulically driven cargo system with pumps, mud agitators, hydraulic power pack and control system to each of the two vessels. PG Flow Solutions has previously delivered similar packages to four sister vessels at the same yard which are now in operation for the Seatankers Group.
PG Flow Solutions will deliver the equipment for the first vessel by December 2019, and the second by February 2020. All equipment will be fabricated, assembled and tested at the company's facility in Sande, Vestfold, Norway. The contract value has not been disclosed.
The equipment will be utilised onboard two large, modern MPSVs (Multipurpose platform supply vessels) that Fujian Mawei Shipbuilding is currently constructing. The two vessels are of advanced Wärtsilä's WSD 1000 MPSV design, with a vessel length of 88.80 metres, deadweight of 5,200 tonnes and a sizeable 1,005 cubic metre deck area.
The vessels are designed for year-round supply to offshore platforms, with stores, materials and equipment needed for drilling, production construction, plus supply to lay-barges/vessels and other offshore units, with stores, materials and equipment needed for their operation.
"We have previously delivered the same type of cargo handling system and equipment to a large number of OSVs at Fujian Mawei, and to this design specifically back in 2014/2015, which is actually the last time we saw contracting of newbuilds for this type of large MPSVs. The vessels are modern, highly flexible and cost-efficient, and our cargo handling system is designed to meet the same criteria," says Are Hjertvik, VP International Sales at PG Flow Solutions.
Hjertvik adds: "We currently see significant interest in completion of stalled OSV newbuild-tonnage, and have already secured significant deliveries for such – in particular in Asia. We expect this development to continue and would not be surprised to see some, selected newbuilds being contracted as availability of modern tonnage starts to be limited."
PG Flow Solutions provides proprietary solutions, systems and products for companies within the energy, maritime, aquaculture and land-based process industries. The heritage of the business is pumps and pumping systems. The company's headquarters and manufacturing facility is located in Sande, Vestfold, Norway. Its subsidiary Calder Ltd operates out of a similar facility in Worchester outside Birmingham, UK, while subsidiary Cflow Fish Handling AS operates out of Aalesund, Norway.