Hamburg: The HUMMEL LNG Hybrid Barge in its Second Season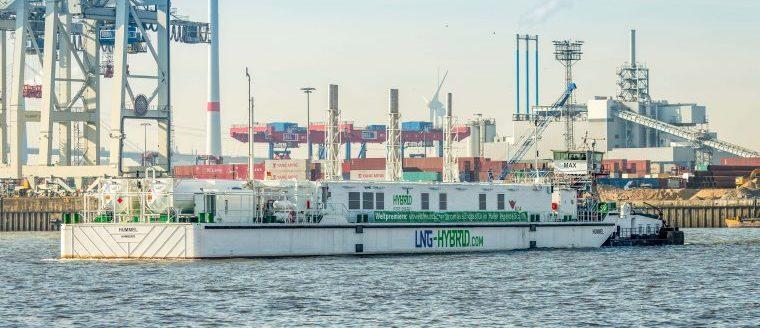 The HUMMEL has for over one year been contributing to improved air quality at the port of Hamburg. Becker Marine Systems' LNG Hybrid Barge will also be supplying lowemission power to the AIDAsol this year. The cruise ship has already made three calls since the middle of May and will have made a total of sixteen stops at the Hafencity terminal by October.
Operations of the HUMMEL LNG Hybrid Barge have successfully started up again at the beginning of the new cruise ship season. "Due to some restrictions making the work more difficult, we are continuing to seek a mutual solution together with the relevant authorities", said Dirk Lehmann, Managing Director of Becker Marine Systems. This would then enable the HUMMEL to supply environmentally-friendly power to cruise ships during their layovers at port beyond the current year.
Following Becker Marine Systems' work on the development of the LNG Hybrid Barge project acting as a floating power plant, operations and the product sales will now be the responsibility of Hybrid Port Energy, the operating company and a subsidiary of Becker Marine Systems. The same applies to the use of the new, modular LNG PowerPac® special containers.
Both innovations, which employ liquefied natural gas (LNG) as an alternative and clean method of supplying shore power to cruise and container ships, will soon be presented by Becker Marine Systems and Hybrid Port Energy at "TOC Europe". The exhibition for port and terminal professionals is taking place in Hamburg from 14th to 16th June 2016.
In future, Becker Marine Systems would like to offer environmentally-friendly LNG technology not only to cruise ships, but to container ships, bulkers and tankers as well. "Discussions with the Port of Rotterdam for the implementation of another barge are already well under way", said Lehmann. Last year the Hamburg-based company signed a memorandum of understanding for the sale of an LNG Hybrid Barge with Netherlands-based shipping company KOTUG and the Shell
oil and gas company.
Hamburg-based Hybrid Port Energy was founded by Becker Marine Systems with the objective of supplying environmentally-friendly maritime energy. Becker Marine Systems is the market leader for high-performance rudders and energy-saving manoeuvring technology solutions for any type of ship. Becker's products are well-established on the world market and represent the top choice for both super tankers as well as container ships, passenger ferries, large cruise ships and luxury yachts. (www.becker-marine-systems.com)
Further information regarding Becker Marine Systems available at: www.becker-marine-systems.com/Press Room/Media files for the press
Contact:
envise Werbeagentur
Chris Lehmann
Blohmstr. 23
21079 Hamburg
Tel. +49-40-3009288-0
c.lehmann @ envise.de
www.envise.de