The 0.5% Sulfur Ceiling And Other Numbers Ruling The Waves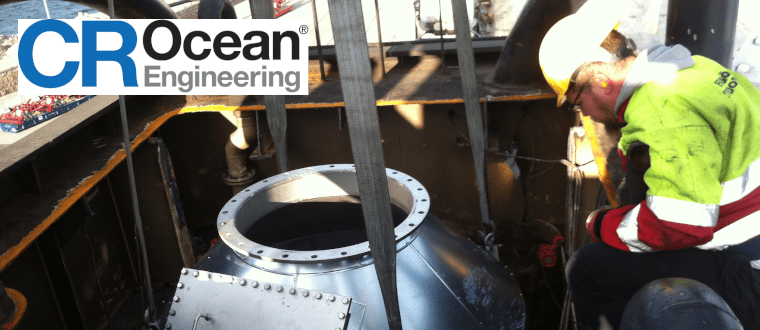 By Nick Confuorto, President and COO, CR Ocean Engineering — As the world looks back at the devastating effects of 2020, we prefer to look ahead, to the revitalized renewal of maritime commerce in a post-pandemic future. Many numbers come to mind.
0.50%– 0.10%. That's the ceiling on highly toxic Sulfur in fuels and associated Sulfur Dioxide emissions.  These were made compulsory as per an amendment to ANNEX VI of the International Convention for the Prevention of Pollution from Ships (MARPOL). The 0.10% ceiling went into effect on January 1, 2015 for ECA zones and the 0.50% ceiling went into effect Globally on January 1, 2020.
US$14 Trillion is the total value of world shipping trade, which transports about 11 billion tons of goods each year for over US$14 trillion. High volume translates into competitive prices in consumer goods — from a pair of shoes to a bottle of wine.
The industry's standard of measure is the TEU (Twenty-foot Equivalent Unit). A standard container can hold about 24,900 tin cans or about 48,000 bananas. The carrying capacity of today's largest container vessels is equivalent to no less than a 44 miles long freight train, according to ICS Shipping.
The industry's outlook for 2021 predicts a solid recovery.
https://www.ics-shipping.org/shipping-fact/shipping-and-world-trade-driving-prosperity/
13%. That's the share of human-produced toxic SO2 emissions from over 50,000 vessels engaged in world commerce.   CROE Scrubbers can reduce the SO2 pollutant by about 99% along with large reduction in dangerous particulates and at a lower CO2 footprint than compliant fuels.
https://clearseas.org/en/air-pollution/
Above $100. That's the price differential or spread between VLSO and HSFO (High Sulfur Fuel Oil) by year-end. Hoping to evade an erosion of profits, many ship owners and investors are ordering new builds with preinstalled scrubbers — the most sensible alternative.
https://www.csi-newsonline.com/news/article/scrubber-fitted-ship-numbers-nearly-double-since-january-2020.html
$5,000 per day. And even more. Those are the earnings possible for vessels burning HSFO, while cleaning emissions via scrubber technology. In shorter voyages, like the PG-West Coast India route, daily earnings are even higher at around $14,000 compared with $6,200 for supertankers using LSFO.
https://www.spglobal.com/platts/en/market-insights/latest-news/oil/021621-tankers-only-scrubber-fitted-vlccs-are-earnings-positive-as-bunker-prices-spike-sources
2. Those are the most viable options to meet the MARPOL stringent, new standards, contribute to cleaning our environment, and evade costly sanctions. One can choose to use the premium Very Low Sulfur Fuel Oil (VLSO), which is scarce and more expensive. Or continue using HFO and add Exhaust Gas Cleaning Systems (scrubbers) thus taking advantage of the ship's previous experience, ease of operation with the already established fuel and lower fuel cost. This second option also has lower SO2 emissions, lower CO2 impact and lower fine particulate emissions.
3,935. That's the number of scrubbers-installed on the world fleet since January, 1, 2020, which is nearly double the number before the IMO's global emissions standards went into effect.
https://www.csi-newsonline.com/news/article/scrubber-fitted-ship-numbers-nearly-double-since-january-2020.html
3. That's the standard configurations, customizable to a ship's requirements, of CR Ocean Engineering scrubber technology.
Open-Loop (hybrid ready): once through scrubber using seawater
Closed-Loop: a recirculating scrubber using freshwater or seawater with caustic
Hybrid: a combination of both designs for maximum flexibility
CROE® Scrubbers normally replace the silencers. Due to their small size, compact configuration and flexibility of design, CROE Systems are perfect for both new-builds and retrofits.
Some of the features of the CROE Scrubbing Systems include:
Option of bottom entry, side entry or Venturi entry designs to better fit any funnel configuration and simplify engine exhaust gas duct with or without a bypass.
Strategically configured exhaust gas inlet and scrubber drainage to eliminate any potential water backflow to the engine.
Eliminated circulation water storage from bottom of Closed Loop scrubber vessel to a separate tank at a lower elevation to reduce weight at the higher elevations, improving stability.
Alloy construction (external and internal) to extend the life of the system and to allow the exhaust gas to travel through the scrubber system at high temperatures in case of dry-run conditions without a bypass.
Used proprietary internals designed specifically to increase contact area with lower liquid flows to save on typical pumping costs associated with some scrubber designs.
Proprietary Caustic-AssistTM feature for Open-Loop assist operating in very low-alkalinity areas.
These can be configured as single stream (controlling emissions from a single engine or boiler) or multi-stream (controlling emissions from multiple engines/boilers combined) configuration.
1 (973) 455-0005, extension 110
My telephone number, feel free to call any time so we can discuss how
our scrubber technology can your vessel increase profits and contribute
in protecting the planet.
CONTACT:
CROE Contact: Nick Confuorto, President and COO
Tel: +1 (973) 455-0005, extension 110
Email: nconfuorto@croceanx.com
CR Ocean Engineering, LLC is headquartered in New Jersey, USA.
https://www.croceanx.com