Collaboration Between The Chamber of Commerce of Santa Cruz de Tenerife & The First Online Maritime Business School Strengthens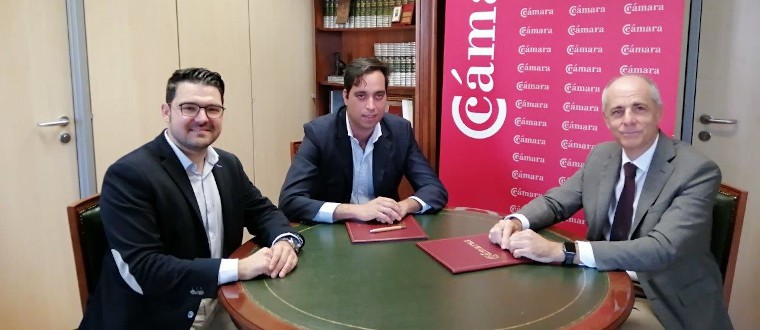 The alliance with the International Maritime Business School (IMBS) allows to offer the widest training catalog in this field of specialization
The Chamber of Commerce of Santa Cruz de Tenerife, renews its collaboration with the first online Maritime Business School, the International Maritime Business School (IMBS), a school specialized in maritime, port and logistics training that offers the widest training catalog in this field of professional specialization.
The School was born after the collaboration between both institutions in this type of training since 2011 and with an accumulated experience of more than a thousand students trained from more than twenty countries, mainly Spain and Latin America.
A training catalog contiuously growing and updating, with 2 masters, 5 higher courses and more than 20 specialized courses, among which is the International Master in Maritime and Port Administration (MIAMP), whose objective is to train students through knowledge, techniques and managerial skills focused on the international sphere of Shipping Business and Port Management based on the study and analysis of international legislation in both matters.
On the other hand, the EXECUTIVE Master Program (MNMGP) allows to students select several independent short courses, depending on the time, interest and individual needs.
The International Maritime Business School aims to contribute to the training on professional excellence and the generation of studies and research, mainly in relation to the management and development of the maritime, port and logistics sectors.
Born with the vocation of being a reference in the training of technicians and managers in these specialized fields, with the central objective of revitalizing and flexibilizing technical and superior training, training professionals as leaders in front of any company.
The maritime industry demands constantly changing training needs, which demonstrates that online training is one of the most appropriate solutions for training since, the Students manages their available time with total flexibility in terms of its location.
IMBS has more than one hundred professional collaborators specialized in national and international maritime matters, more than thirty companies and entities with specific training actions and a wide range of employment and internships offered for students.
IMBS also offers four scholarships for their training on each course, with bonuses ranging from 25% to 100% of the total costs.
For more information,
y +34 922 100 400