Ballast Water Treatment: Damen in Partnership Greement with TeamTec for Innovative System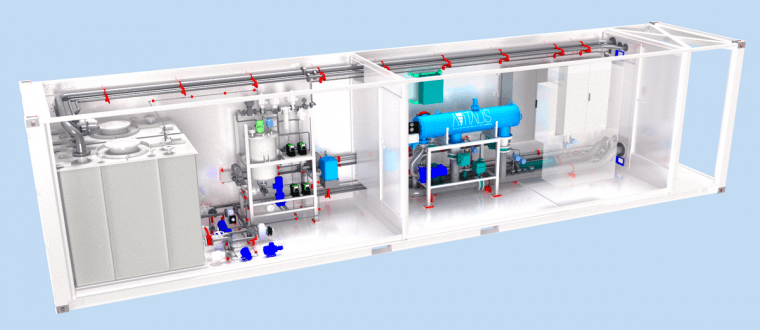 Damen Green Solutions has signed a letter of intent with Norwegian company TeamTec to supply and service the innovative AVITALISTM ballast water treatment system. The system combines filtration and a proven, eco-friendly chemical treatment solution optimised for medium-sized to large vessels. The system is highly effective in water of any salinity, turbidity or temperature.
The intention is to advance to a full partnership by the end of 2016. Currently AVITALISTM is undergoing ship board testing IMO type approval and USCG land-based testing. It is anticipated that IMO type approval will be achieved in the first half of 2017, followed by USCG type approval later the same year.
The chemical used in the treatment process is PERACLEAN® Ocean, developed by Evonik Industries AG, the leading German speciality chemicals company. The PERACLEAN® family of biocides is well proven and widely used in the medical and foodstuffs and beverages industries, amongst others, to disinfect equipment. With a broad anti-microbial spectrum, it is effective even at low temperatures and rapidly decomposes into water, oxygen and acetic acid, which is readily biodegradable. As such it is expected to meet and exceed regulatory requirements well into the future.
Damen began discussions with Evonik two years ago regarding the latter's research into marine applications for PERACLEAN®. In February 2016, Evonik formed an exclusive partnership with specialist, eco-friendly maritime equipment company TeamTec that combined Evonik's research with TeamTec's maritime know-how and analytical expertise to optimise AVITALISTM; a highly effective and dependable ballast water treatment system. With this latest agreement, Damen delivers the global sales, integration engineering installation and servicing capability via its 32 shipbuilding and repair yards around the world.
"For Damen our priority is always the highest quality possible," said Barry Stolk of Damen Green Solutions. "TeamTec is a respected name in the marine industry with over 30 years of experience, and Evonik is a world leader in its sector. We have every confidence that the AVITALISTM ballast water treatment system has a great future ahead of it. This combination of Norwegian, German and Dutch expertise will be very effective indeed."
"Marine equipment manufacturer TeamTec and the Damen Group has over many years developed a solid relationship based on mutual trust", says Ole Bulien, TeamTec's sales representative responsible for the Netherlands. "Damen Green Solutions provides its clients with perfect turnkey solutions for the integration of ballast water treatment systems both for new builds and on retrofits, including all stages of engineering and project management. This high quality and effective concept, based on the extensive ship building knowledge within Damen, fits perfectly with TeamTec's core business of focusing on supplying well tested quality equipment plus relevant equipment integration support. We are glad and proud to be a part of this team."
Damen Shipyards Group
Damen Shipyards Group operates 32 shipbuilding and repair yards, employing 9,000 people worldwide. Damen has delivered more than 6,000 vessels in more than 100 countries and delivers some 180 vessels annually to customers worldwide. Based on its unique, standardised ship-design concept Damen is able to guarantee consistent quality.
Damen's focus on standardisation, modular construction and keeping vessels in stock leads to short delivery times, low 'total cost of ownership', high resale values and reliable performance. Furthermore, Damen vessels are based on thorough R&D and proven technology.
Damen offers a wide range of products, including tugs, workboats, naval and patrol vessels, high speed craft, cargo vessels, dredgers, vessels for the offshore industry, ferries, pontoons and superyachts.
For nearly all vessel types Damen offers a broad range of services, including maintenance, spare parts delivery, training and the transfer of (shipbuilding) know-how. Damen also offers a variety of marine components, such as nozzles, rudders, anchors, anchor chains and steel works.
In addition to ship design and shipbuilding, Damen Shiprepair & Conversion has a worldwide network of 16 repair and conversion yards with dry docks ranging up to 420 x 80 metres. Conversion projects range from adapting vessels to today's requirements and regulations to the complete conversion of large offshore structures. DSC completes around 1,500 repair and maintenance jobs annually.
For further information, please contact:
Ben Littler
Communications Advisor
+31 (0) 183 65 5546
+31 (0) 610 46 5742
ben.littler@damen.com
Ilona van der Zalm
Communications Advisor
+31 (0) 183 65 4631
+31 (0) 620 44 5648
ilona.van.der.zalm@damen.com