Global Maritime: Danish Maritime Days October 2016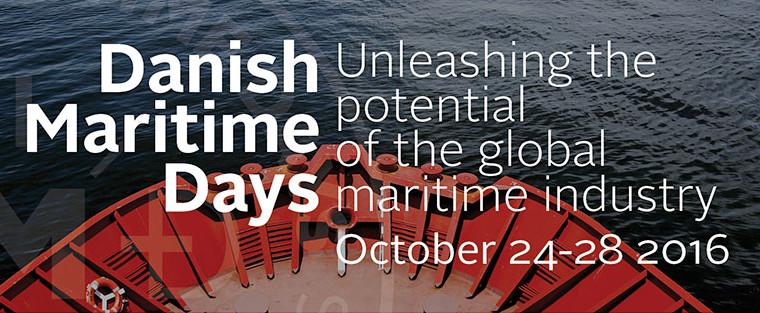 More than 30 events will address some of the main challenges and opportunities that the global maritime industry is facing at Danish Maritime Days on 24 – 28 October.
New solutions to climate and environmental challenges, safety and security and the development in the world economy are some of the topics that will be discussed when maritime stakeholders from all over the world meet at Danish Maritime Days in late October.
"Danish Maritime Days 2016 will reflect the great changes that the global maritime industry is undergoing. This includes everything from the industry's ambition to reduce CO2 emissions to the slowdown in world trade. We have high expectations for the program and look forward to welcoming participants from all over the world," says Michael Søsted, Head of Secretariat at Danish Maritime Days.
An open platform
Danish Maritime Days is an open platform and organisations are invited to plan independent events as part of the maritime week. At present, the calendar of events includes more than 30 professional and social events. Michael Søsted expects that more events will be added before 1 September when the opportunity for new entries closes.
"Danish Maritime Days is a great opportunity for organizations to put the industry's global challenges and opportunities on the agenda. We hope that the many discussions will help to create a positive change to the benefit of the industry and human wellbeing," concludes Michael Søsted.
Danish Maritime Days 2016 take place on 24 – 28 October. You can see the event calendar here.
Danish Maritime Days is a non-profit public-private partnership between the Danish Maritime Authority, the Danish Shipowners' Association and Danish Maritime. Our mission is to unleash the potential of the global maritime industry. Danish Maritime Days is supported by the A.P. Møller Relief Foundation, the Danish Maritime Fund, the Danish Ministry of Business and Growth, D/S Orients Fond // D/S NORDEN, the Hempel Foundation, the Lauritzen Foundation and the Torm Foundation.
For more information please contact Torben Vemmelund, Head of Communications, Danish Maritime Days, tve@danishmaritimedays.com or +45 2224 1446.