E-Learning Is A Force For Good In Shipping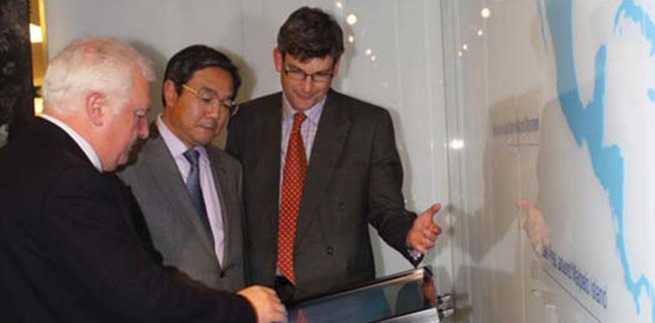 At a time when cost-conscious shippers are looking for zero-downtime from crews, it's wise to make the most of the new opportunities offered by online learning.
The fast-growing online learning sector is expected to be worth $168bn by 2018 (according to an investigation by Global Industry Analysts). This growth is driven by the need for cost-effective ways to develop and maintain a skilled workforce but it is also attributed to the increasingly mobile, 24/7 nature of communications.
It is encouraging to see that companies in the shipping sector are embracing the opportunities presented by e-learning in increasing numbers and in a variety of ways. After all, the global and mobile nature of the shipping sector makes access to anywhere, anytime knowledge and learning development tools a must.
What is particularly interesting now is that whilst many companies continue to use e-learning tools as a platform for accredited course content, others are seeing their value for broader education and awareness raising – in some senses a a marketing channel.
Our work with the IMO is a case in point (see below). The content we developed for them is not a formal, accredited course. Instead it aims to educate people about their work in a specific area, namely PSSAs (Particularly Sensitive Sea Areas). This calls for a different, arguably more creative, approach than an accredited course.
Whatever the objective, e-learning in today's increasingly social, online world needs to take account of the unstructured ways we now gather news and information. Learners may place structured course content at the core of their learning experience but they look further afield – at Apps, YouTube, webinars, social networks and forums for content that complements their learning. They also want to share what they find useful, interesting or entertaining with their peers or tutors.
Professional bodies have long been aware that unstructured learning is an important part of CPD but capturing and validating it can be difficult. With Coracle's innovative Learning Line and 'I Learnt This' button we've developed a simple and effective answer to the problem which also appeals to the need for increasingly open and social learning.
James Tweed, Coracle CEO, explains it like this:
"Imagine you're following a structured course on insurance. You're already recording everything you do on your Learning Line, but you want some additional background on contracts. So you search Google and watch a video of a talk explaining liability, read an article about the London insurance market and study an important case about fraud. It's all useful stuff, but how can you remember what it was about and record the fact that you've studied this extra material?
The simple answer is to hit the 'I Learnt This' button, which will add what you've been looking at to your Learning Line. In this way, your Learning Line starts to give a picture of your learning as it happens in real life, not just as it happens according a structured course textbook."
CASE STUDY: EDUCATION AND AWARENESS RAISING
A key focus of the IMO's work in environmental protection is the designation and protection of Particularly Sensitive Sea Areas (PSSAs). A PSSA is an area that needs special protection because it is deemed vulnerable to damage by international maritime activities or it is significant for recognised ecological, socio-economic or scientific reasons.
The IMO commissioned Coracle to help raise awareness of PSSAs and educate people about the issues. They wanted a permanent display at the prestigious headquarters in London, to appeal to a broad audience, ranging from members of the public to policy makers. The content also needed to be accessible to all.
SOLUTION
We proposed an interactive exhibition, replicated online, to make the unique story of each of the 14 PSSAs around the world accessible to the widest audience.
As we developed the system, we drew on our experience of online learning to make the content accessible, inspiring and educational.
We collated and edited copy and applied a ruthless structure to the content plan, to ensure that it was intuitive. Even though there are over 80 pages of content, simplicity rules. Key terms are defined for the ordinary user, and the rationale behind PSSAs is explained clearly using questions and answers.
We also took full advantage of the spectacular photography and video footage these marine environments offer, to create exhibition displays and engaging digital content for people to browse on the interactive touch screen and website. A giant, wall-mounted map of the world locates the 14 PSSAs to help orientate people quickly.
RESULTS
Speaking at the launch, IMO Secretary-General Koji Sekimizu predicted that the new display would be "a continual reminder and a celebration of the substantial contribution that has been made to environmental protection through IMO's PSSA scheme, which currently protects 14 PSSAs around the world."
CASE STUDY: KNOWLEDGE BUILDING AND SKILLS DEVELOPMENT
SSY Futures Ltd (part of independent global shipbroking group Simpson Spence & Young (SSY)) arranges derivative contracts in the shipping and bulk commodities markets, using Forward Freight Agreements (FFA), iron ore and steel swaps.
The use of derivatives can help companies manage cash flow but the financial benefits of fixing forward contracts are sometimes overlooked. SSY saw a need to educate the marketplace about the role and structure of derivatives and the part they can play in risk management.
SOLUTION
Coracle developed plain-English courses covering FFAs, iron ore and steel derivatives including:
modules on iron ore swaps, steel swaps and forward freight agreements
web software that reflects the latest thinking in online learning
explanations of key terms and industry jargon
graphs and charts drawn from real data to illustrate ideas and rules
Learning objectives were devised to meet the identified needs. The style and tone were key priorities but Coracle's Learning Line platform was important too. By allowing users to record their newly-found skills through the structured content, whilst also offering the means of capturing unstructured learning, the platform enables them to record their whole learning journey in one place, making it easier to preserve and share.
RESULTS
The courses have been extremely well received by a broad spectrum of learners ranging from junior traders to senior managers of some of the world's largest trading companies.
Freight Trading Analyst at major trader:
"The 'Learning Line' was very easy to navigate and the percentages of pages visited or understood was clear in terms of ensuring that all content was covered. The content was impressive – containing the right amount of information for new or more experienced shipping professionals to take on board."
CASE STUDY: ACCREDITED LEARNING AND SKILLS DEVELOPMENT
The International Group of Protection and Indemnity Clubs (IGP&I) is a not-for-profit membership organisation with thirteen principal underwriting member clubs. Between them they provide liability cover (protection and indemnity) for approximately 90% of the world's oceangoing tonnage.
IGP&I members are operating in a fast-changing environment where vessels are getting bigger, there are more hazards (environmental, piracy etc) and tonnage continues to grow year on year. These changes combined with new technologies and legislation require innovative responses to skills development, training and recruitment in the sector.
To tackle these issues, the IPG&I decided to partner with Coracle in the development of www.pandiq.com – a dedicated learning portal.
SOLUTION
Coracle worked with IGP&I's subject matter experts to build, from scratch, a modular programme that would be approved and accredited by The Chartered Insurance Institute (CII), whilst also forming a standalone qualification. We now manage the process including:
registering candidates on pandiq.com
producing online and kindle optimised course content
managing exam bookings for bi-annual exams held in London, Singapore, Hong Kong and Athens
sending exam results and certificates
notifying CII of successful candidates in order that they get the appropriate credit.
RESULTS
To date, five out of seven modules have been completed and accredited by CII. Once the final two are accredited, the course will take students 90% of the way to completing CII.
Before PANDIQ was developed, there were no standardised learning and development resources to help staff grow their knowledge of the P&I and marine insurance business. Instead, individual clubs maintained their own study programmes. This led to inconsistencies and was problematic when staff moved from one club to another. PANDIQ has transformed the provision of training and development and added credibility to the sector.