Fast Crew Supplier Severn Provider Ready for Offshore Markets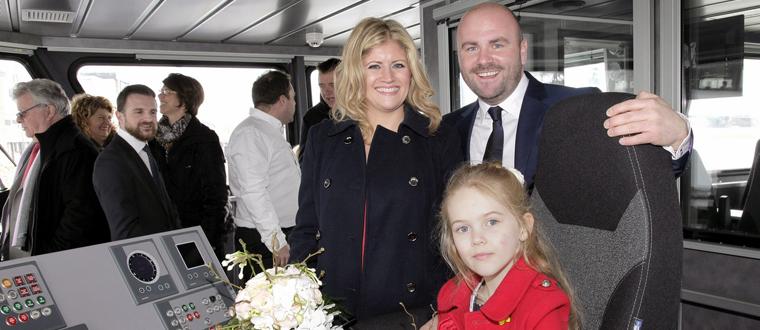 26m Damen Twin Axe catamaran for UK-based Severn Offshore Services
The naming ceremony took place for Severn Offshore Services Ltd's new multipurpose wind farm vessel Severn Provider at Damen Shipyards Gorinchem in the Netherlands. The Damen FCS 2610 will be available for charter based out of Rotterdam.
UK-based Severn Offshore Services owns and operates a growing fleet of offshore crew transfer vessels, mainly in the European offshore wind sector. The company selected Damen's FCS 2610 thanks to its well-established track record, explains Director Ryan Hopkins.
"With this vessel, we can offer higher availability rates to our clients through its ability to operate 24 hours a day further offshore with less downtime caused by the weather. Working with Damen has been a really good experience and we're planning to continue growing our fleet with Damen."
Enhanced crew safety and personnel welfare
Severn Offshore Services puts a particularly strong focus on safety, Hopkins continues, so it was important that Damen could integrate key specifications into the design.
"The Severn Provider boasts a variety of new welfare features for technicians and passengers travelling on board," Hopkins continues, "not to mention enhanced safety options available and a degree of flexibility to modify the vessel before it is delivered."
Valuable customer input
The FCS 2610 can transfer up to 12 personnel, operating at speeds of up to 25 knots, even through a rough seaway, thanks to Damen's unique Twin Axe hull design. Casper Vermeulen, Damen Sales Manager UK, notes that although the widely adopted FSC 2610 has proven itself on the market with more than 40 builds so far, the design continues to evolve.
"The valuable input into vessel specifications from clients like Severn Offshore Services is a key factor in ensuring the design continues meeting the demands of the rapidly developing offshore markets."
Damen Shipyards Group
Damen Shipyards Group operates 32 shipbuilding and repair yards, employing 9,000 people worldwide. Damen has delivered more than 5,000 vessels in more than 100 countries and delivers some 160 vessels annually to customers worldwide. Based on its unique, standardised ship-design concept Damen is able to guarantee consistent quality.
Damen's focus on standardisation, modular construction and keeping vessels in stock leads to short delivery times, low 'total cost of ownership', high resale values and reliable performance. Furthermore, Damen vessels are based on thorough R&D and proven technology.
Damen offers a wide range of products, including tugs, workboats, naval and patrol vessels, high speed craft, cargo vessels, dredgers, vessels for the offshore industry, ferries, pontoons and superyachts.
For nearly all vessel types Damen offers a broad range of services, including maintenance, spare parts delivery, training and the transfer of (shipbuilding) know-how. Damen also offers a variety of marine components, such as nozzles, rudders, anchors, anchor chains and steel works.
In addition to ship design and shipbuilding, Damen Shiprepair & Conversion has a worldwide network of 15 repair and conversion yards with dry docks ranging up to 420 x 80 metres. Conversion projects range from adapting vessels to today's requirements and regulations to the complete conversion of large offshore structures. DSC completes around 1,500 repair and maintenance jobs annually.
For further information please contact
Jan-Hein Reeringh
Communications Advisor
+31 (0) 183 63 98 82
+31 (0) 612 20 77 96