Hull-integrated Seawater Coolers Ordered for Chile-bound Fish Carrier by Larsnes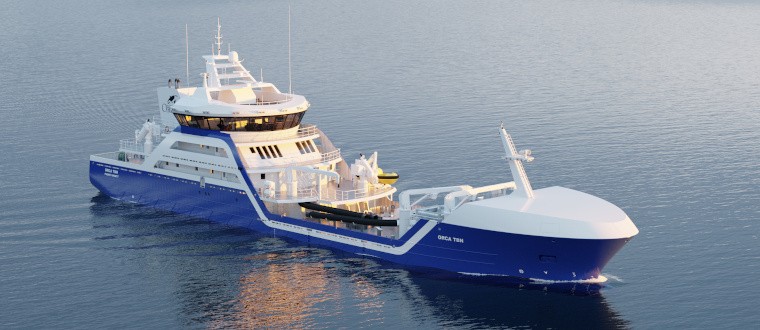 28 April 2021 – Larsnes Mek Verksted AS has awarded Hydroniq Coolers a contract to supply the marine cooling system to a wellboat the Norwegian shipbuilder is constructing for Chilean shipowner Naviera Orca Chile S.A.
Naviera Orca Chile started its operations in 2004 and is today a leader in transporting live fish in Chile.
The wellboat, NB68, has been designed by Skipskompetanse AS from Måløy, Norway, and is of the SK-6100 DM LFC II design. The vessel is 79.3 metres long, 15 metres wide and has a total storage capacity of 2,800 cubic metres. She will be equipped with the best solutions and innovations for treatment and transport of live fish. Delivery date for the vessel is schedule for the end of 2021.
Hydroniq Coolers will supply its hull-integrated "Rack" seawater cooling system to the newbuild wellboat.
"We have previously delivered our Rack marine seawater cooling system to several identical wellboats built by Larsnes Mek Verksted. Hence, we are accustomed with the yard's high quality and delivery requirements and they are familiar with the system's suitability for wellboats. It is a sensible approach for predictable, high quality deliveries," says Jan Inge Johannesen, sales manager at Hydroniq Coolers.
The company's Rack seawater cooler is integrated in the hull below the main engine room of the vessel. Here it reduces temperatures in the ship's engines and other auxiliary systems through use of seawater, but without taking up valuable engine room space.
Hydroniq Coolers will manufacture and assemble the equipment at its headquarters outside Aalesund, Norway, and deliver it to Larsnes Mek Verksted's yard at Larsnes, Møre and Romsdal county, Norway. Hydroniq Coolers has not disclosed the value of its contract.
Hydroniq Coolers is owned by Norwegian investment company SMV Invest AS.  The company's name "Hydroniq" refers to regulation of temperature through utilisation of liquids.
Photo by: Skipskompetanse AS