To Support Offshore Wind Ambitions, Hung Hua Construction of Taiwan Orders Third Fast Crew Supplier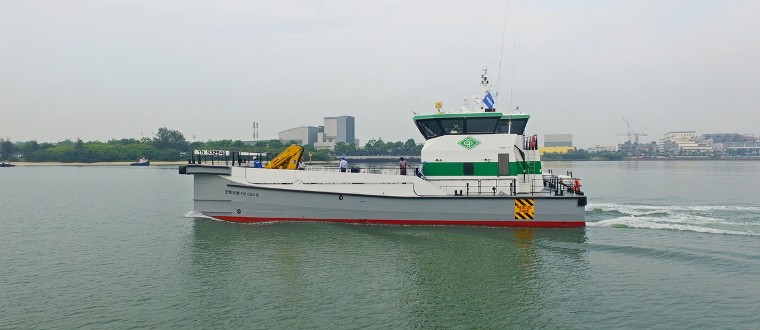 Hung Hua Construction of Taiwan has ordered a third Damen Fast Crew Supplier (FCS) to add to the two it ordered at the start of the year. This latest vessel will be a Damen FCS 2610. The contract was signed by the two parties at the start of September and, with the vessel already on stock at Damen Shipyards Singapore, it will be delivered this month following finishing and some customisation. It will be the company's first operational vessel.
The FCS 2610 is a best-selling design that proven itself time and again in the challenging waters of the North Sea as well as the Middle East and other locations around the world. A catamaran design featuring Damen's renowned Twin Axe bow, it is designed to carry up to twelve personnel plus crew, along with equipment and light cargo, at speeds of over 25 knots.
In early 2020, Hung Hua's FCS 2610 will be joined by two Damen FCS 2710 vessels ordered at the start of 2019, and Hung Hua has strong intentions to add another two FCS 2710 vessels to their fleet by the summer. Both the FCS 2610 and 2710 will be ideal for the waters off Taiwan, which can be challenging throughout the year.
All the vessels will be operated by Dong Fang Offshore (DFO), a fully owned subsidiary of Hung Hua Construction, and they have signed a memorandum of understanding with the UK-based High Speed Transfers Ltd (HST) to cooperate on the provision of crew transfer vessel (CTV) services for the offshore wind market in Asia. HST already operates a growing fleet of Damen FCS 2710 vessels and phase one of the agreement is the establishment of a comprehensive safety management system (SMS) for the vessels and initiating ongoing crew training in both Europe and Taiwan for the locally based crews.
"The FCS 2610 will be the first CTV of our future offshore fleet," stated Polin Chen, DFO's managing director. "It is also a significant milestone for Hung Hua and Dong Fang Offshore as it firmly commits us to the offshore wind industry in Asia. We wish to contribute to the sustainable green energy industry of offshore wind in Asia with our market-leading fleet. It is also an honour to cooperate with HST, a professional and pioneering company in the CTV sector in Europe. With their experience and the support of Hung Hua, DFO will steadily develop its service, operations and fleet and crew planning."
HST's CEO Tom Nevin commented: "We are really pleased to form this partnership with Hung Hua and DFO and believe they have all the ingredients to flourish in the offshore wind market. Hung Hua has a great history with an impressive track-record of projects, a comprehensive local footprint and an exciting new-building programme."
Hung Hua Construction is well-known as Taiwan's largest dredging and nearshore construction company and it is now building a presence in the country's fast-growing offshore wind sector, developing a capability in fast crew transfer and other support services in the sector. It is already serving clients such as the Taiwan Power Company, a major force in the country's nascent offshore wind industry. This latest order adds capacity at short notice, enabling Hung Hua to fulfil the increasing number of charters that it expects, supporting offshore wind construction and operations and maintenance (O&M) projects off the coast of Taiwan.
——————————————————————————————————–
Damen Shipyards Group operates 36 shipbuilding and repair yards, employing 12,000 people worldwide. Damen has delivered more than 6,500 vessels in more than 100 countries and delivers around 175 vessels annually to customers worldwide. Based on its unique, standardised ship-design concept Damen is able to guarantee consistent quality.
Damen's focus on standardisation, modular construction and keeping vessels in stock leads to short delivery times, low 'total cost of ownership', high resale values and reliable performance. Furthermore, Damen vessels are based on thorough R&D and proven technology.
Damen offers a wide range of products, including tugs, workboats, naval and patrol vessels, high speed craft, cargo vessels, dredgers, vessels for the offshore industry, ferries, pontoons and superyachts.
For nearly all vessel types Damen offers a broad range of services, including maintenance, spare parts delivery, training and the transfer of (shipbuilding) know-how. Damen also offers a variety of marine components, such as nozzles, rudders, winches, anchors, anchor chains and steel works.
Damen Shiprepair & Conversion (DSC) has a worldwide network of eighteen repair and conversion yards of which twelve are located in North West Europe. Facilities at the yards include more than 50 floating (and covered) drydocks, including the longest, 420 x 80 metres, and the widest, 405 x 90 metres, as well as slopes, ship lifts and indoor halls. Projects range from the smallest simple repairs through Class' maintenance to complex refits and the complete conversion of large offshore structures. DSC completes around 1,300 repair and maintenance jobs annually, both at yards as well as in ports and during voyage.