HELMEPA Members Presented With The Latest Issues Affecting Shipping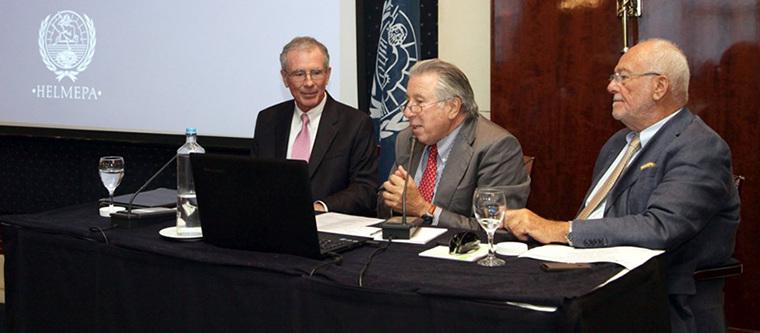 With the title "Latest Issues Affecting Shipping", Mr Joe Angelo, Deputy Managing Director of INTERTANKO and Honorary Member of HELMEPA, presented to Members of the Greek shipping community the current legislation of IMO and its development on issues such as ballast water management, greenhouse gases, fuel oil quality and availability, cyber risk management and e-navigation. He also referred to the work program of IMO for the achievement of determined objectives.
The event was held on Tuesday 20 September 2016, at the Metropolitan Hotel and it was attended, besides HELMEPA's Board, by the General Secretary of the Panhellenic Seamen's Federation, representatives of the General Secretary of the Ministry of Maritime Affairs and Insular Policy, of the Chief of the Hellenic Navy, of the Hellenic Chamber of Shipping, the officials of the Union of Masters and Mates of the Greek Merchant Marine, Hellenic Coast Guard Officers, representative of associations, organizations and member companies of HELMEPA as well as the maritime press.
Mr Angelo was welcomed and presented by Dr G. Gratsos, HELMEPA'S Chairman, while the Director General, Mr D. Mitsatsos referred to his long-term cooperation with Mr Angelo since 1984.
The questions raised on the topics presented as well as the discussion that followed highlighted areas of concern to the shipping industry.