Norsepower, Maersk Tankers, Shell and ETI Collaborate for Wind Propulsion Technology Test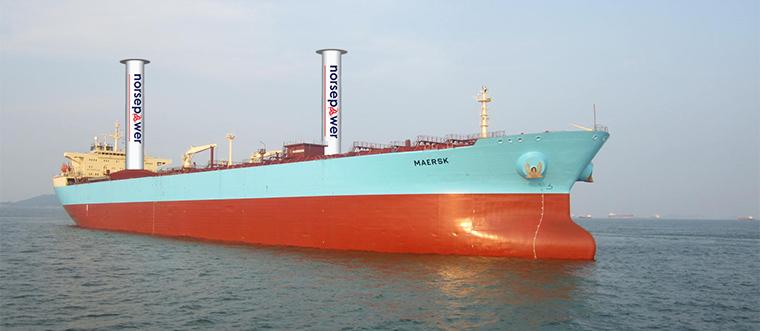 Norsepower's fuel-efficient technology expected to save approximately 10% in fuel consumption and associated emissions on 109,647 DWT product tanker vessel
Norsepower Oy Ltd. in partnership with Maersk Tankers, The Energy Technologies Institute (ETI), and Shell Shipping & Maritime, announced that it will install and trial Flettner rotor sails onboard a Maersk Tankers-owned vessel.
The project will be the first installation of wind-powered energy technology on a product tanker vessel, and will provide insights into fuel savings and operational experience. The rotor sails will be fitted during the first half of 2018, before undergoing testing and data analysis at sea until the end of 2019.
Maersk Tankers will supply a 109,647-deadweight tonne (DWT) Long Range 2 (LR2) product tanker vessel which will be retrofitted with two 30m tall by 5m diameter Norsepower Rotor Sails. Combined, these are expected to reduce average fuel consumption on typical global shipping routes by 7-10%.
The project is majority funded by the UK's Energy Technologies Institute (ETI) with contributions from Maersk Tankers and Norsepower. Shell will act as project coordinator, and provide operational and terminal / port consultancy to the project team, while Maersk Tankers will provide technical and operational insight.
Commenting on the partnership, Tuomas Riski, CEO, Norsepower, said:
"We are privileged and excited to be collaborating with Maersk Tankers, Shell, and the ETI on this project. We are optimistic that support for this trial from these industry leading organisations will open up the market for our technology to a larger number of long-range product tanker vessels – paving the way for ship fuel efficiencies, and ultimately reducing emissions, including greenhouse gases. As an abundant and free renewable energy, wind power has a role to play in supporting the shipping industry to reduce its fuel consumption and meet impending carbon reduction targets."