Oiled Wildlife Response: Towards a Professional and Effective Approach

A serious shipping accident has happened 8 miles offshore the coast of Katana. A Panamese oil tanker, carrying 200,000 tons of crude oil collided with a Maltese freightship. Because of the collision, at least 3000 tons of oil has been spilled in the Katanian Gulf and the tanker is still leaking. The coast guard is taking the lead of the response and oil combat ships are on their way to the incident. Nature conservation organisations are deeply concerned as large oil slicks are drifting towards the north eastern areas of the Gulf which are known to host hundreds of thousand wintering birds at this time of the year. The police are reporting several dozens of birds that have already arrived on the beaches near Oliga. More news on the incident will be brought in our later broadcasts.*
Insufficient preparedness
A radio message like this is often the first factual notification to coastal wildlife rehabilitation centres that they should get prepared for receiving tens, hundreds or even thousands of oiled birds over the next 24 hours. Most rehabilitation centres are not prepared for such a response. Their daily routine consists of admitting raptors, small birds, sometimes also small mammals and put them into care. Coastal rehabilitation centres near to busy shipping routes or harbours may be used to receiving oiled birds so now and then, to a maximum of tens to a hundred a year. If such an annual caseload is admitted in less than 24 hours, and more to arrive over the next few days, these centres are immediately overwhelmed. The permanent staff is small, trained volunteers can be called on, but need directions, the centre itself simply doesn't have the space to host so many birds, and resources, like food and medication quickly run out. Live but suffering birds also affect humans in an emotional way, and the primary reaction is that people want to care for the animals, to make sure that they get better. Staff and volunteers are vulnerable to these emotions and although they are trying their best to keep all the birds alive, they only watch increased suffering and mortality all around them. In larger incidents, the daily admission of tens to hundreds live oiled birds may continue for several weeks.
The Tricolor incident (France/Begium, 2003) was a spill of only 170 t in the middle of a wintering area of ten thousands of seabirds. The incident produced 800 live oiled birds within 24 hours, 700 on the second day and hundreds each day after that to a total of over 4600 in three weeks. A similar scenario took place in the aftermath of the Erika incident (France, 1999) which in the end produced over 33,000 live birds. Both incidents quickly overwhelmed local response centres.
The media always quickly pick up the dramas that take place in a wildlife incident. They will immediately bring oiled animals to the frontpages and to the television reports. Then they will show the suffering of man and animals in the rehabilitation centres. Often these media reports are the first notification to the oil spill authorities that something is going on with regards of wildlife. They are running the oil spill response according to a predefined plan, but only exceptionally is there something in it about how to deal with wildlife that gets oiled. Once they have noticed that things are going wrong in the rehabilitation centres, a lot of damage to animal and human welfare has already been done. Also they may have missed the opportunity to systematically collect dead oiled animals from the shores. A scientific counting and analysis of the corpses is needed to be able to make a sound assessment of the impact of the spill on the different populations.
Importance of pre-spill planning
The key to a successful response in these kind of wildlife incidents is of course a pre-spill agreed oiled wildlife response plan. In such a plan, the risks are identified as well as the human and other resources that are available for the response. In countries with a clear risk, e.g. intensive shipping traffic across or near vast (seasonal) concentrations of animals, authorities and wildlife responders (rehabilitators, scientists) should be prepared and identify their joint strategy for a response. The involvement of the authorities is needed to make the response plan work. They can make sure not only that different stakeholders agree to the plan and are ready to cooperate, but also that the activities of the wildlife response do not interfere with shoreline cleanup activities and vice versa. Having the authorities in a leading role enables an integrated oiled wildlife response and cost efficient use of resources.
Oiled wildlife response plans exist only in a few, primarily western, countries, such as the US, South Africa, Australia and New Zealand. Also in Europe, some countries have developed a plan.The UK, France and Belgium have plans in place, and although not necessarily perfect, they would at least guarantee an attempt to a coordinated and integrated approach. Some other countries in Europe, like the Netherlands and Estonia are developing a plan and planning is also considered in Ireland, Germany, Finland, Norway and Spain. In addition, different oil companies have developed oiled wildlife chapters as part of their activities in a number of countries in the world, where an oil spill response plan is an obligatory requirement for obtaining a license for the operations.
Increasing capacity to respond
Another key issue in a successful response is the capacity of wildlife reponders to successfully capture, clean, rehabilitate and release oiled animals, and to carry out a sound impact assessment. In most of the recent larger spills (Treasure, Erika, Prestige, Tricolor), local responders received assistance from internationally operating expert teams (e.g. IFAW, RSPCA). Successful methodologies that these teams use, have been developed in different parts of the world, notably in the US and Europe. These methodologies are based on science and are continuously improved based on new research. Increasingly, local responders are becoming aware of these methodologies and are interested to implement them. There is however still a lot to be done. Responders need to be trained to be able to apply the methodologies successfully and often also changes to their permanent facilities are needed. On a national scale, schemes for the set up and management of temporary wildlife hospitals must be developed in order to deal with large scale incidents. Some countries consider the development of mobile units, a trailer or container with various equipment for the care of oiled birds, and some examples already exist. Also careful consideration should be given to the so called "triage", i.e. classification of oiled animals into different groups for different treatment. Part of the triage is euthanasia of animals which do not have any expected chance of survival. The use of triage as a tool to keep the scale of rehabilitation efforts within reasonable limits should be an important section in a response plan.
Current activities and programmes
Sea Alarm Foundation aims to play a facilitating role in the realisation of a better preparedness to oiled wildlife in coastal countries. Although the organisation is based in Europe, the spin off of its activities is increasingly worldwide. By creating strategic alliances with key actors in the field of oil spill response and oiled wildlife response, Sea Alarm has been able to make some important steps forward.
In 2004, in cooperation with the International Petroleum Industry Environmental Conservation Association, the IPIECA Guide to Oiled Wildlife Response Planning was developed. The Guide was written by a group of leading experts from wildlife response organisations and the oil industry and appeared in IPIECA's Report Series on Oil Spill Response and Preparedness, which has a worldwide distribution. In Europe, the Guide is being used by several countries in their planning processes.
In 2005, Sea Alarm and Oil Spill Response Limited (OSRL, UK) signed a long term agreement under which both organisations aim to build international oiled wildlife response and preparedness capacity. Activities under this agreement include the building of an international Pool of Expertise and emergency response capacity, oiled wildlife response equipment stored in OSRL/EARL warehouses in Southampton and Singapore, the development of Country Wildlife Response Preparedness Profiles, and the availability of expertise for oiled wildlife response planning and training. Through this agreement, the oil industry has expressed a long term commitment to building international oiled wildlife response preparedness.
In 2006 three EU workshops were organised and held, aiming to boost the awareness of national authorities and wildlife responders in coastal states of Europe. The first workshop (30 delegates, 18 European countries) was held in Brest, France, discussed various aspects of oiled wildlife response planning and the contents of a new portal website. The second workshop (25 delegates, 11 countries) was held in La Coruña, Spain, discussed the contents of a Handbook for Impact Assessment. The third workshop (27 delegates, 17 European countries) was held in Algarve, Portugal, and discussed the contents of a Handbook for the Cleaning and Rehabilitation of Oiled Birds. The three workshops together have had considerable impacts on the different countries. Early 2007 the website (www.oiledwildlife.eu) and the two handbooks will become available and each of them will further contribute to oiled wildlife preparedness in the different Member States and Europe as a whole.
Early 2006, together with the International Fund For Animal Welfare, the Royal Society for the Prevention of Cruelty against Animals, Sea Alarm responded to an oiled wildlife incident in Estonia (see box). After this experience, the three organisations agreed to set up an emergency facility in which they would deal with and coordinate international assistance to incident responses in Europe.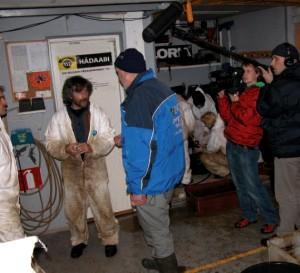 Media reporting oiled wildlife, Estonia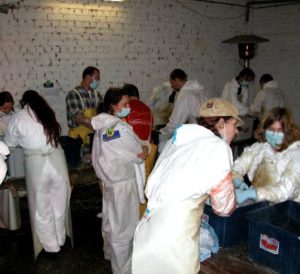 Wash room, Tricolor
Oiled wildlife response in Estonia
Thursday February 2, 2006, Sea Alarm was notified about an oiled wildlife incident that was currently happening in Estonia. Thousands of birds were oiled following an illegal discharge of fuel oil in the Gulf of Finland. Local responders had called for assistance, and the message reached Sea Alarm by e-mail via organisations in Sweden and the UK.
Sea Alarm contacted the local responders to discuss the situation and to assess the size of the emergency secondly called the International Fund for Animal Welfare's Emergency Relief Team (IFAW ER, US) and the Royal Society for the Prevention of Cruelty against Animals (RSPCA, UK) . It was agreed between the three organisations to jointly provide support to the Estonian response to the extent needed. Within 24 hours, Sea Alarm and IFAW were on site, advising and assisting the authorities and local responders, while experts from IFAW, RSPCA and other organisations in Europe were mobilised. Experts who arrived were sent to the remote bird holding centres to assist with animal care while in the meantime the IFAW team built a temporary wildlife hospital in Keila where all birds could be treated. As soon as this hospital was operational (February 8), all birds were transported there. From the ca 500 birds that had been captured, ca 150 made it to the wildlife hospital, of which ca 100 were considered fit enough to be treated. Also the birds that had been found dead on the beach were collected and brought to the wildlife hospital for necropsy and to collect the scientific data that would allow a wildlife impact analysis. A training programme was designed to train a core group of Estonian managers, rangers, volunteers and scientists who would form a national crisis team for a future incident. Together with the authorities, a response plan was developed to prepare for spring 2006, when the spilled oil would be recovered in a clean-up operation.
In 2006, the maritime industry (led by Intertanko, VShips and TradeWinds) organised the first edition of Tour Pour La Mer, an independent bike ride set up to raise money for charitable organisations within the maritime industry and raise awareness of maritime issues. Sea Alarm was amongst the beneficiaries of the first edition, which involved over 270 riders who cycled 200 miles from London (UK) to Le Touquet (F). The event was greatly successful and the money raised for Sea Alarm will form the start of an internal Fund that Sea Alarm will use to support European wildlife responders to improve their skills and expertise with regards to oiled wildlife response. This Fund will be opened for donations and should become a permanent financial facility in the support of international preparedness.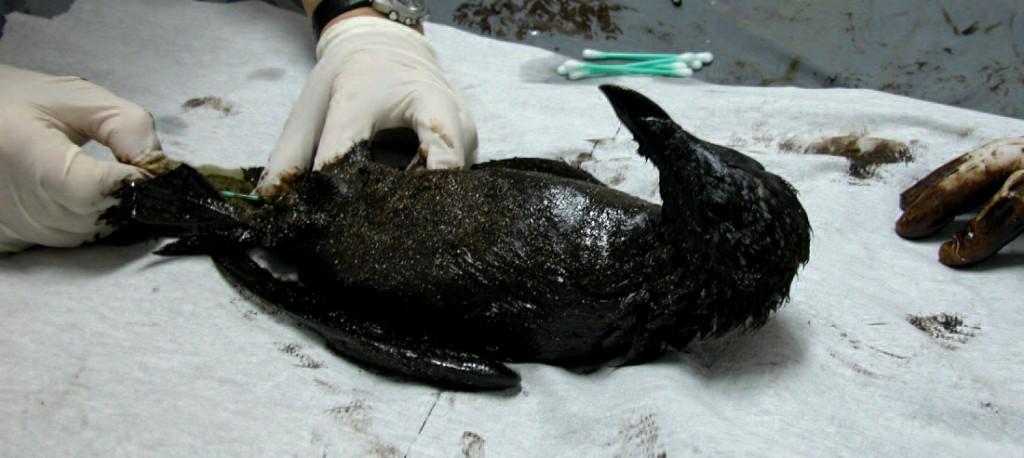 First aid to an auk, Prestige
Conclusions
There will be always a threat of a new marine oil spill incident in which wildlife becomes affected. The preparedness of countries, especially the competent national authorities and wildlife responders (rehabilitators and scientists), to prevent catastrophes of animal and human welfare, is still below acceptable levels. A number of promising initiatives have been developed in recent years in which NGO's work together with the oil and maritime industries and tools and expertise increasingly become available. Progressive developments into the right direction are already visible in Europe, where several countries have started to develop prespill arrangements and strategies, and where international training and response cooperation is being discussed. Many parts of the world however remain relatively unprepared and it will take quite some coordinated energy from NGO's, authorities and industry to identify and develop the appropriate and cost-efficient solutions.