Finding Environmental Balance in Marine Flooring Industry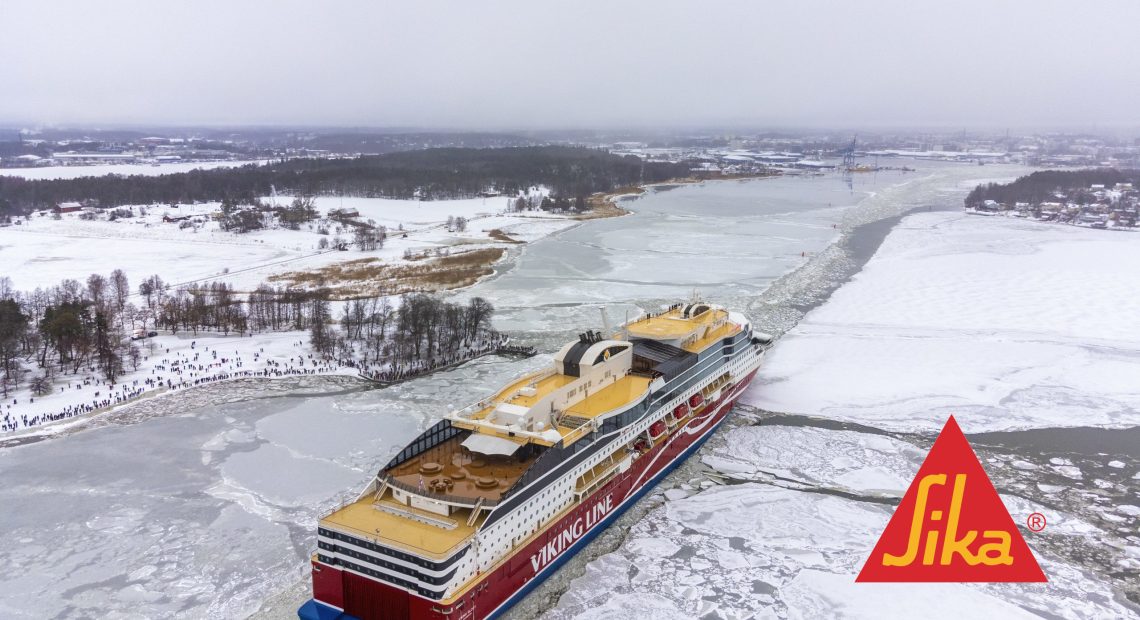 It feels like there's always a compromise between environmental considerations and costs when developing or working with products created for maritime and shipping markets. Unfortunately, for a very long time, sustainability has not been a priority over durability and cost-effectiveness. This approach however has been changing due to recent global sustainability initiatives.
One of the best examples of these changes is probably the implementation of environmental principles by SIKA, a specialty chemical company with a leading position in development and production of aesthetic deck coverings, acoustic flooring solutions, bonding, sealing and reinforcing products for many market segments including maritime industry. SIKA has made its mission to convert the environmental compromise into a balance, where sustainability and durability are paramount and there is no need to sacrifice the quality or eco-friendliness.
The innovation with the focus on flooring for shipbuilding industry
A central area of sustainability-related innovation comes in the flooring division of SIKA, more specifically, the majority of the Sikafloor® Marine-500 product range. For this product SIKA has developed a new way of creating polyurethane resins called "Purform".
This development came primarily to provide additional health and safety measures to the users of many products designed for the maritime industry, mainly but not limited to Sikaflex®, SikaTack®, and Sikafloor® Marine.
This new manufacturing process reduces the monomer count, allowing professional installers to minimise exposure while maximising their output and safety when undertaking marine flooring jobs. This new process also aligns with more recent EU regulations.
SIKA has gone beyond the required regulations and made their products to have one of the lowest counts of harmful chemicals. This means that all newly developed and the larger part of SIKA's marine flooring products have less than 0.1% monomeric diisocyanates.
The following marine floor models – Sikafloor® Marine-560, -595, -590, -599, -504, and -505 are fully compliant with these strict regulations.
In addition to that –
The sealers and topcoats are all water-based, free of harmful solvents.
All products have ultralow VOC emissions – directly related to indoor air quality.
Help is provided to obtain LEED, BREEAM, DGNB, and Green building certifications
No CMR based substances are emitted.
Another advantage is that all materials in use are bio-based, and in the case of marine floor model SFM560, the raw materials are recycled.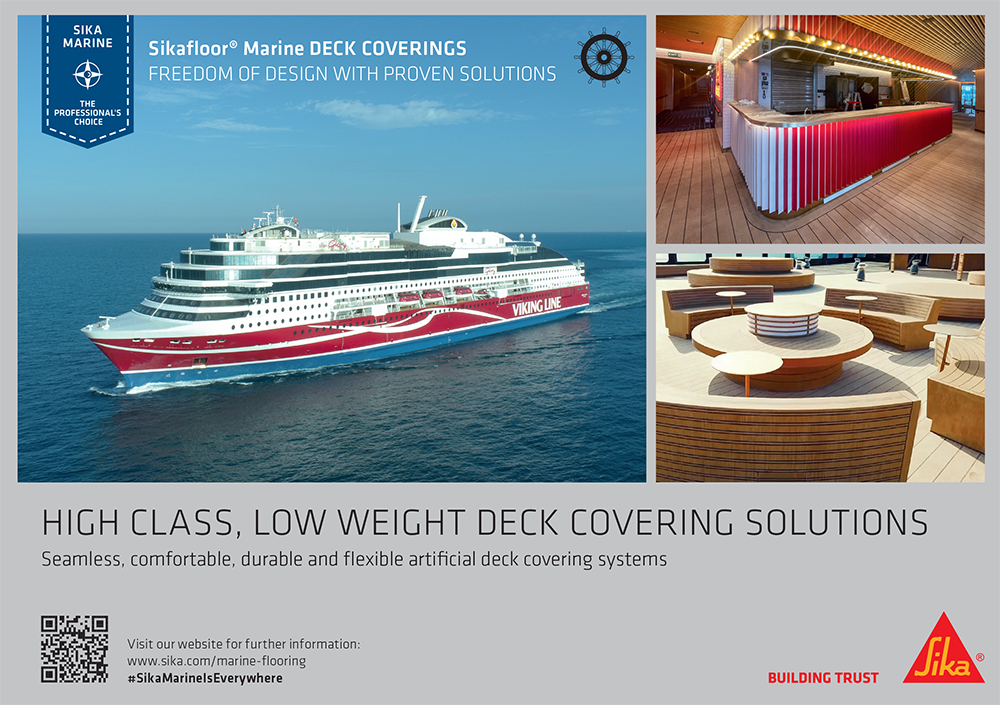 Further advances in flooring installation and maintenance process
Another important feature is that SIKA's marine flooring products are simple to install. Also, the materials have an uncomplicated maintenance routine with easy topical recoats, simple re-sanding of synthetic teak decks to look as new, replacement and resurfacing of a new base layer or only topcoat – meaning that there is no need to remove the entire floor panel.
The advantage here is that multiple layers can be easily applied in one day with the latest Sikafloor® Marine booster technology. Therefore, it helps to save time and fuel with less back and forth travel to the job sites, speeding up delivery and staying within budget.
The materials are also very light, which means they make the boats lighter and help to save on fuel during standard transportation.
These marine floors do not need to be refurbished frequently, because they are highly durable and have a long-life expectancy.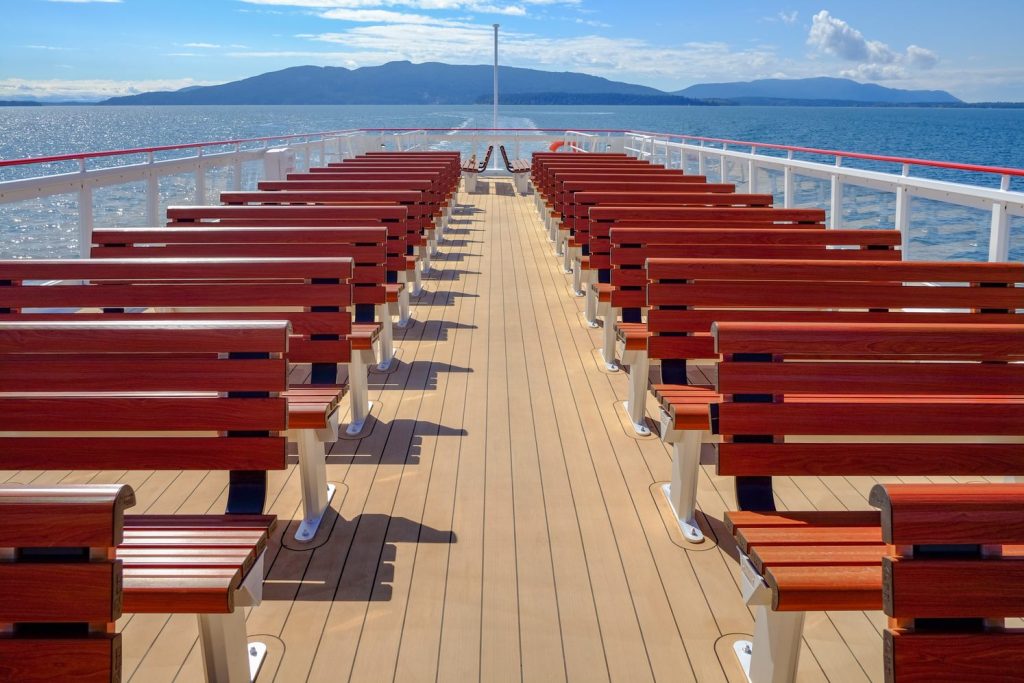 More research and more eco-friendly options for SIKA's marine flooring products
The name "Purform" is the composition of the words Pure, Polyurethane and Performance.
All SIKA's higher-end products, such as the Sikafloor® Marine Deco Comfort + and Sikafloor® Marine Deco Comfort Marble FX, now have reduced exposure and usage of monomeric di-isocyanates, while at the same time they remain aesthetically pleasing products. Don't let the looks fool you, as the performance of this flooring is one of the best in the world.
As SIKA continues their research, they'll introduce innovations like Sikafloor® Marine-560, an ultra-low weight levelling compound for internal and external usage. Combine that with Sikafloor® Marine-595, a synthetic teak compound with innovative cool technology and you will get a perfect, durable, ultra-light weight flooring suitable for high heat locations.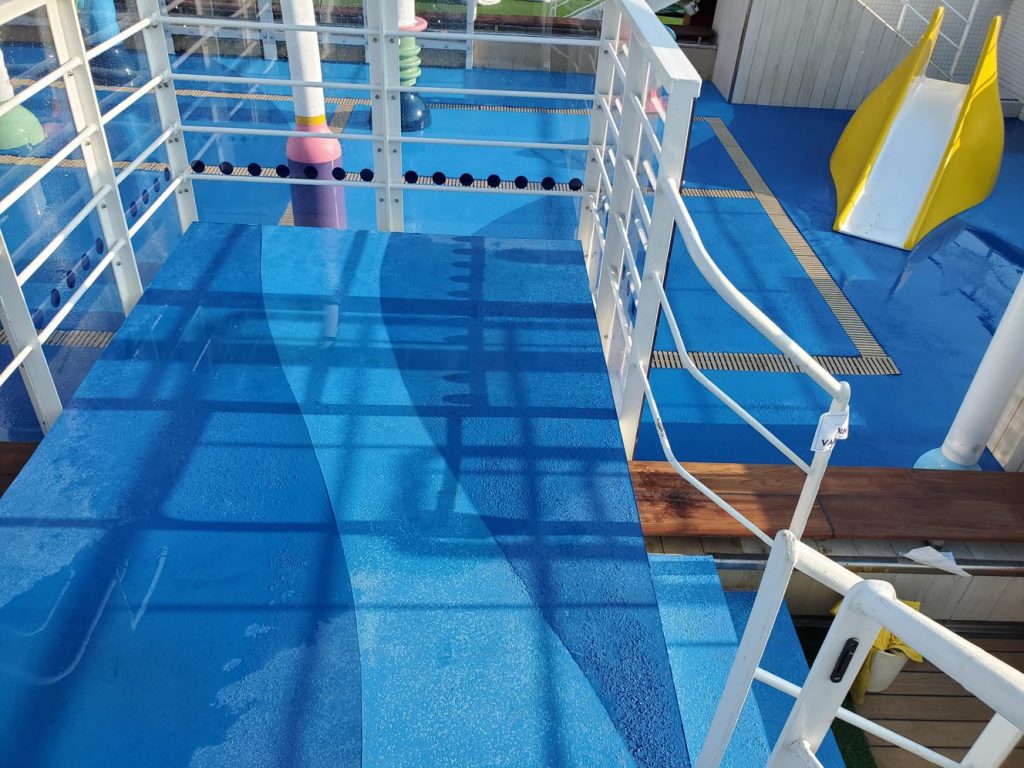 Local sustainable production of SIKA's marine flooring range
All of SIKA's SFM – 500 series products are proudly made in SIKA's local production facility in the Netherlands (no outsourcing) using renewable green electricity. This helps to maintain the high quality, continue the research and development locally, and contribute to the local economy.
Conclusion
We know that there is still a lot to be done to achieve full sustainability in the shipbuilding industry. The good news is that substantial steps have been recently made by the leading companies whose agenda now includes a well-developed sustainability roadmap. SIKA is undoubtedly one of the companies who are actively incorporating environmental considerations into their product development process.
More information on SIKA's sustainability policy
Contacts
Michiel Bos
Corporate Market Field Manager Marine
Sika Nederland B.V.
Zonnebaan 56 · 3542 EG Utrecht · Netherlands
Phone: +31302410120 · Mobile: +31651407014
bos.michiel@nl.sika.com ·
www.sika.nl