SeaZip Expands Fleet With Two Additional Damen Fast Crew Suppliers 2610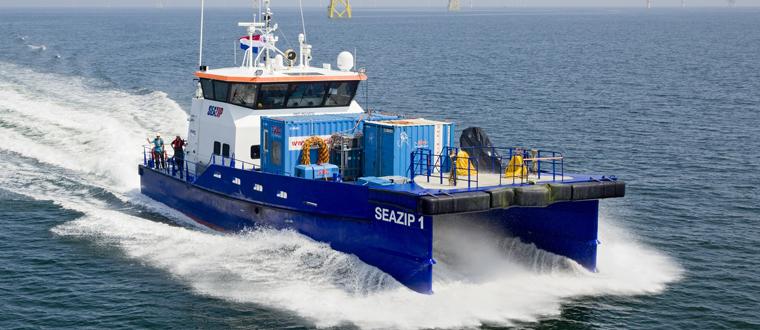 HARLINGEN – Having signed a newbuilding order for two Damen Fast Crew Suppliers (FCS) 2610, Harlingen-based SeaZip Offshore Service BV will expand the number of specialised service vessels in its fleet to a total of six. Even further expansion is anticipated, considering the explosive growth which the offshore wind market is experiencing. The vessels that have been ordered now and are yet to be built are expected to be delivered in March 2016 and will primarily be deployed in the building, operation and maintenance of large-scale wind farms in the North Sea.
Since 2012, SeaZip Offshore Service has operated vessels for the support of the international offshore wind industry. Its first four vessels were well received by the market. SeaZip 1, 2 and 3 have been chartered out almost continually to leading international parties in the offshore wind industry. The high- performance vessels and ship management managed to attract the attention of the offshore oil and gas industry. This summer, Heerema Marine Contractors – the world's market leader in transporting, installing and dismantling offshore oil and gas installations – contracted SeaZip 4.
Increasing demand for service vessels
Mr Jan Reier Arends, Member of the Management Board of SeaZip Offshore Service, said: "This first working relationship with the international offshore oil and gas industry is exceeding our expectations and considerably increases the operating prospects of our fleet in the making. Of course, we will seize any opportunities in this industry with both hands, but our focus will continue to be on Operations & Maintenance for the offshore wind farm market. In that market, we see the demand for swift and reliable service vessels virtually increasing every day."
Built to meet highest continuity requirements
The SeaZip offshore service vessels of the Damen FCS 2610 type are designated for the transport of passengers and small quantities of freight. These vessels are built according to the Damen-patented so-called Twin Axe Bow design, which ensures very stable seagoing conditions. The vessels are 25 metres long and can accommodate 12 passengers. In light of their stability and high level of safety, they are eminently suited for providing 24/7 services on the open sea. This is a significant competitive advantage, given the fact that wind farms tend to be built at ever greater distances from the coast and continuity of scheduled operations must be guaranteed in all circumstances.
The offshore wind energy market recognizes the FCS 2610 Twin Axe Bow service vessels as a new standard in offshore services consistent with the prevailing high level of ambition in the international industry. Their most significant distinguishing features are: best possible comfort under widely varying conditions; preservation of high speed in turbulent sea conditions; and a high level of fuel efficiency. Both SeaZip 5 and 6 will be built at Damen Shipyards and delivered to SeaZip Offshore Service in March 2016. JR Ship Management, part of Harlingen-based JR Shipping Group, will conduct the operational management of the vessels.