Luxury cruise market holds much promise for Greek and East Med destinations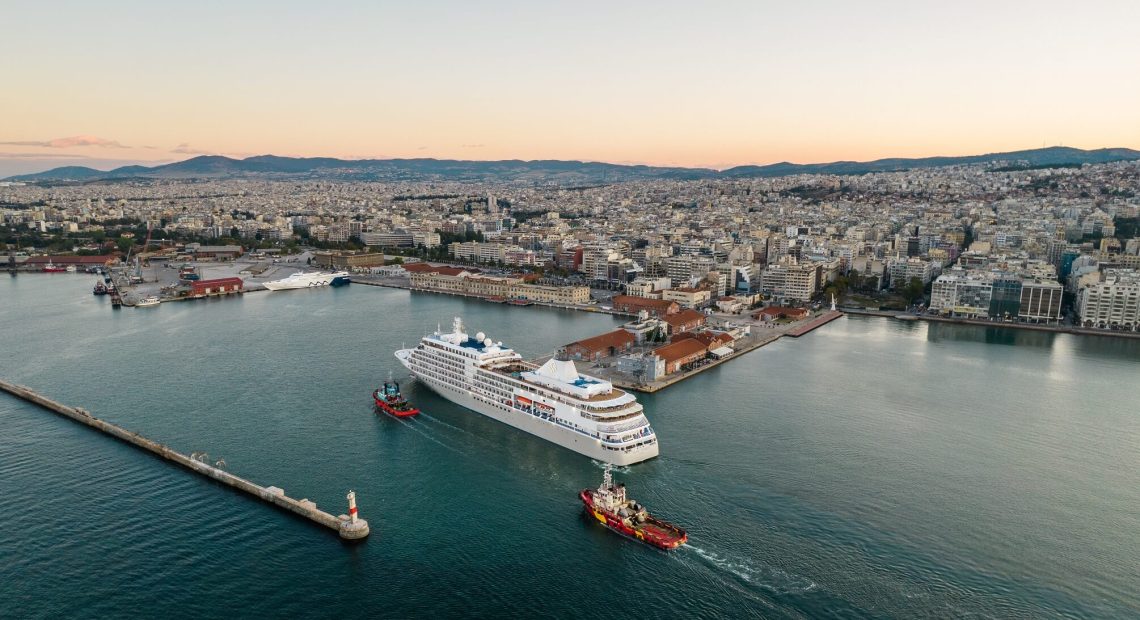 The appeal of Greece and the East Mediterranean as an ideal region for luxury cruising will be one of the main highlights of the 7th Posidonia Sea Tourism Forum (PSTF), scheduled to take place in Thessaloniki on the 25th and 26th of April, 2023.
Luxury and niche cruise brands that have already confirmed participation for the two-day event to be held at Thessaloniki's landmark five-star hotel Makedonia Palace include Azamara Cruises, Compagnie du Ponant, Scenic Cruises, Seabourn Cruise Line, Variety Cruises and recently re-launched Crystal Cruises.
Delegates and exhibitors from around the world will have the chance to attend a panel discussion titled: 'The Appeal of Venturing to Non-Mainstream Destinations: Luxury & Expedition Cruising leading the Way' that will examine the increasing importance of lesser-known destinations for this specific market segment, in conjunction with infrastructure challenges and the role of sustainability and authenticity as desirability factors.
"Our decision to move the Posidonia Sea Tourism Forum away from Athens for the first time in the event's 12-year-long history was in sync with emerging trends in an industry that wishes to constructively address growing criticism for its contribution to over-tourism in many cruise hotspots around the world," said Theodore Vokos, Managing Director of Posidonia Exhibitions S.A.
"Thessaloniki was chosen as the host of this year's event to signify the need for more port alternatives and new destinations to dilute impact and optimise cruise traffic management in the East Mediterranean region. Also, Thessaloniki is a natural gateway for emerging Balkan markets, which is another important topic to be addressed during the Forum."
With more than 400 inhabited islands and coastal cities across Italy, Croatia, Greece, Albania and Turkey, the East Mediterranean and Adriatic seas collectively offer one of the highest densities of destination alternatives in the world. There are countless potential new ports-of-call, as well as main and regional homeporting options beyond the well-established marquee destinations.
Diverting some traffic from over-frequented destinations will enrich the itinerary design menu, as well as act as a tool that can protect the natural, cultural and tourism values needed for a sustainable future.
Mark Robinson, Senior Vice President Operations, Scenic Luxury Cruises & Tours, said: "The luxury cruise segment represents 3.7% of the industry's total market share worldwide, with the Mediterranean Sea owning over a third of that with 37.01%. One of the main drivers for the region's appeal is the East Med archipelago which offers unique, famous worldwide destinations and hidden gems which offer ultimate customisation destination services. With our Scenic and Emerald Cruise luxury yachts we have many calls in the region, and we are happy to announce that in 2023 our new ultra-luxury expedition yacht Scenic Eclipse II, due to be launched in April, and our new Emerald Sakara yacht will debut in the East Med Region in July. Scenic Cruises is always looking for new destinations for our luxury cruises, and the East Med has many hidden gems for us to tap into with its rich heritage, friendly locals and not to mention the excellent cuisine and turquoise blue seas."
Some 85 luxury vessels totalling 36,184 berths will be operating cruises this year. This represents an annual capacity of 1,050,000 passengers and the prediction for 2027 is up to 94 ships totalling 44,764 berths and 1,378,000 passengers.
"According to the Allied Market Research Report, Greece's luxury tourism offering is expected to yield an annual revenue of USD 2,7 billion by 2030, registering a CAGR (Compound Annual Growth Rate) of 11.5% from 2021 to 2030. A significant part of this revenue will come from luxury cruise activity and on-shore spending from this segment's high-income passengers," added Vokos.
Luxury cruise passengers seek a wide range of unusual, often specialized and certainly more immersive destination experiences and are prepared to pay a premium to satisfy their expectations. Greece and the East Mediterranean are gifted with a level of destination diversity that can satisfy even the most highly demanding expectations of today's discerning travellers.
Other interesting topics to be discussed during PSTF 2023 will include the long-term prospects for the cruise industry as an important sector of the leisure travel market and the necessity for regions and cruise lines to cooperate on the enhancement of destination offerings, on the upgrading of infrastructures, on the popularization of alternative ports of call and finally, on improvements of cruise traffic management aimed at defusing over-tourism.
The 2023 PSTF is sponsored by Diamond Sponsor Thessaloniki Port Authority S.A., Silver Sponsor Piraeus Port Authority SA, Bronze Sponsors Celestyal Cruises, Global Ports Holding and Kyvernitis Travel. It is organised under the auspices of the Ministry of Maritime Affairs & Insular Policy and the Ministry of Tourism and supported by the Hellenic Chamber of Shipping, the Cruise Lines International Association (CLIA), the Association of Mediterranean Cruise Ports (MedCruise) and the Union of Cruise Ship Owners & Associated Members.
For additional information, Press inquiries should be directed to:
Artemis Vamvakopoulou, Posidonia Press Officer, EXTROVERT | Business Communications,
Tel: +30 210 6724265
Email: posidoniapress@extrovert.gr
Maria Photou, Marketing & Events Coordinator, Posidonia Exhibitions S.A.
Tel: +30 210 4283608
Email: mphotou@posidonia-events.com