Skoon Energy and Damen Sign Agreement for Sustainable Shipping Solutions Advancement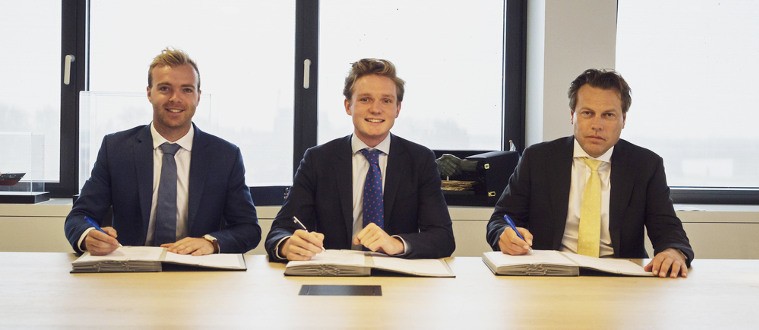 Damen Shipyards Group and Skoon Energy have signed a cooperation agreement of understanding for the advancement of energy transition in the shipping industry. The agreement combines Damen's 90 years of experience with the dynamism of a new start-up, founded in 2017, by Daan Geldermans and Peter Paul van Voorst, two students of the Delft University of Technology. 
Damen is renowned for its innovative approach to shipbuilding, and is well known for the improved sustainability of its product portfolio that results from this. Recent examples include numerous hybrid, LNG and fully electric propelled vessels. Skoon focusses on the large-scale electrification of ships' propulsion via management of a battery sharing network and strategically located charging hubs with a 100% clean energy supply. Skoon Energy's swappable battery packs – known as Skoonboxes – are planned for trial aboard a diesel-electric inland vessel later this year.
As a new company, Skoon will benefit from Damen's extensive experience in complex, international shipbuilding projects, as well as its global commercial network.
Skoon Energy founder Peter Paul van Voorst says, "With this partnership Damen is demonstrating its commitment to enabling sustainable solutions within the maritime industry. We're looking forward to working together with Damen to make fully electric shipping the norm within the maritime industry."
Damen Chief Commercial Officer Arnout Damen said, "We know from long experience that collaboration, sharing knowledge and ideas, is a crucial factor in stimulating innovation and encouraging improved sustainability. Skoon Energy's idea has quickly attracted the imagination of our industry. Their focus on improving the environmental performance of the shipping industry is one that is entirely aligned with our own ambitions and we're anticipating an excellent partnership as we work together to make large scale electric ships' propulsion a reality."