Single Marine Access Solution Provided by Damen, Amplemann and VEEM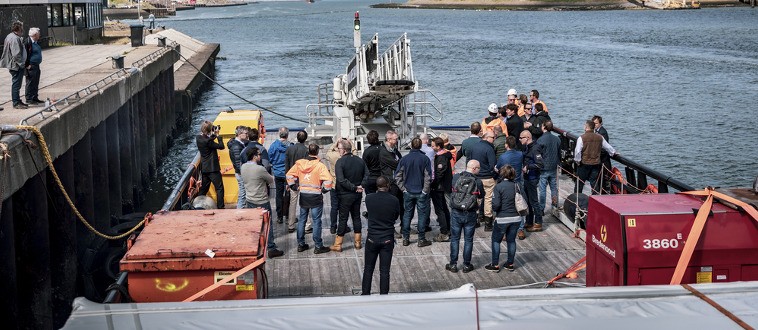 At the end of June, Damen Shipyards Group along with Ampelmann and VEEM hosted a Marine Access Event. Over two days, delegates from both the offshore renewable and non-renewable industries had the opportunity to sail from IJmuiden in the Netherlands to experience the latest in marine access solutions. The demonstrations took place on board a Damen Fast Crew Supplier 5009 equipped with an Ampelmann L-type gangway and two VEEM VG 260SD gyro stabilisers.
This combination of VEEM gyro stabilizers, the latest Ampelmann L-type gangway system and a Damen FCS 5009 marks a step change for marine access solutions. Embarking at IJmuiden, visitors from Europe, the Middle East, South America and Africa took to the waters of the North Sea and experienced the L-type gangway being connected to a wind turbine at Eneco's Princess Amalia offshore wind farm. Following the demonstration, this Ampelmann L-type will be shipped directly to Nigeria where it will be installed on another FCS 5009, owned by L.A.T.C. Marine Limited and operating for ExxonMobil.
Wiebe Jan Emsbroek, Crew Change Market Manager at Ampelmann, said: "To be able to demonstrate the capabilities of the Ampelmann L-type system in combination with the FCS 5009 and VEEM's gyro stabilizers was extremely important. It clearly showed the need to have partners to deliver a single solution for safe and efficient personnel transfer.  It was great to see that industry peers travelled from near and far to join us for this event."
Testing of the VEEM stabilizers proved to be a complete success with a roll reduction of between 35-40%, combined with the faultless performance of the Ampelmann system. David Stibbe, Damen Business Development Manager, said: "One of the many interesting features of the event was demonstrating the gyro stabilizers being switched on and off at the push of a button. This enabled guests to appreciate the positive effect they have on the vessel's roll motion. Looking to the anticipated combination on the next generation of Damen fast crew suppliers, our new FCS 7011 design will feature the larger VEEM VG 1000 SD stabilizer, which will achieve a roll reduction of up to 70% in 2.5m significant wave heights."
Guests also had the opportunity to attend a series of short presentations delivered by representatives of all three companies. Damen, Ampelmann and VEEM covered the latest developments in marine crew change solutions, fast crew supply vessels, motion compensated gangway designs and gyro stabilization technology.
"This event follows the successful operation of a Damen FCS 5009 equipped with an Ampelmann L-type, that is now deployed off the coast of Nigeria," continued David Stibbe, "and our development work on the FCS 7011, which is progressing well. These steps demonstrate that, by working together with our partners Ampelmann and VEEM and pooling our respective specialist knowledge, Damen can provide its clients with so much more than just a vessel. We are able to act as a marine access knowledge centre, capable of delivering completely integrated solutions using proven technology that is both safe and cost-efficient."
VEEM Chairman Brad Miocevich, who attended the trials, said: "The performance of the VG 260 SDs were absolutely as predicted and exceeded Damen's expectations. It was impressive to see the new Damen, Ampelmann, VEEM combination working so seamlessly. I am very excited to be able to sign off on the performance of the VG 260 SDs on the Damen FCS 5009 vessel. It is even more encouraging to receive Damen's confirmation that they would now like to proceed to the purchase phase & confirm the commercial requirements & delivery dates to supply the VG1000SD for the new Damen FCS 7011."
VIDEO
A short video is available at youtube.com
click on: https://youtu.be/Vyq1tK3Wa4Y