The Ocean's Plastic Problem Is Getting Worse With COVID-19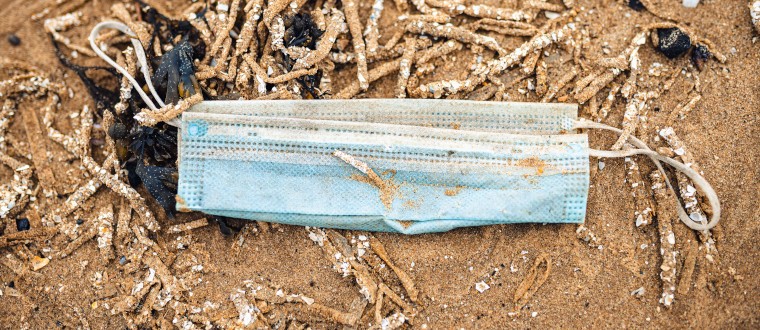 It is the earth's life support, but it seems like we are forgetting how valuable the ocean is in our existence. Every day, around 8 million pieces of plastic waste goes into our oceans, adding to the 5.25 trillion macro and micro pieces that are already in it. 381 million tonnes of plastic waste are produced annually and that is set to double by 2034.
But just when things couldn't get worse, the COVID-19 pandemic has added to an already alarming problem for the last few years. At the beginning, the lockdowns and social distancing seemed like a silver lining for the environment because it allowed the earth to breathe with lesser cars on the road, factories being shut down and fewer people accumulating waste.
In fact, there has been a significant decline in carbon emissions and pollution rates around the world. Unfortunately, it hasn't been the same situation for our oceans. On the contrary, things are getting worse.
Because of strict health protocols, the world has been using 129 billion face masks and 65 billion gloves every month. While this is necessary to help suppress the virus, the problem with masks and gloves finding their way into oceans is the threat to marine life.
These plastic wastes are easily mistaken for jellyfish, which is a favorite food of sea turtles. Masks can also entangle with fish, sea animals and even birds, putting their lives at risk.
But that's for the problem of using personal protective equipment. The pandemic has also triggered an increase in single-use plastic waste because it is cheaper while other options are pricier due to the increasing prices of oil.
More takeaways and food deliveries have also caused plastic usage to skyrocket over the last few months and most of them are going to rivers and oceans.
Although takeaway food service has been keeping restaurants and fastfood chains afloat, it's also contributing to a huge demand for single-use plastic that this year alone, we are expected to see a 30% growth in waste.
Different agencies have been making huge efforts to control this problem before it causes more damage to our oceans and its marine life.
A project developed by SYSTEMIQ, Ltd. and the Pew Charitable Trusts, for instance, is calling for a shift to a circular economy in the global plastics industry to promote reusing and recycling of plastic.
If this happens, Pew's experts project that the amount of plastic waste going into the oceans could be reduced by up to 80% in the next two decades. This reform is expected to cost around $600 billion, which is still $70 billion cheaper than continuing with the same system for the next two decades.
The takeaway
Some say that 2030 should be the year that the ocean plastic crisis must be solved, and that's just a few years away.
But there should also be a sense of urgency for businesses and private individuals to be more responsible with plastic usage and find more eco-friendly ways to help protect the earth's oceans.
References:
Scientific American: COVID-19 Has Worsened the Ocean Plastic Pollution Problem
National Geographic: Plastic trash flowing into the seas will nearly triple by 2040 without drastic action
The Conversation: The ocean's plastic problem is closer to home than scientists first thought
Condor Ferries: The threat to Marine life, The Ocean & Humanity
Photo by Jonathan Farber on Unsplash