Typhoon International and JW Automarine to Sign Supply Agreement at Seawork 2018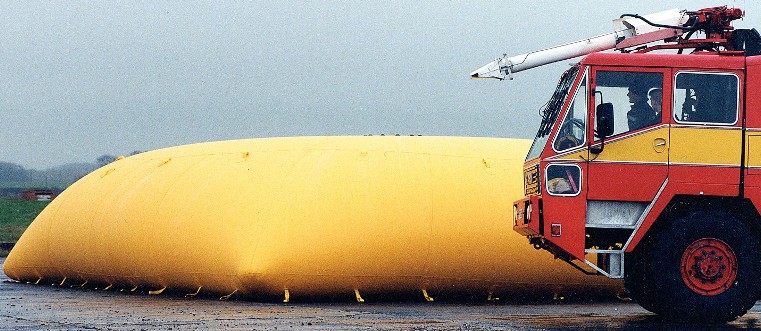 Typhoon International, the world-leading manufacturer of drysuits and maritime workplace equipment, is signing a benchmark distribution agreement with JW Automarine at Seawork.
Typhoon International will be initially focusing on the UK distribution of two key JW Automarine products.  The Flexi-Dam easy-stow-self-supporting containers safely hold water, chemicals, fuels and more, ideal for use by Emergency Services in fast response situations.  The Flexi-Tainer, similarly, is easy to move around to military, emergency or famine situations.  Both are available in a range of sizes to contain up to 25,000 litres.
The two products will be on display courtesy of Typhoon International at Seawork. Typhoon has a strong presence in the maritime rescue and commercial maritime work environment.
Commenting on the agreement between the two companies, Jon Crossland, Typhoon International's Managing Director, explains "We could see a strong synergy between our existing product range and customer base and products that JW Automarine has to offer.  We will be supplying these products to our customer base in the Emergency Services and Fire & Rescue sectors in the UK, in particular for marine applications."
Crossland adds:  "We have also identified potential future opportunities for Typhoon to work with JW Automarine on the supply of environmental protection products and well as commercial lifting and operations products within the UK. Typhoon's experience combines with the development experience of JW Automarine to create an opportunity for both organisations to increase market share."
Established in 1972, JW Automarine has been the leading developer of PVC and PU fabric flotation, containment and load testing technical solutions for a broad and diverse range of customers.
Pete Evans of JW Automarine comments "To ensure the best ongoing support to the UK Emergency Services, with its diverse and regional requirements, JW Automarine is delighted to be partnering Typhoon International Ltd."
He adds "Working together, our two established technical manufacturing companies will allow the UK Emergency Services to procure the exact product they need. We value the importance of close contact and discussion with end users who understand the real need of a product.  We have recently introduced a product, the Flexi-Pool, a dual use on site emergency liquid containment dam or decontamination tank for personnel, which is a result of this relationship with our customers."
To find your nearest stockist call a member of the Typhoon team on +44 (0)1642 486 104.