New Investment Committed by ADERCO in the UK for a Stronger Maritime Future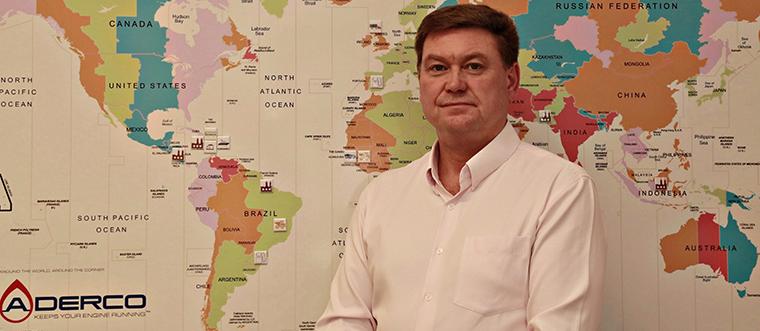 Leading fuel treatment specialist Aderco has opened an operational base in the UK to serve the marine markets here, in the US and the Caribbean in response to growing demand. Aderco chose the UK for its strategic location as well as its importance to the maritime sector, making it the ideal hub from which to combine customer service with closer proximity.
Peter Stevenson now leads Aderco Ltd from their new offices in Hampshire with additional staffing levels to provide a best-in-class service. The company will also serve as a reporting line for the company's worldwide network of distributorships. Peter Stevenson joined Aderco from Simplex-Turbulo earlier this year and is now beginning the next phase of the planned company strategy.
Peter Stevenson said, "This is an exciting time for Aderco, whose proven fuel treatments deliver cost savings and efficiency gains that are in tune with today's concerns and resonate with customers. Aderco has an outstanding commitment to innovation and we are continuously improving our solutions to enable the maritime industry to meet today and tomorrow's challenges. We have a strong commitment to the maritime sector, which began 35 years ago when we began working with the Canadian ice-breaker fleet. Since then we have been able to build a strong track record of saving costs, improving operational reliability and reducing emissions. We've hit the ground running here and I'm delighted to be working with such a dynamic team."
Olivier Baiwir, Aderco International CEO, said, ""Peter's broad depth and experience across the industries that are key to Aderco is making a difference and he adds a valuable perspective to our management team. His expertise, especially in leading technology initiatives at the enterprise level, has already shown extremely valuable to the shipping sector. The UK undoubtedly remains a key strategic location and we couldn't have a better team in place to support our customers and realise the potential for growth here as well as internationally.""
Aderco enables fuel oil-fired operations to run more cost effectively, smoothly and more sustainably through advanced fuel treatments. The company develops, manufactures and distributes specialised solutions, including fuel conditioners and lubricity improvers, for the marine/maritime, mining, power generation and transportation sectors. Aderco fuel treatments are 100% vegetal-organic, ashless and metal-free.
Peter Stevenson previously worked with Simplex-Turbulo as Managing Director where he initiated and oversaw the implementation of a CRM system, significantly increasing customer sales. He had first joined the company as Sales Director in 2012. Prior to Simplex, Stevenson was Sales Director at V Ships, liaising with the 11 marine service companies within V Ships. Responsible for internal and external sales, Stevenson identified and implemented a group-wide CRM solution there. Before joining V Ships, Peter Stevenson spent 29 years with UMC, beginning as a diver and exiting as a shareholder at the point of sale to V Ships.