Capturing the Essence and Beauty of Shipwrecks Around the World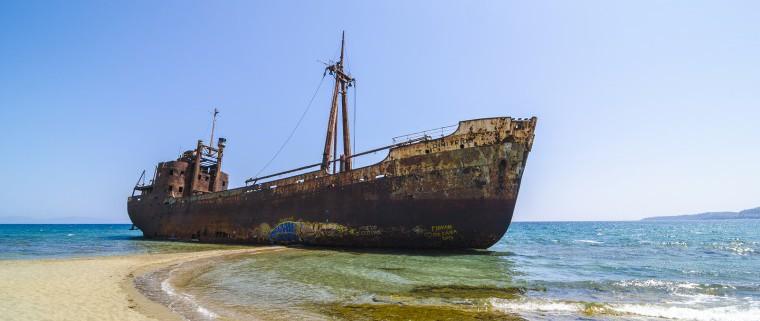 Dutch photographer Anton Rijsdijk travelled around the world for his job as a consultant in water supply. On his adventures he has hunted down the most intriguing shipwrecks in the most remote spots. 66 beautiful full colour photographs have been collected together in this must-have book called: On the Rocks.
Rijsdijk has been interested in shipwrecks since 1984 when he was living in Aden, Yemen, close to a port with a large number of abandoned ships. Now, three decades later, he is still hunting shipwrecks all over the world because of their interesting history and their inherent beauty – uniquely crafted by elements of nature. But why? "Because of the excitement and pleasure it brings travelling the world and finding these treasures. New shipwrecks can be found anywhere in the world, but I mainly find them in remote locations such as deserted beaches, coral reefs in the middle of the ocean, inaccessible diamond grounds and on small islands. Often the journey itself is even more interesting than the wreck," according to Rijsdijk.
Rijsdijk has succeeded in capturing the essence and beauty of all kinds of visible shipwrecks by bringing together the most picturesque images in this colourful photo book. Illustrated with breathtaking and inspiring photographs, the book details the GPS position, charts and maps and information on 66 wrecks that can be found worldwide.
Featuring previously unpublished images from Rijsdijk's private archive, this book is dedicated to the beauty of stranded ships and is a summation of Rijsdijk's many years of wreck-hunting that have made him a prominent authority on above the waterline shipwrecks. On the Rocks is a luxurious hardcover publication of 80 landscape pages (300 x 270mm) and is available for only EUR 24.95 excl. VAT.
To place orders contact Yellow & Finch Publishers
T: +31 (0) 118 473398
E: info@ynfpublishers.com
Yellow & Finch Publishers


Publisher of Maritime Magazines


Pres. Rooseveltlaan 737/739
NL-4383 NG  VLISSINGEN
The Netherlands
T +31 118 473 398
F +31 118 461 150
E info@ynfpublishers.com
I www.ynfpublishers.com