HullWiper In Partnership With SCAMP Expands Into Gibraltar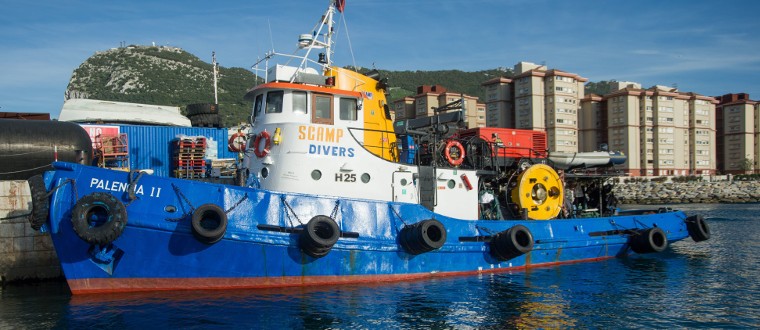 Underwater hull cleaning system supports port, and vessels, to meet growing stricter environmental regulations
Gibraltar, 12 November 2018 – HullWiper Ltd, in partnership with global provider of ship fuel conservation and underwater services SCAMP, is now offering an affordable, safe and eco-friendly hull cleaning solution for vessels transiting the Strait of Gibraltar.
The agreement marks the latest expansion under HullWiper's global leasing programme, introduced in 2017, to work with partners worldwide to offer ship owners and operators a cost-efficient, brush- and diver-free alternative to traditional hull cleaning methods that is friendly both to the environment and the bottom line.
The Port of Gibraltar's strategic location serves as one of the largest bunker bases in the Mediterranean and is an important supply point for ships travelling eastwards through the Suez Canal. HullWiper's Remotely Operated Vehicle (ROV) is now in place to support the port's initiatives to comply with IMO guidelines whilst offering owners and operators the benefits of a foul-free hull including improved vessel performance, fuel savings and lower GHG emissions.
"Our partnership with the important global player SCAMP is a positive step in our expansion plans," says Simon Doran, HullWiper's Manager Director. "Gibraltar is our first stop together. With an estimated 71,000 vessels transiting the Strait of Gibraltar every year, it is one of the few ports that can provide any type of service to vessels of all sizes and types. HullWiper is a good fit."
HullWiper's patented underwater hull cleaning system uses adjustable seawater jets under variable pressure to dislodge waste materials and remove fouling and invasive alien species (IAS), without the scrubbing, harsh chemicals or abrasives used for traditional methods. HullWiper leaves expensive antifouling surfaces intact and does not harm the delicate marine environment. No divers are used, so there is no risk to human life and cleaning can be conducted day or night, in most weather conditions, and whilst cargo operations are underway. Removed residues are collected by an onboard filter and deposited into dedicated drums onshore for locally-approved environmental disposal.
Freddie Pitto, SCAMP Ltd Global General Manager Shipping Services, says: "The SCAMP worldwide network supports the IMO initiatives for greener and cleaner practises in the industry.
"Working with HullWiper will enhance our environmental method capabilities and ensure we meet future requirements relating to hull maintenance."
Launched in Dubai in December 2013, HullWiper operates in ports around the world including Sweden, Norway, Denmark, Singapore, Spain, Egypt, Australia, UK, United Arab Emirates and – on an ad hoc basis – at key locations across the Middle East and is available for lease where HullWiper does not have its own base.