New ProZero Naval Interceptor vessel Revealed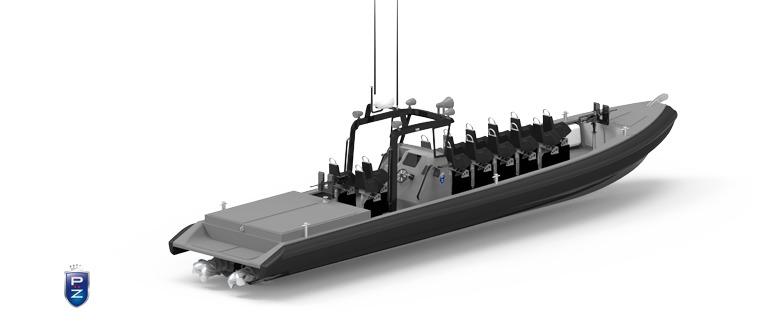 The leading exhibition on workboats and small military and security vessels, Tuco Marine of Denmark reveals its newest vessel in the ProZero line. The ProZero 12m Interceptor. The interceptor is an advanced high-speed craft, extremely well suited for fast response interdiction, surveillance, patrol, law enforcement, counter-piracy efforts, search- and rescue, or medical evacuations.
Designed by a team of skilled engineers, through collaboration with multiple world leading naval experts, the Interceptor is a covert, very high-speed craft. The ProZero 12m Interceptor is therefore capable of delivering valued human resources fast and safely over a long range in extreme environments.
Tuco Marine Group´s ProZero range of boats offers high performance deep V hull forms designed specifically for the demanding military and coastguard sector. ProZero boats are available in a multitude of variations that are carefully tuned to suit each individual user's particular requirements. Cockpit layout in the Interceptors are typically arranged to maximize the use of modern day battlefield management and situational awareness electronic aids.
The ProZero interceptor is powered by a pair of inboard electronic turbo-diesel engines giving the vessel a +60 knot top speed. And the high performance deep V hull secures the boats capabilities to go fast, also in rough seas, where most vessels must give up. Interceptor missions at high speed in rough seas are mainly limited by the human factor of shock mitigation. And therefore the Prozero 12m Interceptor has been developed around our design team's shock mitigation strategy which means the design of the vessel has had the highest focus on minimizing effects of shock mitigation in all parts of the vessels.
The core idea is, to secure that the ProZero vessels outperform the current market in reliability and also in easy service. The ProZero 12m Interceptor can be rapidly reconfigured to meet different roles and requirements, which can include boarding variants, fire support variants and command platform variants. Parameters like delivery time and customization according to customer demands are, during the design phase, a focal point. This is why the complete construction system behind the series is module based. The module-based system allows for easy adjusting and customizing.