Rapid Response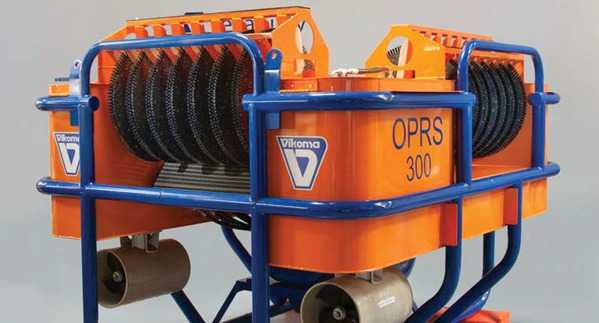 Vikoma International Limited is a world leader in the design and manufacture of oil and chemical pollution control systems with a reputation in the global oil spill industry for developing innovative, high performance products to deal with all types of major response scenarios. The company, which provides solutions to over 140 countries, prides itself on supplying efficient, effective and reliable equipment for the containment and recovery of spilled oil and the protection of the environment.
Vikoma has built up considerable experience in its field, having been founded by BP in 1967 following the notorious Torrey Canyon oil spill. Today the company is the leading player in the market, a position that it has achieved due to its highly knowledgeable and experienced engineering and design team, an extensive global sales network and an inhouse manufacturing capability.
The latter point is a key strength of Vikoma as the company's ability to design and manufacture in the UK allows it to ensure quality and reliability standards remain at the highest level. In fact, the business is one of the few manufacturers of oil spill response equipment in the world to hold the BS ISO 9001:2008 certification for sales, design, development, manufacture, installation and commissioning.
Oil spill response and containment is becoming an increasingly important area in the offshore and marine industries, and as such Vikoma's customers include many of the major oil companies, governments, ports and harbours, and major spill response organisations around the world. For these clients the company offers a wide product portfolio that includes a broad range of oil spill containment booms manufactured in high-quality neoprene and polyurethane for use in offshore, near shore and inland environments, high efficiency oil skimmers for both marine and industrial applications, a range of workboats and vessels, and a full complement of auxiliary equipment such as storage tanks, pumps, hydraulic powerpacks, and even training and commissioning services.
The company prides itself on continuously investing in and improving this range with the addition of new innovations. In fact, in April 2013 Vikoma launched a major new offshore oil recovery solution at Spillcon 2013, the Asia-Pacific Oil Spill Prevention and Preparedness Conference and Exhibition that was held in Cairns, Australia. The new product, the OPRS 300 is the latest addition to the company's range of class-leading offshore oil pollution recovery systems and is based upon patented oil-attracting disks that have been proven to collect up to 300m3 per hour of oil, and can work across oils with viscosities ranging from one to one million cSt.
The OPRS 300 consists of a floating skimmer head that utilises Vikoma's tufted disc technology, combined with both an onboard recovered oil discharge pump and thrusters for manoeuvrability. Speaking of the product's innovative design Vikoma's managing director, Peter Tyler, explained that: "We were delighted to launch this exciting new product at Spillcon 2013. Our design, engineering and manufacturing teams were presented with a challenging brief based on specific market feedback. Thanks to the introduction of a number of innovative solutions, the result is a system utilising a unique oil collection principle".
"This truly collaborative effort has seen us rise to the challenge of bringing this from an initial concept stage to delivering the largest capacity recovery system Vikoma has ever produced. Our market research indicated a strong demand for this system and as such, we fully expect the OPRS 300 to become a leading product in our portfolio."
The OPRS 300 joins Vikoma's skimmer products, which include the Komara range having an oil recovery efficiency of greater than 98 per cent. Alongside skimmers, pollution recovery systems and spill containment booms the company also designs and manufactures a range of workboats and vessels that can be used for a number of applications.
The Vikosprint, for example, is a fast, flexible and extremely agile aluminium trimaran, which is available as a standard workboat or as an oil spill recovery vessel complete with onboard recovery system and rigid booms. Offered in four sizes (12 metres, 16 metres, 21 metres and 30 metres lengths) Vikosprint can be provided with a range of Vikoma oil spill response equipment to deal with a wide variety of spill and contaminant situations. The company also offers a range of smaller vessels, such as the Delta Responder, Delta Clean and Spillcat, which are for use in harbours or near-shore locations and are capable of meeting a number of spill or similar challenges.
Vikoma realises that an oil spill, regardless of size or environment, can have an enormous impact on a company's operations. As such, alongside its products the company provides a range of after-sales training services ranging from spares kits and individual parts, through to a full training and commissioning service. These include IMO Level 1 Beachmaster courses as well as engineer training and operator training programmes, meaning that the company can train a client's employees in nearly every aspect of the product and its application.
For nearly 50 years Vikoma International has been dedicated to the recovery and containment of spilled oil and other contaminants. Today the business has built a world-renowned product range that is capable of meeting the most challenging environmental disasters. With the environmental impact of offshore and marine operations becoming an increasingly important issue worldwide, those in the industry can rely on Vikoma to ensure that these operations remain safe long into the future.