RoRo Carrier MS MOSA Converted into the Cable Layer CS MARAM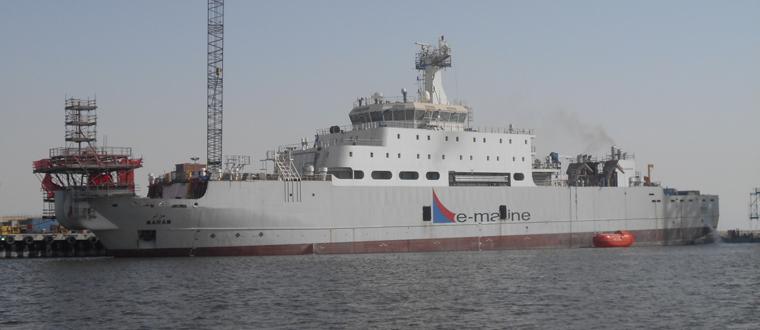 The former RoRo carrier MS MOSA is currently being converted into the cable laying and maintenance vessel CS MARAM at the shipyard Ali & Sons Marine Engineering Factory, Abu Dhabi. In cooperation with Wärtsilä Ship Design Norway AS, the Hamburg-based TECHNOLOG GmbH has been tasked with carrying out consulting and supervision of the comprehensive conversion work by Cable Lay company E-Marine PJSC, Dubai, UAE. The CS MARAM was launched at the end of January this year and is currently docked at the outfitting quay in Abu Dhabi harbour, where conversion will be completed under the supervision of the TECHNOLOG technical team. Having undergone a total refit, the vessel is equipped with three large cable rooms, a substantial cable laying system with state-of-the-art laying equipment and acomprehensive arrangement of lifting gear as well as a ROV. Delivery of the cable lay ship is planned for 2015.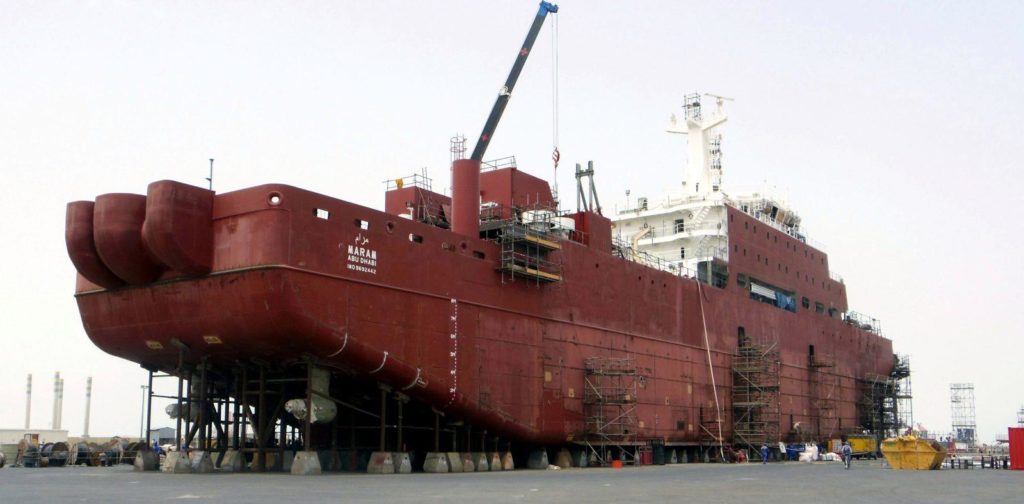 CS Maram during restructuring on shore
Particulars of CS MARAM
Length (LOA)     127.00 m
Length (LPP)      112.32 m
Beam                  16.60 m
Height                 8.10 m
Draught              6.10 m
Complement       72 Pers.
About TECHNOLOG
As a leading maritime technology partner and in conjunction with its subsidiary TECHNOLOG Services GmbH, TECHNOLOG GmbH Handels- und Beteiligungsgesellschaft für Technologie offers a comprehensive range of innovative designs, consulting and feasibility studies as well as professional engineering and project management services encompassing technology transfer for ship owners, operators and shipyards all over the world. Customers have been benefiting from pioneering solutions for the international shipbuilding, marine technology and offshore industries ever since establishment of the company as TECHNOLOG GmbH back in 1979. In Germany, the company employs more than 40 staff who works together with TECHNOLOG-MRM marine services (China) Ltd. in Hong Kong and Shanghai and agencies in Australia, Singapore and South Korea. For further information see www.technolog.biz.