Second GreenPort Cruise Conference Highlights Environmental and Sustainability Issues

The second GreenPort Cruise Conference held on Tuesday 14 October, highlighted the latest environmental and sustainability issues facing global cruise terminals.
Onshore power supply versus the use of LNG at cruise terminals is always guaranteed to create a debate and the first session at the conference did exactly that.
Alexandros Chiotopoulos, consultant at DNV GL Maritime Advisory, spoke about the possibility of retrofitting cruise ships to use LNG by lengthening them. In other words, by inserting an LNG ready-made mid-body section to cruisers.
"It's definitely an option worth investigating, but it's case by case dependent and depends on your investment strategy," he said.
On the same topic, Dr Monika Griefahn, chief sustainability officer, AIDA cruises, pointed out that for ferries, which simply traverse between two points, using LNG is simpler. But she said it was more complex with cruise ships which call at multiple ports.
For this reason, she said: "I believe there is a place for shoreside power and it works for smaller vessels. But for cruise ships the long-term future will be in LNG as long as the infrastructure and regulatory aspects can be worked out."
Another hot topic at the Greenport Cruise Conference agenda was the port city interface panel discussion.
Greta Marini, strategic advisor, port city community affairs, AIVP, said that it's important to develop a shared dialogue between ports and cities.
"A good sustainable development is linked to a good relationship between the port and the city," she said.
She said that this has become even more important as ships have got bigger because they have more of an effect on the port environment which can result in congestion and seasonability if not handled carefully.
Dr Marini added: "A smart port city is an ecosystem with a shared vision and strategy."
Hosted this year by the Port of Barcelona, the 2014 GreenPort Cruise Conference played host to nearly 120 delegates.
The conference hails the start of the three day GreenPort Congress, also hosted by the Port of Barcelona, being held from 15 to 17 October at the World Trade Centre, Barcelona.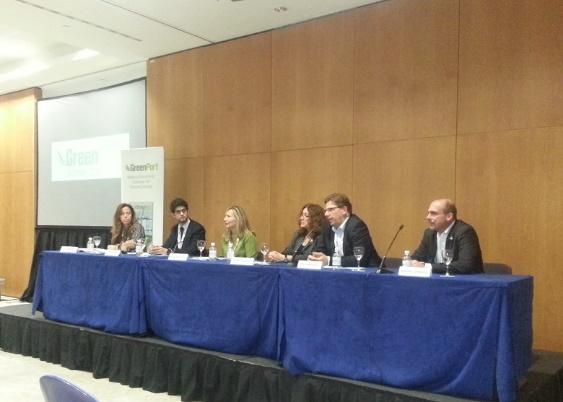 Speakers at the Second GreenPort Cruise Conference, held at the World Trade Centre, Barcelona on 14 October 2014, hosted by the Port of Barcelona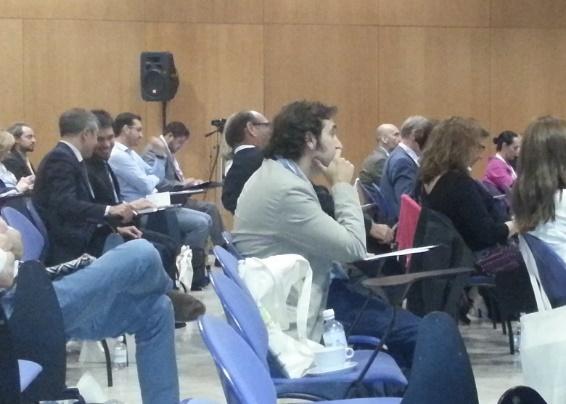 Delegates at the Second GreenPort Cruise Conference, held at the World Trade Centre, Barcelona on 14 October 2014, hosted by the Port of Barcelona
end-
About Greenport Cruise Conference – Tuesday 14 October 2014
Greenport Cruise Conference and Greenport Congress are organised by Mercator Media Ltd. With the increasing popularity of cruise holidays, ports are seeing a large increase in the number and size of passenger ships using their facilities and the local infrastructure is also required to cope with the influx of huge numbers of passengers at a time. The second GreenPort Cruise conference will highlight the environmental and sustainability issues facing Cruise terminals across the world.
For further information about the Greenport Cruise Conference or the Greenport Congress, please visit the website: www.greenport.com/congress or email: congress@greenport.com.
Mercator Media Ltd
The Old Mill, Lower Quay, Fareham, Hampshire PO16 0RA, UK
Tel: +44(0)1329 825335 Fax: +44(0)1329 825330
corporate@mercatormedia.com
www.mercatormedia.com
Registered in England. Company Number 2427909. Registered office address: c/o Shoosmiths, Witan Gate House, 500-600 Witan Gate West, Milton Keynes, MK9 1SH
About Mercator Media Limited
Mercator Media Ltd is based in Fareham, Hampshire, UK. Established in 1989, the company maintains valued B2B marketplaces centred on the world's marine infrastructure. It is experienced at creating integrated marketing strategies for clients using a range of channels including print, online, events and research. Some of Mercator's scheduled events include: Motorship Propulsion and Emissions Conference, Seawork International, Icelandic Fisheries Exhibition and the Gas Fuelled Ships Conference.
Issued by Samantha Burdekin on behalf of Mercator Media Ltd