125 Years Celebrated by Damen Shipyards Galati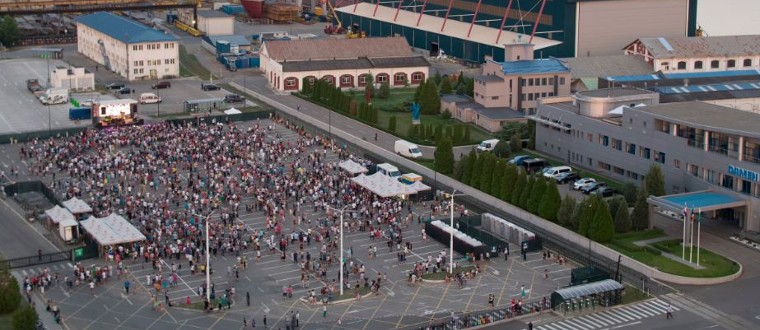 Galati yard has delivered over 1,300 vessels during proud history
Damen Shipyards Galati held a party for the annual celebration of Ziua Navalistului – Shipbuilder's Day. This year the party was larger than usual as it incorporated a celebration of 100 years since Romanian unification and Damen Shipyard Galati's 125th anniversary. 
In total around 7,000 people attended the event, including employees and former employees of the yard and their families, Galati city officials, clients and the media.
Speaking at the celebration, the mayor of Galati, Ionuţ Pucheanu, said, "When I think of the Shipyard in Galaţi, I think of professionalism and tradition. You are those who make these things happen here. All I can do is to congratulate you, wish you health and strength for the future. I hope that in 125 years from now, your succesors will meet again here, maybe at a larger scale, which means this yard will extend its production capacity in future!"
Yard managing director Rino Brugge said, "At the core of Romania's shipbuilding industry, Damen Shipyards Galati takes pride in its maritime heritage, which covered over the years a wide variety of ships, from oil tankers, cargo vessels, bulk carriers and drilling rig platforms to modern ferries and superyachts, complete offshore vessels, workboats as well as defence and naval vessels.
"Today it is a good time to consider what we've been through, where we are and where we are going. We have everything we need, the right capabilities, the right equipment, high skilled force and the desire to prove that we are a sound and a top quality shipyard, as well as a great family."
The Galati yard was founded in 1893 by Gherorghe Fernic at the time that the shipbuilding industry was modernising, taking the step from wooden to metal hull construction. It quickly made a name for itself and became internationally renowned for the complexity of the vessels it built.
During the evening, guests were entertained by a selection of bands, playing a mixture of popular and traditional music. Younger guests had their own dedicated area where they could take part in face-painting and balloon modelling. The party concluded with a fantastic fireworks display.
Damen Shipyards Group
Damen Shipyards Group operates 35 shipbuilding and repair yards, employing 12,000 people worldwide. Damen has delivered more than 6,000 vessels in more than 100 countries and delivers some 160 vessels annually to customers worldwide. Based on its unique, standardised ship-design concept Damen is able to guarantee consistent quality.
Damen's focus on standardisation, modular construction and keeping vessels in stock leads to short delivery times, low 'total cost of ownership', high resale values and reliable performance. Furthermore, Damen vessels are based on thorough R&D and proven technology.
Damen offers a wide range of products, including tugs, workboats, naval and patrol vessels, high speed craft, cargo vessels, dredgers, vessels for the offshore industry, ferries, pontoons and superyachts.
For nearly all vessel types Damen offers a broad range of services, including maintenance, spare parts delivery, training and the transfer of (shipbuilding) know-how. Damen also offers a variety of marine components, such as nozzles, rudders, winches, anchors, anchor chains and steel works.
Damen Shiprepair & Conversion (DSC) has a worldwide network of eighteen repair and conversion yards of which twelve are located in North West Europe. Facilities at the yards include more than 50 floating and (covered) drydocks, the largest of which is 420 x 90 metres, as well as slopes, ship lifts and indoor halls. Projects range from the smallest simple repairs through Class' maintenance to complex refits and the complete conversion of large offshore structures. DSC completes around 1,300 repair and maintenance jobs annually, both at yards as well as in ports and during voyage.
About Damen Shipyards Galati
Damen Shipyards Galati (DSGa), set over 55 hectares, this year celebrates its 125th anniversary. Since becoming part of the Damen Shipyards Group, the yard has delivered 29 defence and security vessels to thirteen different countries, including NATO and EU members. It also has built anchor handlers, coast guard vessels, patrol ships/navy vessels, combi-freighters and container feeders, RoRo ships, ferries, dredgers and barges. Signature Damen vessels like the ASD Tug 3212 regularly roll off the Galati slipway on the Danube.
As well as workboats, crew and cargo vessels, DSGa has rapidly built up a diverse reference list of vessels at the top end of Damen's product portfolio. Noteworthy vessels include the 205 m Joint Support Ship 'Karel Doorman' for the Royal Netherlands Navy, the first 28 m full-hybrid tug for Dutch towage company Iskes, the Flemish government's research vessel 'Simon Stevin' and Jumbo's heavy lift vessel 'Fairplayer'. More recently, DSGa completed six Damen PSV 3300s for Norwegian offshore company World Wide Supply, of which the first four are under charter for Brazil's oil and gas major Petrobras and two will work the North Sea.
As well as the group's quality standards, DSGa has integrated a Quality Policy System in its management processes. The system is accredited by Lloyd's Register Quality Assurance based on the ISO 9001:2008, OHSAS 18001:2008 and ISO 14001:2005 requirements.
To reduce delivery times substantially, DSGa builds a wide variety of standard hulls on spec and keeps them in stock. Part of the Damen approach to shipbuilding – the Damen Standard – these vessels can be configured with various options to suit customer demands. The approach strikes the right balance between standardisation and custom builds. In addition, DSGa regularly fabricates and stocks hulls for completion at other Damen yards.
For further information please contact
Ben Littler
Communications Advisor
+31 (0) 183 65 5546
+31 (0) 610 46 5742
ben.littler@damen.com
www.damen.com