Alfa Laval PureSOx is Readied for Installation Aboard EXMAR Newbuilds

Alfa Laval PureSOx systems will soon be installed by Hanjin Heavy Industries and Construction aboard two LPG carriers for Belgian owner/operator EXMAR. Because these vessels are newbuilds, the installations place Alfa Laval's planning, documentation and delivery capabilities in the spotlight.
Hanjin Heavy Industries and Construction, Korea's oldest shipbuilder and now one of the world's leading shipyards, is a specialist in ultra container carriers and tankers. Recently the yard was contracted by Belgian energy logistics company EXMAR for newbuild LPG carriers that will join EXMAR's existing LPG fleet of around 30 vessels. The new LPG carriers, each with a capacity of 38,000 m3, will be built at Hanjin's Subic Shipyard in the Philippines and delivered to EXMAR in Q1 and Q2 of 2016.
Two of these vessels will be equipped with Alfa Laval PureSOx scrubber systems for exhaust gas cleaning, which will be delivered to the Subic Shipyard in December 2014 and March 2015. The systems will be configured as hybrids, able to operate in an open loop with seawater or in a closed loop with circulation water. Each multiple-inlet system will serve a two-stroke Doosan MDT 6S59ME-B 9.3 main engine and three Doosan MAN 8L23/30H Mk2 auxiliary engines.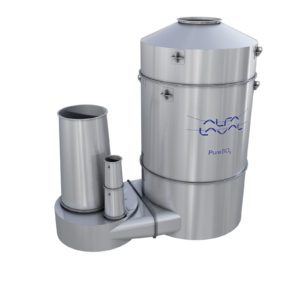 As newbuilds, these installations place especially high focus on Alfa Laval's order execution capabilities. "The choice of exhaust gas cleaning from Alfa Laval is based not only on the merits of the PureSOx system itself, but also on Alfa Laval's merits as a scrubber supplier," says Lee Dong-hoon from Hanjin's senior management.
More specific demands for newbuilds
With 2015 rapidly approaching, much focus has been placed on the retrofit of existing vessels to comply with SOx limits in Emission Control Areas (ECAs). Yet the task of incorporating a scrubber into a newbuild can be an even more demanding procedure for both customer and supplier. Substantial differences exist in the process, beginning with the quotation stage.
"The purchase order for a newbuild – unlike that of a retrofit – includes yard-specific demands that must be taken into account," says René Diks, Manager Marketing & Sales, Exhaust Gas Cleaning at Alfa Laval. "As the scrubber supplier, we must be well prepared to clarify and motivate any technical deviations between our system and the shipyard's own thinking. This is the basis on which the shipyard makes an informed choice, before the terms and conditions of the contract are even handled."
Speed and accuracy are vital
Once the scrubber is chosen, a newbuild also places greater emphasis on the speed and accuracy of the supplier's internal processes, says Diks. "The time constraints are tougher, because the customer and the yard must approve the whole vessel design and not just that of the scrubber," he explains. "Both parties must accept the technical documents before the project can move forward, and this means we must deliver high-quality documentation within a very short timeframe." Retrofit documentation, by contrast, can be prepared during a longer period after contract signing and is seldom subject to the same formal approval process.
What newbuilds and retrofits share when it comes to time is the need for scrubber delivery in exactly the timeslot decided. "If the scrubber is not on site at our shipyard as agreed, the delay means complications for us and a lot of additional expense for our end customer," says Lee. "The yard has a tight schedule, and seeing that it's kept is in everyone's interest."
Experience and routines ensure success
To secure the efficiency of both approval and delivery, Alfa Laval has established a range of best practices for PureSOx. These extend from having a dedicated project manager who ensures reliable project execution to providing a range of specialized documentation. "In general," says Diks, "Alfa Laval's scale and experience in exhaust gas cleaning allow a level of project-specific optimization that would be difficult for a smaller supplier to match."
Besides the initial technical specification and final project-specific guidelines, Alfa Laval provides a detailed design guide and comprehensive installation manual that support the interaction of the shipyard, end customer and any engineering company involved. Combined with Alfa Laval's strong global logistics, dedicated project management and the prefabrication of PureSOx components and modules, this ensures a well-planned, precisely timed and smoothly executed installation at the shipyard.
"Alfa Laval has made things easier in our work with EXMAR so far, and we anticipate that will continue as the EXMAR projects progress," says Lee. "We expect a lot from Alfa Laval as an experienced marine supplier, and when it comes to the professional level of support regarding PureSOx and exhaust gas cleaning, the company delivers. We are very satisfied at present."
To learn more about PureSOx and Alfa Laval's approach to exhaust gas cleaning, visit www.alfalaval.com/puresox
Editor's notes
About Alfa Laval
Alfa Laval is a leading global provider of specialized products and engineering solutions based on its key technologies of heat transfer, separation and fluid handling.
The company's equipment, systems and services are dedicated to assisting customers in optimizing the performance of their processes. The solutions help them to heat, cool, separate and transport products in industries that produce food and beverages, chemicals and petrochemicals, pharmaceuticals, starch, sugar and ethanol.
Alfa Laval's products are also used in power plants, aboard ships, in the mechanical engineering industry, in the mining industry and for wastewater treatment, as well as for comfort climate and refrigeration applications.
Alfa Laval's worldwide organization works closely with customers in nearly 100 countries to help them stay ahead in the global arena.
Alfa Laval is listed on Nasdaq OMX, and, in 2013, posted annual sales of about SEK 29.8 billion (approx. 3.5 billion Euros). The company has today, after the acquisition of Frank Mohn AS about 17 500 employees.
For further information, please contact:
Anne Kirstine Senderovitz
Communication Manager, V.P.
Marine & Diesel Division, Alfa Laval
Phone: +45 39 53 63 11
E-mail: annekirstine.senderovitz@alfalaval.com
René Diks
Manager Marketing & Sales
Business Unit Exhaust gas cleaning
Alfa Laval Aalborg Nijmegen BV, The Netherlands
Phone: +31 24 352 3180
E-mail: rene.diks@alfalaval.com