[Ballast Water] Hyde Marine Strikes Agreement for Expanded Hyde Guardian Gold™ Installations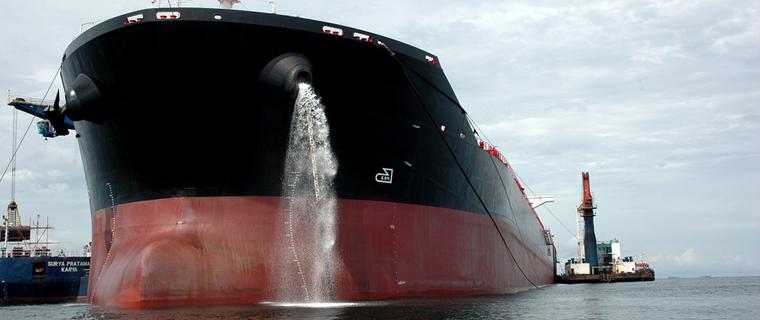 PITTSBURGH, PA – September 16, 2014 – Hyde Marine, Inc., a wholly owned subsidiary of Calgon Carbon Corporation (NYSE: CCC), announced today it has established a Memorandum of Understanding (MOU) with Singapore-based Keppel Shipyard and SEAQUEST Marine Systems PTE, Ltd., for installation of the chemical free Hyde GUARDIAN Gold™ Ballast Water Treatment System (BWTS) in international markets.
Under the MOU, Keppel Shipyard will be able to carry out retrofit installations of Hyde GUARDIAN Gold BWTS at its Singapore shipyard. Such a partnership will position Hyde Marine for the anticipated increase in the Asian retrofit market after the maritime industry is required to comply with international ballast water treatment regulations.
"Keppel Shipyard's marine expertise enables Hyde Marine to expand its commitment and focus on providing shipowners with one of the maritime industry's leading ballast water treatment technologies," said John Platz, President, Hyde Marine, Inc. "Keppel Shipyard, through our agent, SEAQUEST Marine Systems, will help us enhance our ability to install Hyde GUARDIAN Gold Ballast Water Treatment Systems promptly and safely, particularly for retrofit applications and in response to the growing number of shipowners seeking compliance with future regulations."
The Hyde GUARDIAN Gold BWTS uses efficient filtration to treat ships' ballast water to prevent the spread of invasive species from port to port. The Hyde GUARDIAN Gold BWTS is ideal for retrofits as it provides the compact size required by a growing number of shipowners and operators, while maintaining the robust construction and technological specifications necessary to meet stringent BWT regulations.
In 2004, the IMO adopted the International Convention for the Control and Management of Ships' Ballast Water and Sediments (BWMC), which requires ships to conduct a ballast water exchange or to meet concentration-based ballast water discharge standards at ports with ballast tanks 99.99% free of living organisms and pathogens
Keppel Shipyard is the trusted industry name for the repair, conversion and upgrading of a diverse range of vessels. In 2013, it was the first shipyard to undertake a BWTS retrofit project for a Very Large Crude Carrier (VLCC) in Singapore. Given its track record in taking on and completing complex projects, the shipyard is well-positioned to provide solutions in BWTS installation for customers and partners worldwide when the convention (BWMC) comes into effect.
Visit www.hydemarine.com for more information about Hyde Marine's ballast water management solutions. For more information about Keppel Shipyard, visit www.keppelom.com.
# # #
About Calgon Carbon
Pure Water.  Clean Air.  Better World.
Calgon Carbon Corporation (NYSE:CCC) is a global leader in innovative solutions, high quality products and reliable services designed to protect human health and the environment from harmful contaminants in water, and air.  As a leading manufacturer of activated carbon, with broad capabilities in ultraviolet light disinfection, the Company provides purification solutions for drinking water, wastewater, pollution abatement, and a variety of industrial and commercial manufacturing processes.
About Hyde Marine
With more than 100 years in the maritime industry and pioneering development of ballast water treatment technologies, Hyde Marine has become the leading U.S. manufacturer and educator regarding regulations, technologies, installation experiences, and challenges facing this sector. Since its initial launch in 1998, the Hyde GUARDIAN® BWTS has rapidly emerged as an industry leader featuring mechanical separation with stacked-disc filtration followed by UV disinfection – with more than 370 Hyde GUARDIAN units sold to date for installation in various ship types and sizes around the world.
About Keppel Shipyard
Keppel Shipyard is a subsidiary of Keppel Offshore & Marine (Keppel O&M), a wholly-owned company of Keppel Corporation. Keppel Shipyard is the trusted industry name for the repair, conversion and upgrading of a diverse range of vessels, and a global leader in the conversion of Floating Production Storage and Offloading (FPSO), Floating Storage and Offloading (FSO) and Floating Storage and Re-gasification Units (FSRU), as well as the fabrication and installation of turrets and mooring systems, and topside process modules. The shipyard is currently carrying out the world's first-of-its-type Floating Liquefaction Vessel (FLNGV) conversion.
As a group, Keppel O&M is also a global leader in offshore rig design, construction and repair, and specialised shipbuilding. Its near market, near customer strategy is bolstered by a global network of 20 yards and offices in the Asia Pacific, Gulf of Mexico, Brazil, the Caspian Sea, Middle East and the North Sea regions. Integrating the experience and expertise of its yards worldwide, Keppel O&M aims to be the provider of choice and partner for solutions for the offshore and marine industry. For more information, please visit www.keppelom.com.
About SEAQUEST Marine Systems
Based in Singapore, Seaquest Marine Systems is committed to providing smart solutions for marine and engineering needs. Their reliability is legendary – the experienced and dedicated project management team can take care of onsite engineering services be it in cruise, offshore & subsea, super yacht, naval fleet, merchant vessels and shipyard. Seaquest prides itself in being a solid player in the marine engineering industry and counts some of the prime players in the Oil & Gas and marine industry, such as SBM, MODEC, Bumi Armada, Petrobras, Princess Cruises, Royal Caribbean Cruises, Carnival Australia, and International naval ships, as clients.   Seaquest Marine Systems is committed to enhancing safety and promoting a green and sustainable environment and have partnered with renowned companies including Hyde Marine, Acusafe, Clean Marine, Hedon, indelB & Techno, whose innovative systems and solutions allude to Seaquest Marine's environmental ethos.
This news release contains historical information and forward-looking statements. Forward-looking statements typically contain words such as "expect," "believe," "estimate," "anticipate," or similar words indicating that future outcomes are uncertain. Statements looking forward in time, including statements regarding future growth and profitability, price increases, cost savings, broader product lines, enhanced competitive posture and acquisitions, are included in the company's most recent Annual Report pursuant to the "safe harbor" provision of the Private Securities Litigation Reform Act of 1995. They involve known and unknown risks and uncertainties that may cause the company's actual results in future periods to be materially different from any future performance suggested herein. Further, the company operates in an industry sector where securities values may be volatile and may be influenced by economic and other factors beyond the company's control. Some of the factors that could affect future performance of the company are higher energy and raw material costs, costs of imports and related tariffs, labor relations, availability of capital and environmental requirements as they relate both to our operations and to our customers, changes in foreign currency exchange rates, borrowing restrictions, validity of patents and other intellectual property, and pension costs. In the context of the forward-looking information provided in this news release, please refer to the discussions of risk factors and other information detailed in, as well as the other information contained in the company's most recent Annual Report.
###
Contact: Amanda Mushrush
Direct Dial: 724-541-2658
This information is being sent to you by:
Hyde Marine, Inc.
400 Calgon Carbon Drive, Pittsburgh, PA, 15205