First Two Van der Velden® FLEX Tunnel Systems Sold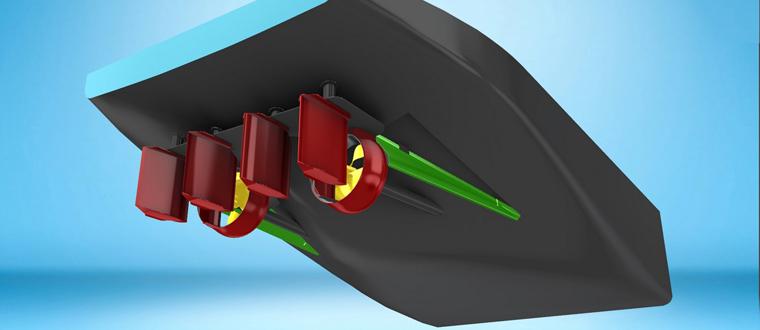 Van der Velden Marine Systems is celebrating the first two orders of its Van der Velden® FLEX Tunnel system. The fuel saving propulsion system was realised in close collaboration with the German Development Centre for Ship Technology and Transport Systems. Van der Velden, a Damen subsidiary, sees the orders as a positive sign that the inland shipping market is ready for solutions that provide increased propulsion capacity and reduced fuel consumption.
The first FLEX Tunnel order is for a Rhenus partnership-owned vessel. Van der Velden's scope of work is a comprehensive package of propulsion elements that includes steering gear with profile rudders, propellers, nozzles and hydrospoilers. Concluding the package is an LCD alarm and display panel and a type 4DS 2000 FLEX tunnel, built in-house at Van der Velden's facilities in Krimpen aan de Lek, the Netherlands. Construction of the 110-metre vessel, including installation of the FLEX Tunnel, took place at Orsova Shipyard in Romania. After launching on 9 March, the vessel will make its way back to the Netherlands for final outfitting in time for final delivery in the summer.
The second order came from Damen's LNG-powered EcoLiner – judged by many to be Europe's greenest inland vessel – that is also expected to be delivered this summer. As well as a Type 4DS 1500 FLEX tunnel, corresponding to a propeller diameter of 1.5 metres, Van der Velden also supplied four Dolphin XR rudders. The EcoLiner demonstrates how the FLEX Tunnel system can be used in conjunction with other energy saving innovations to reduce fuel costs by as much as 25%.
By installing the FLEX Tunnel system, inland and coastal vessel owners can benefit from improved manoeuvrability and speed while profiting from a reduction in fuel costs of up to 10%. The retractable tunnel system ensures optimal water flow in both loaded and empty conditions and all water depths of inland rivers and canals. In the majority of situations, when vessels are loaded and sailing in deeper waters, the FLEX Tunnel is retracted to improve hydrodynamics. The FLEX Tunnel system is brought into play when sailing in shallow water – when it is deployed to ensure sufficient water flow to the propellers and so maintain their efficiency.
VIDEO
A short video is available at youtube.com
click on: https://www.youtube.com/watch?v=qa-_e7RS55E
or: https://www.youtube.com/watch?v=pvvf0_RxNU0
Damen Shipyards Group
Damen Shipyards Group operates 32 shipbuilding and repair yards, employing 9,000 people worldwide. Damen has delivered more than 5,000 vessels in more than 100 countries and delivers some 160 vessels annually to customers worldwide. Based on its unique, standardised ship-design concept Damen is able to guarantee consistent quality.
Damen's focus on standardisation, modular construction and keeping vessels in stock leads to short delivery times, low 'total cost of ownership', high resale values and reliable performance. Furthermore, Damen vessels are based on thorough R&D and proven technology.
Damen offers a wide range of products, including tugs, workboats, naval and patrol vessels, high speed craft, cargo vessels, dredgers, vessels for the offshore industry, ferries, pontoons and superyachts.
For nearly all vessel types Damen offers a broad range of services, including maintenance, spare parts delivery, training and the transfer of (shipbuilding) know-how. Damen also offers a variety of marine components, such as nozzles, rudders, anchors, anchor chains and steel works.
In addition to ship design and shipbuilding, Damen Shiprepair & Conversion has a worldwide network of 15 repair and conversion yards with dry docks ranging up to 420 x 80 metres. Conversion projects range from adapting vessels to today's requirements and regulations to the complete conversion of large offshore structures. DSC completes around 1,500 repair and maintenance jobs annually.
Van der Velden Marine Systems B.V.
Van der Velden Marine Systems B.V., which joined the Damen Shipyards Group in 2013, has been a specialist in maritime manoeuvring and propulsion efficiency for more than 50 years and has established a leading position in the sector. Renowned for quality, safety, innovation and service, the company operates in the global marine market, covering the inland waterways, short sea, deep sea, offshore and yacht building sectors.
Van der Velden® rudders and steering gear are recognised as being state-of-the-art. Reliability, ease of maintenance, safety and a long lifespan are key drivers throughout the design, manufacturing and installation processes. Customers and yards alike benefit from an easy to install and integrated solution, a unified overall design and one project coordinator for the manoeuvring system. The Dutch company has an exclusive worldwide 24/7 service network. With a variety of professional services Van der Velden keeps your manoeuvring system in excellent condition.
For further information please contact
Jan-Hein Reeringh
Communications Advisor
+31 (0) 183 63 98 82
+31 (0) 612 20 77 96