World's First Fleet of Ultra-large, LNG-ready Container Ships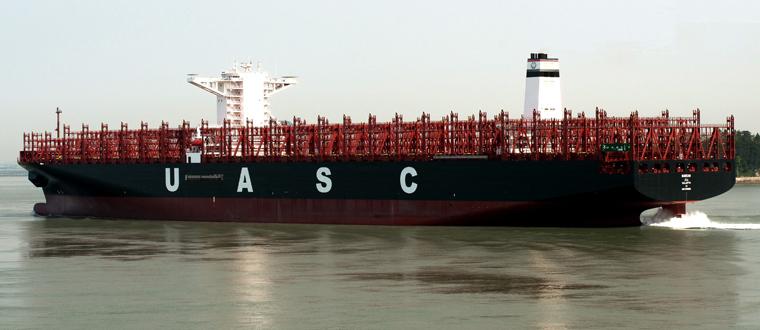 July 9, 2014 saw the commencement of steel cutting for the second state-of-the-art, ultra-large and LNG-ready container vessel for the United Arabic Shipping Company (UASC) with a capacity of 18,800 TEU, named M.V. 'Barzan' on April 30. 2015. UASC has ordered a total of six new vessels of this type, the last of which is due to be delivered by early 2016. The company will additionally be taking delivery of another eleven container ships with a capacity of 15,000 TEU by mid-2016. All 17 new vessels are being built by the Hyundai Heavy Industries and Hyundai Samho Heavy Industries shipyards in South Korea. Within the scope of a joint team, Hamburg-based TECHNOLOG GmbH – a UASC partner since 1997 – has provided support to the shipping company since the initial draft was created for tendering and will continue to do so until delivery of the entire fleet is concluded.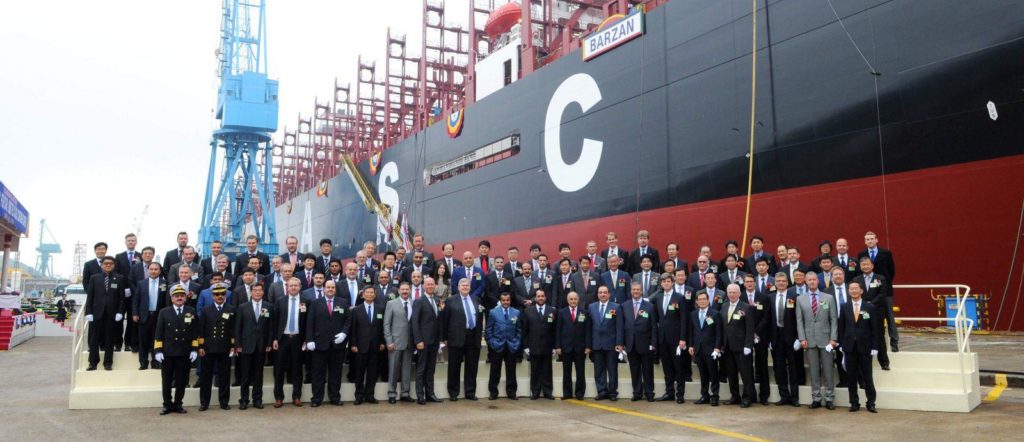 MV BARZAN naming on April 30, 2015 at Hyundai Samho Mokpo Shipyard
The first new A15 vessel, M.V. 'Sajir', was put into service at the end of November last year. "The results of the trial run with the fully-laden vessel have met all expectations, particularly with regard to the vessel's technical performance," explained a delighted Hans-Jürgen Voigt, Managing Director of TECHNOLOG.
Boasting a 15,000 TEU capacity and classified by one of the leading certification bodies DNV GL, M.V. 'Sajir' is the most eco-efficient container vessel in its category. Preliminary calculations indicate an Energy Efficiency Design Index (EEDI) value that is close to 50 percent below the 2025 limit established by the International Maritime Organisation (IMO). The M.V. 'Sajir' will be operating on the Asia – Europe routes.
"These state of the art, ultra-large container vessels will enable us to significantly reduce CO2 output per container," declared Jorn Hinge, President and CEO of UASC. "With these new vessels, we will be operating one of the world's most modern container vessel fleets and raising the benchmark in terms of efficient, safe and sustainable shipping operations."
LNG-ready
"The CO2 output per standard container (TEU) for this new container vessel class will be considerably lower than for the conventionally powered 13,500 TEU container vessels delivered three years ago," explained Voigt further.
All 17 new vessels will be designed to be quickly and cost-effectively upgraded to LNG. The 'LNG drive concept' has been approved for the first time for a container vessel by DNV GL. Each vessel will also be awarded an energy efficiency certificate with a documented EEDI value.
A15 specifications:
Length overall:           368 m
Breadth:                     51 m
Capacity:                    15,000 TEU
A18 specifications:
Length overall:           400 m
Breadth:                      58.60 m
Capacity:                     18,800 TEU
About Technolog
As a leading maritime technology partner and in conjunction with its subsidiary TECHNOLOG Services GmbH, TECHNOLOG GmbH Handels- und Beteiligungsgesellschaft für Technologie offers a comprehensive range of innovative designs, consulting and feasibility studies as well as professional engineering and project management services encompassing technology transfer for ship owners, operators and shipyards all over the world. Customers have been benefiting from pioneering solutions for the international shipbuilding, marine technology and offshore industries ever since establishment of the company as TECHNOLOG GmbH back in 1979. In Germany, the company employs more than 40 staff who work together with TECHNOLOGMRM marine services (China) Ltd. in Hong Kong and Shanghai and agencies in Australia, Singapore, South Korea and China.
For further information see www.technolog.biz.
About UASC
United Arab Shipping Company (UASC) is a global shipping company based in the Middle East. Founded in 1976, UASC has more than 185 offices around the world. The company is the largest container shipping line in the Middle East region and adjacent markets, covering over 240 ports and destinations worldwide. UASC offers containerized cargo transportation, temperature controlled (reefer) and out of guage cargo amongst other value added services to a diversified global client-base. For further information, please visit www.uasc.net.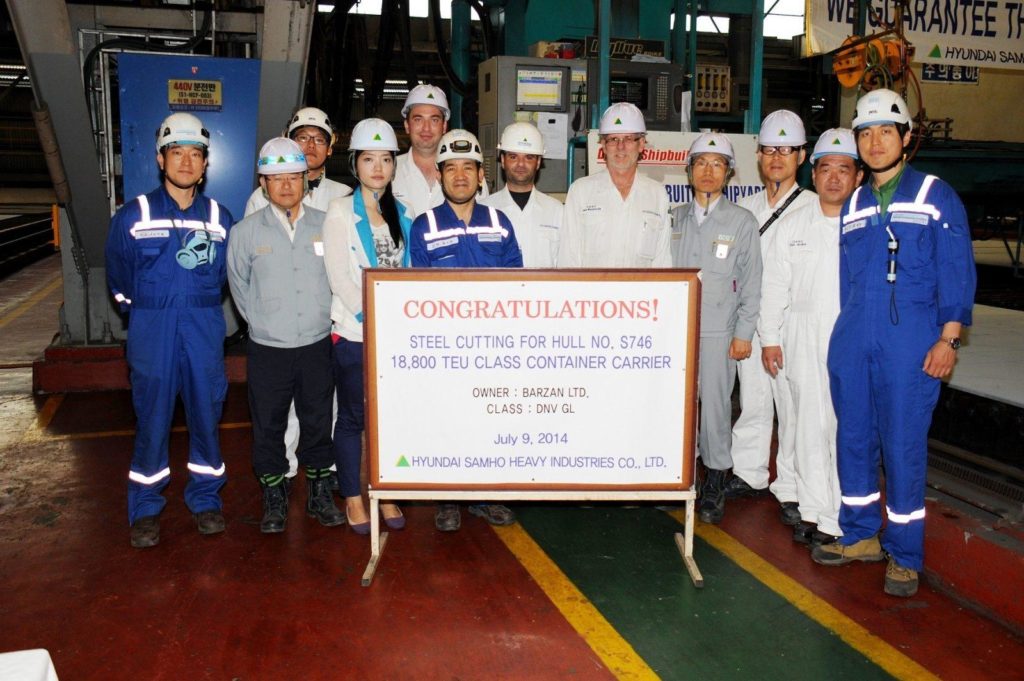 Start of Steel Cutting for MV BARZAN on July 9, 2014