International Oil Spill Response in a Changing World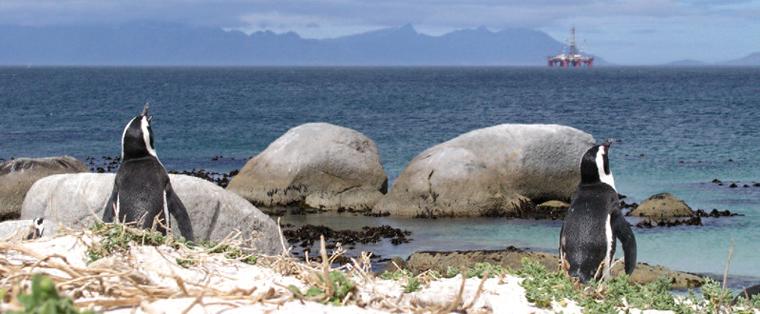 Despite oil being a naturally occurring substance a spill can pose significant short and long term threats to both environmental and socioeconomic resources. The words "oil spill" usually conjure up images of a stricken tanker with vast lengths of shoreline covered in thick, heavy black oil. While such events are becoming increasingly rare, the oil industry has long been working towards being adequately prepared to mount an effective response should an incident occur. However, it is not just these catastrophic ship-sourced oil spills that pose a risk. Exploration and production is now being undertaken in more and more remote, inhospitable, sensitive, potentially politically unstable areas. In such areas there is often little experience of oil spill response arrangements. These factors combined can result in the oil spill risk being inflated.
A Changing World
The world is changing in terms of oil spill preparedness and response. Industry is becoming more aware of the risk of oil pollution and has long been working towards mitigating and minimising the threat posed. In the marine transportation sector, a downward trend can be seen in the frequency of major oil spills occurring over the past 30 years. This is due to better safety practices, operational and management control and improvements in ship construction. In other sectors of the oil industry, comprehensive global statistics on oil spills simply do not exist. It is however clear that the number of major spill events in other areas, like exploration and production, are very rare. While this is obviously encouraging, the oil spill risk is changing; with more remote marine and terrestrial oil fields being exploited in lesser developed and politically-unstable areas with no prior experience of oil spill arrangements, the risk and impact of accidental oil spills can be magnified.
So what does this all mean? In the light of fewer major oil spill events, it would of course be foolish to completely discount the threat. Despite having the best mitigation measures in place, the risk of an oil spill occurring will always be present wherever oil is handled, processed or transported. Historically oil spill response has been directed towards the corporate level of oil companies, and specifically the shipping sector. Now the response structure is changing, with more focus being given to the business unit led, upstream exploration and production sector. In addition downstream parts of the industry are also now paying more attention to oil spill preparedness and response. One trend now becoming apparent is that the oil companies are reducing their internal oil spill expertise partly through down sizing and also retirement.
It has long been recognised that preparedness is fundamental to mount an effective response. Around 20 years ago the industry and government developed a structured method to prepare for and respond to oil spills of any size. This is called the Tiered Response Concept.
Tiered Response Concept
The internationally accepted Tiered Response Concept gives both the industry and governmental authorities a structured method of establishing oil spill response capability. The Concept fully supports and promotes the framework of international cooperation towards oil spill preparedness and response as stipulated in the Convention of Oil Pollution Preparedness, Response and Cooperation (OPRC 1990). A Tier 1 oil spill is usually a small spill that the operator can adequately respond to with its own resources. A Tier 2 spill will require additional resources and assistance from other operators in the region, established Tier 2 providers or governmental authorities. A Tier 3 response is one where the spill is beyond the capability of local and regional resources and requires the mobilisation of specialist resources from an international Tier 3 Centre, of which Oil Spill Response and East Asia Response Limited (OSRL/EARL) is one. While it may first seem simple to categorise oil spill scenarios in these terms, it is in fact very difficult to do, as many other factors need to be taken into account, such as the proximity of sensitive environmental or socioeconomic areas, availability of additional response resources and legislative controls.
Oil Spill Response and East Asia Response Limited (OSRL/EARL)
OSRL/EARL has evolved over the years in line with the industry's changing oil spill risk. While fully maintaining its ability to respond to a major marine or terrestrial oil spill at the request of industry or government, anywhere in the world, 24 hours a day every day of the year, the company also provides other services in full support of the oil industry, at both the Tier 2 and even Tier 1 level.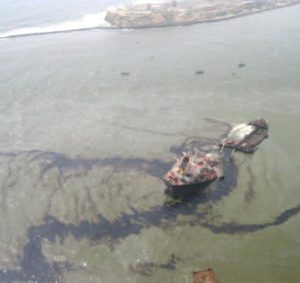 Tasman Spirit (2003)
OSRL/EARL was originally established in 1985 as a Tier 3 Centre and is the world's largest international oil spill response organisation. The company is industry-owned by over 30 oil companies. While member companies are given preferential access to oil spill response services, other third parties can also request assistance. The two main bases, in the United Kingdom and Singapore, house specialist equipment that is maintained to be constantly response-ready. The company also has a permanent presence in both Scotland, in order to be closer to its North Sea clients, and in Bahrain to cover the oil activity in the Middle East.
Oil Spill Preparedness
With its vastly experienced staff, OSRL/EARL provides a range of oil spill preparedness services worldwide which are diverse in nature and fall under three main distinct areas: consultancy, training and business projects.
The majority of OSRL/EARL's consultancy projects focus on improving the level of oil spill preparedness. The most fundamental elements are the development of an oil spill contingency plan (OSCP), along with establishing appropriate Tier 1 resources and the necessary agreements for Tier 2 and Tier 3 response provision. The first step in improving preparedness is often a capability audit where the operator's oil spill risks are identified and recommendations made to ensure that appropriative response capabilities are established. Following this, an OSCP can be developed that is commensurate with the level of risk. It is essential that any plan is regularly exercised with response staff being trained to the appropriate level.
OSRL/EARL has conducted oil spill response training for over 15 years, which can be provided at any of its bases or at a client's location by experienced personnel in any aspect of oil spill response, from basic equipment handling programmes to strategic oil spill management courses. Any course can be tailored to a client's specific requirements. Courses accredited by the United Kingdom authorities and the International Maritime Organization (IMO) are also offered.
OSRL/EARL can also directly support industry activities by providing specialist oil spill resources. For example oil spill response equipment can be leased to an operator who may be conducting well testing operations. In addition, personnel can be provided for standby should an incident occur. Technical personnel can also be seconded to work directly in an operator's Health, Safety and Environment Department. This ensures that despite the trend of in-house expertise being lost, experienced oil spill specialists are available for preparedness work and also in an emergency.
There are countless examples of preparedness activities that OSRL/EARL has undertaken. Perhaps some of the more recent and topical examples are those of Sakhalin, Russia, and also Kazakhstan. In Sakhalin OSRL/EARL has been working with oil operators to ensure they have adequate OSCPs. This has included seconding specialists to work within a company's structure, offering training in oil spill response techniques and provision of response equipment. In Kazakhstan, OSRL/EARL has developed an OSCP, delivered numerous training courses and provided operational support for an oil operator with risks in the Caspian Sea. Furthermore OSRL/EARL has had personnel seconded directly into the company for a number of years. Through these activities the client's level of oil spill preparedness has been steadily built up to sustain response readiness commensurate with risk.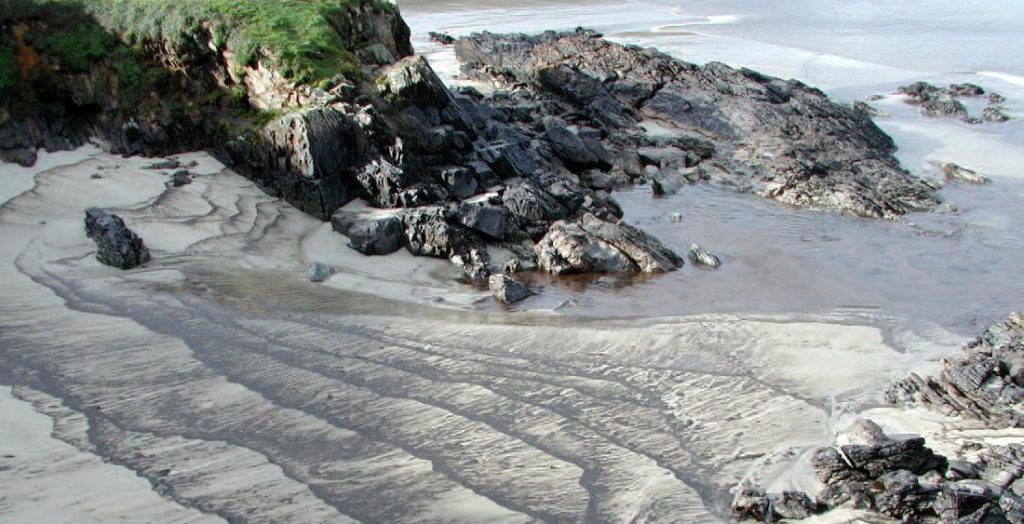 Oiled shoreline following the Prestige (2002) oil spill
Oil Spill Response
At the request of industry or government OSRL/EARL can respond to an oil spill incident of any size. In some instances the company may be requested to assist in a spill scenario where, although not catastrophic in terms of volume, the responsible party is unable to mount a credible response. Beyond this, OSRL/EARL can provide specific, dedicated Tier 2 capability for sectors or geographic areas of high risk. For example in the United Kingdom a service is offered to ports and harbours where oil spill response services are guaranteed. Also, in both the North Sea and West Africa, OSRL/EARL has aircraft on permanent standby that can provide surveillance operations and apply dispersant in the event of a spill. Furthermore, in Bahrain the company has recently established a permanent presence, with a stockpile of equipment. In the event of a major spill occurring in the Middle East, resources from here can be mobilised to give an initial response whilst waiting for further assistance to arrive from either the UK or Singapore.
Beyond these other services OSRL/EARL is primarily a Tier 3 provider offering global oil spill response cover. The company has participated in numerous major tanker oil spill responses including the Exxon Valdez (1989), Haven (1991), Braer (1993), Sea Empress (1996), Evoikos (1997), Erika (1999), Prestige (2002) and Tasman Spirit (2003). Such major shipsourced spills are becoming less common. Many responses are now for smaller spills in the offshore exploration and production sector. In many of these instances provision of response equipment is not necessarily required, but instead specialist personnel being able to give technical advice on the clean-up, which often solely involves using local resources. Although much rarer, OSRL/EARL has also responded to major inland oil spills. The most recent example is the inland blowout that occurred in Georgia (2004). And of course, OSRL/EARL has also assisted with numerous smaller, Tier 2 oil spill events in ports, refineries, processing plants and pipelines.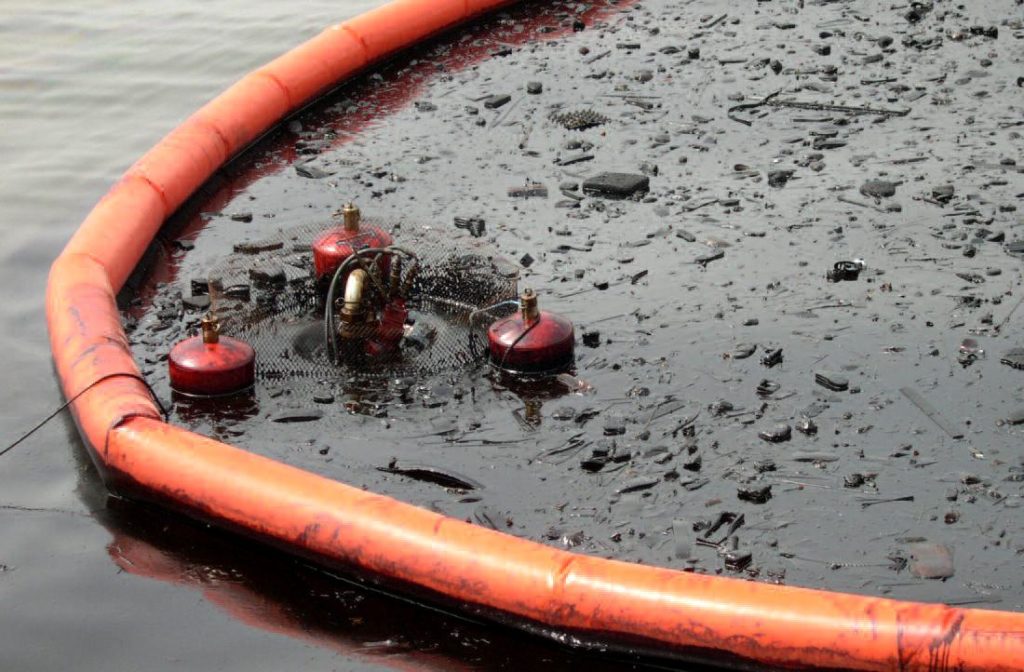 Containing and recovering oil in a harbour following the Tasman Spirit (2003) oil spill
Beyond Oil Spill Preparedness and Response
OSRL/EARL is also active in other areas of the industry, for example working with the Sea Alarm Foundation to improve oiled wildlife response arrangements. A joint programme exists between the two organisations that enables the skills and experience of the oil industry to be combined with those of relevant environmental groups to assist and protect wildlife threatened by oil pollution.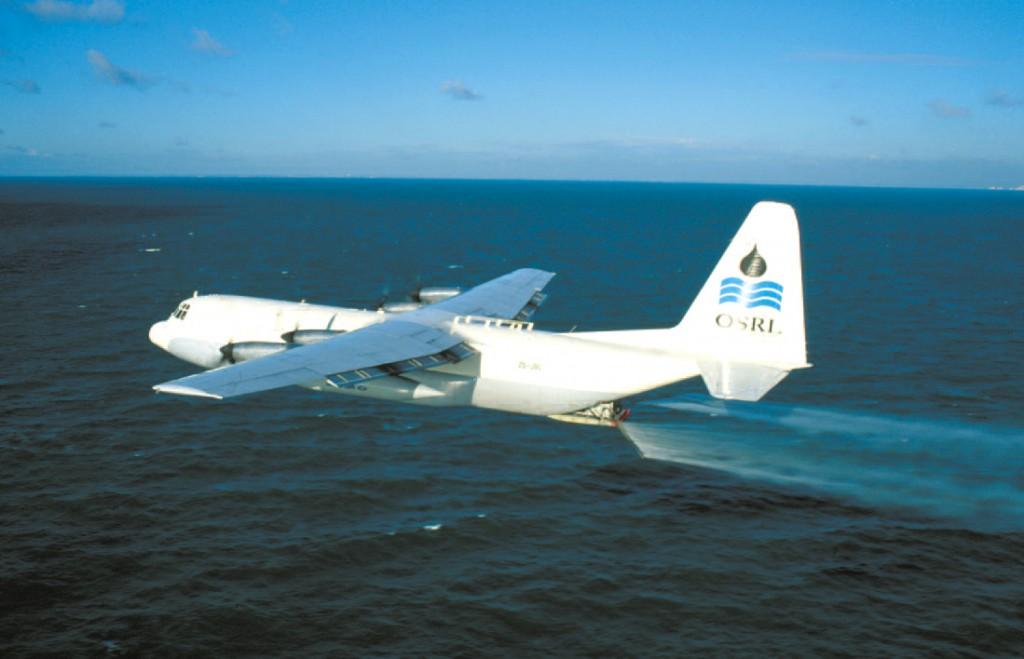 OSRL/EARL Aircraft applying dispersant
OSRL/EARL also plays an important advocacy role for the oil industry by promoting best practice and helping to establish benchmarks in spill preparedness and response. This is primarily achieved by working with the International Petroleum Industry Environmental Conservation Association (IPIECA). OSRL/EARL provides technical advice to IPIECA through its Oil Spill Working Group. The aim of this international forum is to help improve oil spill preparedness and response around the world. IPIECA also has a long standing partnership with the IMO to support global improvements in this field, through the Global Initiative (GI) programme. This is designed to encourage and, where possible, assist receptive countries to ratify relevant international oil spill conventions and develop effective and sustainable national and regional oil spill contingency plans. This is undertaken through regional programmes, with OSRL/EARL heading the work being conducted in the West Africa and Central Africa Region and supporting a similar approach for the Caspian and Black Sea region. In addition OSRL/EARL provides advice for the South East Asia region, where a formal regional programme of work may well be developed in the future. Through IPIECA, it also supports the IMO Marine Environment Protection Committee (MEPC) OPRC Technical Group. This Group comprises the world's coastal States governmental representatives responsible for the protection of the marine environment. Finally OSRL/EARL manages the Industry Technical Advisory Committee (ITAC) on behalf of its membership, which is drawn from oil spill response organisations, the oil industry and other technical partners. The remit of ITAC is to be a forum for information exchange, and to provide technical guidance materials on a range of issues facing the response community.
Summary
Through its long history and worldwide remit, OSRL/EARL has a wealth of invaluable experience in oil spill preparedness and response, from which the oil industry is constantly benefiting. Over the past 20 years the company has been an integral part of global oil spill preparedness and response activities, and is constantly developing to serve the needs of an ever-evolving oil industry.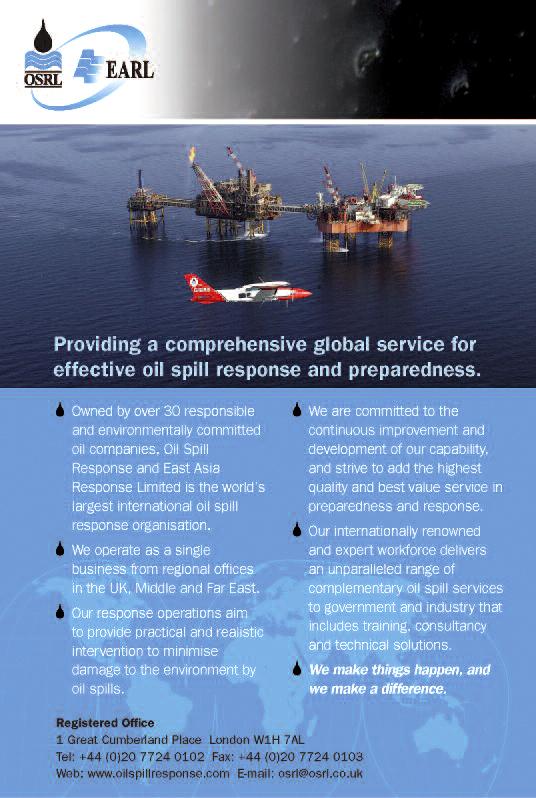 Further Information
Oil Spill Response and East Asia Response Limited
http://www.oilspillresponse.com/
International Maritime Organization
International Petroleum Industry Environmental Conservation Association
International Tanker Owners Pollution Federation Ltd
http://www.itopf.com/ Industry Technical Advisory Committee
By David White, Consultant OSRL/EARL