Major Focus on Oil Recovery From Wrecked Vessels

Sunken vessels can pose an environmental threat as they often carry large quantities of oil or other chemicals.  Since the early 1980s, Frank Mohn AS has offloaded over 15 million cubic metres of oil from vessels worldwide.
– 15 million cubic metres are equivalent to 60 fully loaded supertankers. In other words, wrecked and damaged oil & chemical vessels is an area in which we have vast experience says Erik Gloppen, General Manager at Frank Mohn AS Environmental Products & Services.
Environmental Threat
Shipping can be a risky business, and every year a number of vessels sink due to various reasons. According to figures provided by the International Maritime Organization (IMO), no less than 300 vessels went down annually during the period 1966 to 1985.
The two worst years, 1978 and 1979, saw a total of almost 1000 vessels going down. After 1980 the number of wrecked vessels began to fall dramatically, and 1990 was the first year with an annual total below 200. In 2000, the number had dropped even further and was down to 167 – hence two in every one thousand vessels sank. The most recent figure from IMO is for 2006 when 120 vessels went down.
If we add up all vessels of a certain size lost during the period 2001 to 2006, we'll reach an accumulated total of 825. The seabed is littered with tens of thousands of vessels, many of which have tanks containing large quantities of oil. Unless this oil is offloaded, it poses an impending threat to the environment.
– At some point, the oil will start to leak from the vessel. It is only a matter of time before this occurs. Recovery of the oil in a safe and secure manner is thus of utmost importance, says Gloppen.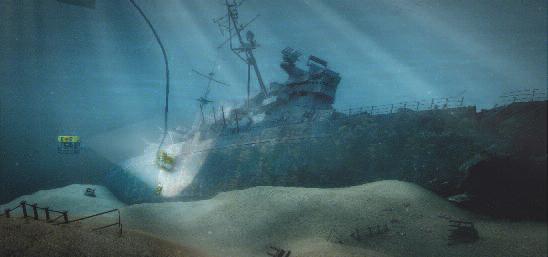 Fully Remote Controlled
In the past, oil from wrecked vessels has been recovered by using divers for the actual offloading process. However, this is not only hazardous and time-consuming, it is also costly.  Divers must adhere to strict regulations on the length of time they can spend under water, and are at the same time highly exposed to chemicals and other hazards. If divers are offloading a wartime naval vessel, they are also exposed to hazards such as possible explosions from undetonated ammunition.
Frank Mohn AS is one of the world's leading suppliers of submersible pumps to the tanker and offshore marked, and has since the mid-90s been developing a Remote Off-Loading System (ROLS) designed to recover oil from vessels.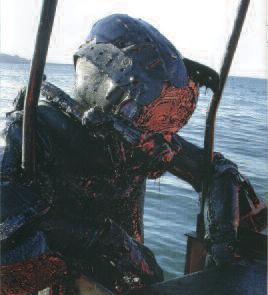 In simple terms, this is a remote-controlled tool which is navigated down to the sunken vessel where it drills through its side and penetrates to the actual tanks.
This applies to both single-hulled and double-hulled vessels.  When the drilling is complete, the oil is efficiently and without any hazard pumped to a vessel on the surface.
Frank Mohn AS is the only company in the world to offer this system, and is a marked leader in this sector. First and foremost, the aim is to offload the vessels in a quick and efficient manner, but it is equally important that none of the company's co-workers are put at risk. The subsea operation itself does not require people close by – everything is remotely controlled. In other words, this is a safe and efficient way to carry out a high-risk assignment.
Busy During The Gulf War
Since the early 1980s, Frank Mohn AS has carried out such operations on a number of wrecked vessels. A substantial amount of this recovery work took place during the Gulf War. Numerous vessels were hit by enemy fire and went down with large quantities of oil onboard. For these operations, Frank Mohn AS was brought in to handle the oil recovery process.
The company operates worldwide. Wherever the accident occurs and however inaccessible the vessel is, Frank Mohn AS can be on site within a relatively short period of time.
– We are on stand-by 24 hours a day. Unless the location is extremely remote, we can, in most cases, be on site within 24 hours, says Gloppen.
Expert Knowledge
Frank Mohn AS Remote Off-Loading System (ROLS) is provided with qualified personnel.  Over the years, the company has acquired unique expertise in this area, which very few – if anyone – can match. Every year, the company carries out between 30 and 40 such operations globally. Vessels of various sizes and tank volumes have been offloaded in different weather conditions and climates as well as at a variety of depths. This is a high-capacity system, which is extremely versatile both in terms of depth and other external conditions.
Gloppen emphasizes that the sooner the recovery work can start the better.
– We have carried out such operations on vessels that have been on the seabed for decades, but it is an advantage to get to it quickly while the steel on the vessel is still strong, says Gloppen.
– A Significant Environmental Hazard
According to Truls Gulowsen, head of Greenpeace Norway, wrecked vessels constitute a major environmental hazard.
– It is only a matter of time before a sunken vessel starts leaking oil and other chemicals, says Gulowsen.
In his opinion, the scale of the threat primarily depends on the quantity of oil/chemicals the vessel contains, but its location is also important. If a vessel sinks in a vulnerable area, the threat is more serious than if this occurs in less fragile surroundings.
– The coastline is often the most vulnerable, but the open sea also has its areas which attract a wide variety of organisms and are thus highly exposed in the event of pollution, Gulowsen continues.
Along the Norwegian coast there are, according to the Norwegian Coastal Administration, 18 wrecks containing between 10 and 300 tonnes of oil per vessel. This whole stretch of coast is home to an abundant wildlife. In Greenpeace's opinion, Norwegian authorities do not take the wrecked vessel issue seriously enough.
– Oil is not the only problem. Other substances may pose an equally high risk. Some of the warships contain several problematic components, such as the mercury wreck at Fedje.  It is only a matter of time before a leak occurs. Norwegian authorities should take a more serious approach to this problem, says Gulowsen.