SeaZip Fleet Expansion Continues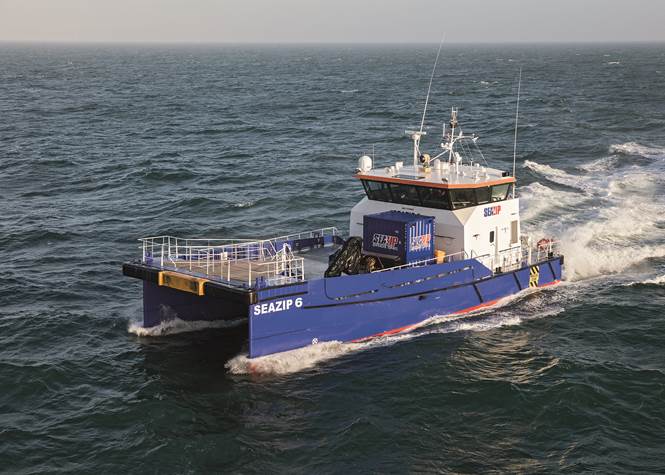 Two Damen Fast Crew Suppliers strengthen offshore portfolio
In a celebratory atmosphere, marking the sustained growth of its fleet, SeaZip Offshore Services has taken delivery of two Damen Fast Crew Suppliers (FCS) 2610. Continuing the company's vessel-naming trend, the new additions will be known as SeaZip 5 and SeaZip 6. The offshore service provider now has six Damen FCS 2610 vessels in its fleet.
"Once again, it's a great pleasure to work with SeaZip Offshore Services," states Damen Sales Manager Benelux Roel van Eijle. "We are proud to be involved with the development of their fleet since day one. An April delivery suits their needs perfectly – these two vessels can get to work straight away as this year's offshore wind O&M [operations and maintenance] period begins."
Extra loading
A key modification made to both vessels was to increase their draught. Jan Reier Arends, SeaZip Offshore Services Managing Director, highlights the importance of this design rethink: "By strengthening the hull in certain areas, the vessels are able to sit 5 cm lower in the water. This will allow us to load an additional 5 tonnes of cargo – this is a 25% increase of loading capacity. We will be able to carry a lot more equipment and materials."
The new vessels exhibit a number of additional adaptations, says Mr Arends: "You can call this fine tuning – coming from lessons that we have learned from the earlier SeaZip vessels. For example, together with the fender supplier, we have improved the bow fenders."
The SeaZip 5 and SeaZip 6 will join their four sister vessels – SeaZip 1, 2, 3 and 4 – in what Mr Arends describes as a pool of vessels. "Together with our conservative financing strategy – we are financed approximately 60% from bank loans and 40% from private equity investors – having a pool of vessels means that we are well positioned to handle market fluctuations."
SeaZip Offshore Services, part of the JR Shipping Group, has taken delivery of six FCS 2610 vessels in no less than three years. "We have a good working relationship with Damen. This helps a lot when we are discussing new concepts and new vessels. The technical communication with the new build department, in particular, is very supportive. When brainstorming over the SeaZip 7 and 8, for instance."
Not just offshore wind
Damen's FCS 2610 has become the industry standard for fast, safe and comfortable supply of crew and materials to offshore wind farms. Well-known to the offshore wind industry, the beneficial characteristics of the design have not gone unnoticed by other offshore industries either. Features such as speeds of up to 25 knots, excellent seakeeping, comfortable accommodation and fuel efficiency are by no means applicable only to the offshore wind industry: they are equally valuable to a wide spectrum of offshore sectors.
For example, the SeaZip 4 is about to commence its second season providing logistics support to Heerema Marine Contractors in their installation and decommissioning operations in the oil and gas sector. Furthermore, notes Mr Arends, an additional SeaZip vessel is currently working on a North Sea salvage contract.
Damen Shipyards Group
Damen Shipyards Group operates 32 shipbuilding and repair yards, employing 9,000 people worldwide. Damen has delivered more than 5,000 vessels in more than 100 countries and delivers some 180 vessels annually to customers worldwide. Based on its unique, standardised ship-design concept Damen is able to guarantee consistent quality.
Damen's focus on standardisation, modular construction and keeping vessels in stock leads to short delivery times, low 'total cost of ownership', high resale values and reliable performance. Furthermore, Damen vessels are based on thorough R&D and proven technology.
Damen offers a wide range of products, including tugs, workboats, naval and patrol vessels, high speed craft, cargo vessels, dredgers, vessels for the offshore industry, ferries, pontoons and superyachts.
For nearly all vessel types Damen offers a broad range of services, including maintenance, spare parts delivery, training and the transfer of (shipbuilding) know-how. Damen also offers a variety of marine components, such as nozzles, rudders, anchors, anchor chains and steel works.
In addition to ship design and shipbuilding, Damen Shiprepair & Conversion has a worldwide network of 15 repair and conversion yards with dry docks ranging up to 420 x 80 metres. Conversion projects range from adapting vessels to today's requirements and regulations to the complete conversion of large offshore structures. DSC completes around 1,500 repair and maintenance jobs annually.
For further information please contact:
Ben Littler
Communications Advisor
+31 (0)183 65 5546
+31 (0)610 46 5742
Ben.Littler@damen.com
www.damen.com