Sikafloor Marine-595 – A New, Pioneering Marine Deck Covering Solution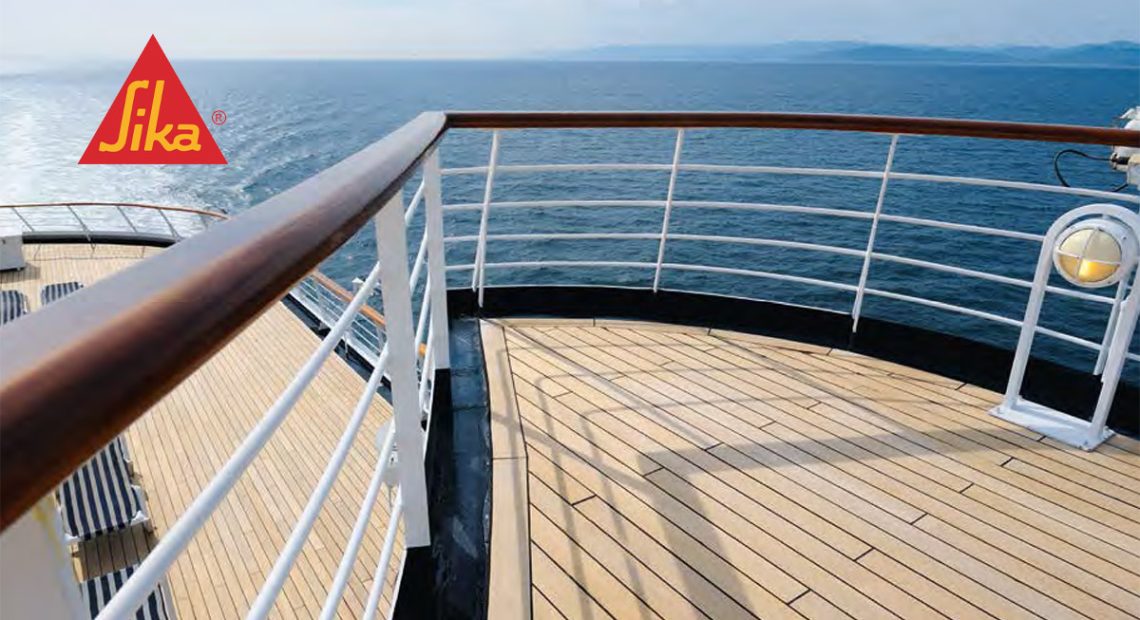 We all love nice and sunny weather. However, if a boat's deck is exposed to direct sun, it can become unpleasantly hot. A harsh environment doesn't treat the deck too kindly. The sun's harmful ultraviolet rays and humidity can cause the wood coating to fade and crack. Rain and salt can also bring about significant damage, causing corrosion and ingraining dirt. Protecting the deck is an important part of boat maintenance, so it is crucial to use a reliable all-weather marine deck covering. Fortunately, Sika offers just that.
Actually, Sika offers a wide range of flooring products and solutions. They have recently launched the VA series of the multi-coloured matte and teak deck covering systems for cruise ships, ferries, and yachts. Sikafloor Marine-595 is the product that is best suited to counter the harsh marine environment while also ensuring that you and your passengers can stay cool and comfortable in hot weather.
Sikafloor Marine-595
Sikafloor Marine-595 is the new polyurethane decorative floor resin that has been designed for exterior use. This self-levelling deck covering is a part of the Sikafloor Marine Deco system. Not only does it have a cooler feeling thanks to the Cool Touch Technology, but it is also very lightweight. These features make this deck covering solution ideal for all kinds of cruise ships and leisure boats. After all, better comfort for the crew and passengers is extremely important and Marine-595 helps you to achieve it.
The Benefits
There are several key benefits in using this newly developed deck covering solution.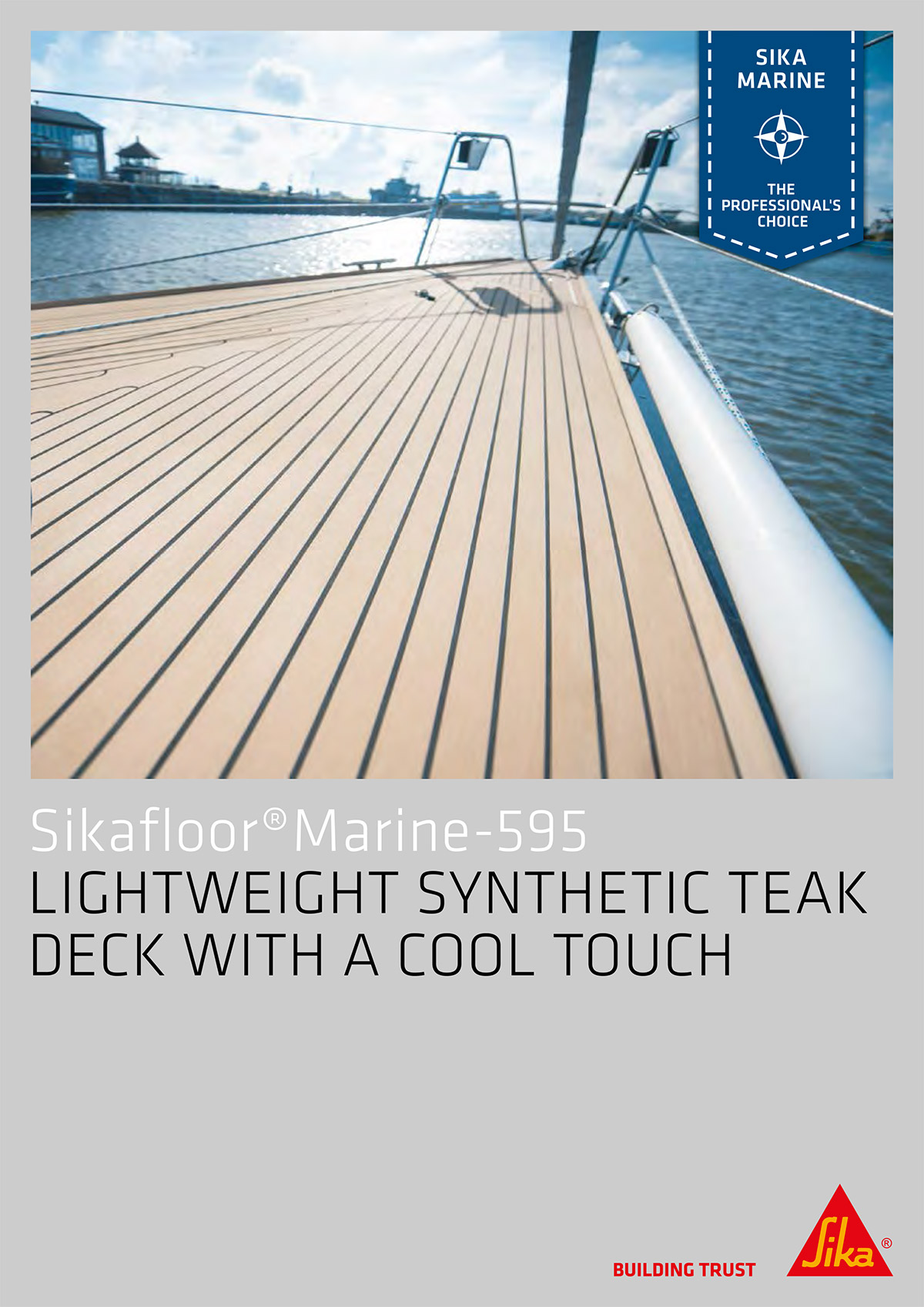 Cool Touch Technology
Having a cooler deck area is important. Synthetic teak can reach very high temperatures in certain areas of ships. Sometimes it becomes impossible to walk on these surfaces. Sika has developed their patented Cool Touch Technology for this specific reason. It is an advanced technology that allows the deck covering to remain a more comfortable and pleasant surface temperature even if it's exposed to direct sunlight for hours. With this covering, the deck temperature is usually about 10°C lower than without it.
Natural Look
Synthetic deck covering products usually don't have great visual appeal. This is because they look artificial and have an appearance of resin floors for ship's interior decks. With Sikafloor Marine-595, you can create a natural looking deck because it mimics real teak wood. This helps to improve the aesthetic appeal of the ship.
Slip Resistance
Resistance to wear and having an anti-slip surface are two other important requirements for the deck coverings that are exposed to harsh environments and operating conditions, e.g. those used on ferries. Sikafloor Marine-595 satisfies both requirements. It is slip and wear resistant and offers an excellent grip in both wet and dry conditions.
Lightweight, Hence Lower Fuel Consumption
Weight is a crucial factor when it comes to cruise ships and yachts. Fortunately, this key aspect is high on the agenda for Sika.
Sikafloor Marine-595 is generally about half a kilo lighter compared to other synthetic covering products (per one mm of the covering layer). This means that you can expect to achieve great weight savings. For example, Sikafloor Marine-595 can help to reduce weight for about 2-4 kilograms per square metre depending on the size of the vessel, which also helps to lower fuel consumption. Even greater weight savings can be achieved by combining Sikafloor Marine-595 with Sikafloor Marine-560.
Other Benefits
Apart from the above-mentioned primary benefits, there are many other advantages of Sikafloor Marine-595. This pioneering deck covering has the following features:
• It is solvent-free, self-smoothing, easy to apply and easy to maintain.
• It has very low VOC emissions (protecting passengers and ship builders).
• It has very high yellowing resistance.
• It is flexible with excellent crack bridging capabilities.
Sikafloor Marine-595 has been tested in real weather conditions to ensure optimal material compatibility, adhesion, and workability. Sikafloor Marine-001 or Sikafloor Marine-002 can be used to accelerate Sikafloor Marine-595.
About Sika
Sika is a well-known specialty chemicals manufacturer with a leading position in the development and production of products, systems, and solutions for sealing, bonding, and protection in the marine industry. It is a very reliable flooring and decking system supplier. After the launch of innovative Sikafloor Marine-595 deck covering solution, the company has become even more popular, as this innovative solution significantly improves the aesthetic appeal, comfort, and functionality of the ships' deck areas.
Contact details
Michiel Bos
Corporate Market Field Manager Marine
Sika Nederland B.V.
Zonnebaan 56 · 3542 EG Utrecht · Netherlands
Phone: +31302410120 · Mobile: +31651407014
bos.michiel@nl.sika.com ·
www.sika.nl