ENERGY MANAGEMENT SYSTEM also used for UASC ULCV's under construction in Korea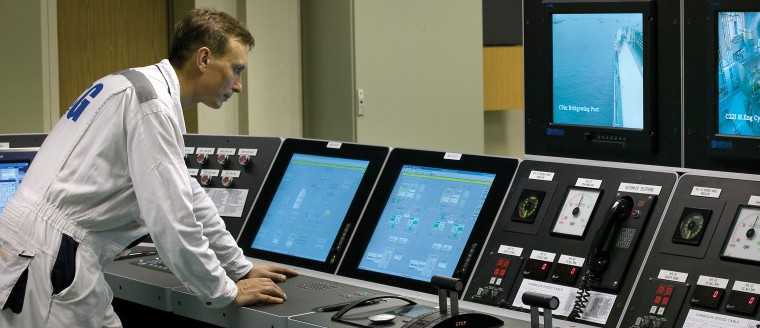 Kongsberg Vessel Performance System includes a Energy Management Module. This is part of the vessel Integrated Automation System is developed in cooperation with Marorka. The cooperation Kongsberg – Marorka now provides full-fledged automated energy management solution as a part of the Full Picture solution.
Sustainability is an emerging business megatrend, and there is a fundamental shift in the competitive landscape which is bringing both inescapable threats and game-changing opportunities. Energy management can profoundly affect an organization's competitiveness and even its very survival.
The introduction of mandatory SEEMPs in 2013 forced the shipping industry to turn its attention towards this important topic. Oil production is very close to peaking. Higher average fuel prices are here to stay, while a lower demand for transport and reduced earnings per unit mean that shipping companies with successful energy management implementations have a competitive advantage as a result of more efficient fuel consumption and lower costs.
Energy management solutions are based on a tried and tested technological approach to the optimization of fuel consumption. In combination with effective methodologies, Marorka products are rapidly becoming the solutions of choice for leading ship operators.
The fundamental processes incorporated into each energy management solution include automatically collecting the high-frequency collection of operational data, the use of mathematical algorithms to analyse the data and the creation of useful information for operators and managers.
The primary objective is to optimize the use of fuel, leading to maximized profits and minimized environmental effects. The installation of energy management systems is now widespread throughout the maritime industry. A system that is well implemented and operated can bring substantial savings in fuel oil consumption of up to 10%.
The efficient use of energy is becoming an increasingly prominent issue as public environmental awareness heightens and regulations are tightened. Links between pollution, global warming, volatile weather patterns and inefficient consumption of fossil fuels are topics that must be addressed in the near future.
Inefficiency leads to the waste of a vast amount of energy. Greenhouse gases can be significantly reduced by applying technical and operational measures to improve efficiency and reduce the rate of emissions by 25% to 75% of current levels.
According to a recent study by DNV-GL, the introduction of slow steaming, optimised voyage planning and weather routing has brought considerable savings in energy. But in order to generate further, significant savings, it is necessary to apply measures that call for either more intense efforts (virtual arrival and performance-based control of energy consumption) or higher investments (retrofits and software solutions). Additionally, fundamental behavioural changes are required along with better cooperation between stakeholders: crews, charterers, managers, owners and ports all need to reassess their relationships regarding energy management. And precise monitoring and measurement are essential to ensure the success of more elaborate and advanced measures.
The next year or two will determine who is willing and able to master energy management and turn it into a competitive advantage. Others will struggle to survive. Companies which invest in holistic energy management concepts will be involved in shaping the future market, while those who do not invest in energy management will face a very challenging future.