New Fast Rescue Boat from Tuco Marine Group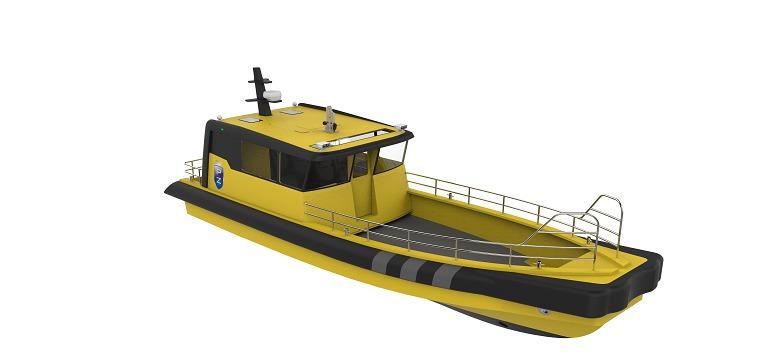 Tuco Marine Group of Denmark discloses the newest vessel in the ProZero series of Fast Rescue Boats, Daughter Crafts and Workboats; The New 13m WIND FARM SERVICE BOAT.
The new design is a dedicated service boat and crew transfer vessel for offshore wind farms. The boat has been developed in close collaboration with Norwegian operators and experts in Wind Farm Services.
The 13m meter vessel is constructed to be lifted on and off larger mother vessels featuring a David system and the ProZero 13m WIND FARM SERVICE BOAT can be outfitted with hook systems of the owners choice.
When designing the vessel for single point hoisting, Tuco Marine directly targets the third round offshore installations – the far Offshore farms on deep waters. These farms are situated so far offshore that daily travel to and off shore is not possible and technicians are therefore accommodated on larger mother vessels or on accommodation platforms. This requires stabile daughter crafts that are capable of transporting personal from the accommodation units to and of the installations.
The ProZero 13m WIND FARM SERVICE BOAT is constructed from carbon fiber composites due to the industry's focus on fuel efficiency obtained by less operational power needed. Further the low weight achieved by this construction, also makes it possible to fit the fairly large daughter craft to vessels not capable of handling heavier daughter crafts.
The ProZero 13m WIND FARM SERVICE BOAT offers a spacious foredeck and a purpose-build docking and fender system for easy access to the offshore windmills.
The vessels features twin waterjet installation fitted to inboard diesel engines, and operates at a service speed above 30kts transporting 8 passengers or 1500 kilos of cargo.
The ProZero series has been awarded funding under the topic Small Business Innovation Research for Transport under the EU Horizon 2020 programme. The funded project has its focus on creating innovation and minimizing the weight of workboats and Daughter crafts.
"The ProZero series low weight results in a significant reduction in fuel consumption and thus much lower CO2-emission and NoX-outlet. The vessels will simultaneously be able to go faster or achieve greater operating range ", says Managing Director of Tuco Marine Jonas Pedersen.
Illustrations are attached and further may be requested at Tuco Marine , Krogsbjergvej 2, 5600 Faaborg. Tel .: 0045 7020 3898th Email: mail@tuco.dk.
For more information contact Managing Director Jonas Pedersen on telephone 0045 7020 3898 or email: jonas@tuco.dk.
Video presentation is available at: