Glamox at the SMM 2014: New Products to Improve Maritime Security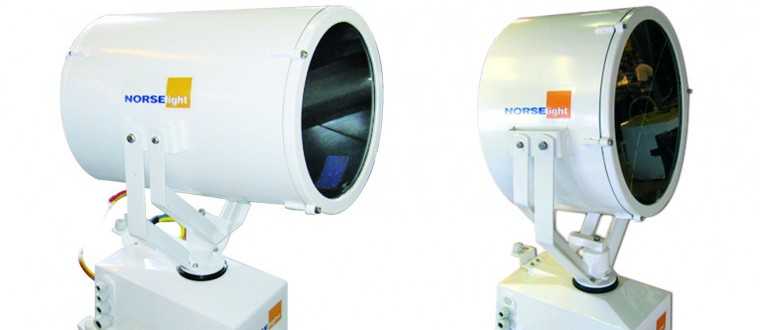 New LED lighting systems for demanding environments and searchlights for more safety
At the world's largest shipbuilding trade fair in Hamburg, the SMM, which takes place from September 9 – 12, the international Glamox Group presents new lighting systems for the marine market. This includes special LED luminaires for use in demanding environments as well as innovative searchlights for more maritime security.
 Glamox Aqua Signal GmbH, a company of the Glamox Group, presents the robust and watertight TL 60 to visitors of the SMM. It is a special LED luminaire for use in demanding environments on ships or in the offshore sector. The Bremen-based company is one of the leading international providers of special luminaires and lighting solutions for commercial shipping as well as for the offshore sector, cruise ships, megayachts and recreational boats.
One particular highlight of the TL 60 is its extremely flat construction. The new design is suitable in particular for use in areas with extreme temperatures such as open decks and engine rooms. The seawater resistant aluminium material that is used ensures good heat management with a long product life at the same time. Hence, a service lifetime of up to 100,000 hours can be achieved for the LED luminaire in an ambient temperature of 45°C. The TL60 is certified for an extremely large temperature range of -35°C up to +55°C. The latest LED technology that is used in the TL 60 provides not only a long service life, high light quality and homogenous light spread, but also low energy consumption compared to conventional lights.
Preferred light source for shipping
Environmentally friendly LED solutions for the entire ship have developed into one of the focal points of the Glamox Group in the past few years. Light-emitting diodes are more economical in their consumption, last longer and are absolutely maintenance free. They are less sensitive to vibrations and shocks than conventional lighting equipment – properties that make light-emitting diodes the preferred light source in demanding applications such as shipping. Furthermore, light-emitting diodes are free of heavy metals and toxic substances.
Norselight searchlight SL40 R5
Another highlight at the Glamox Group booth is the new searchlight system of the SL40 R5 series of the Norselight brand, which provides more protection and safety on ships and in the offshore sector. Positioned in the medium price segment with very good cost-effectiveness, the product series comprises different searchlights that are characterised by their long lifetime and runtime. The searchlights are certified for ambient temperatures between -40°C and +50°C. The housing as well as motor casing are made of seawater resistant aluminium and have excellent heat management. Hence, it is ensured that the SL40 R5 will work reliably even under extreme conditions. The searchlights are operated by a joystick via an intelligent control unit. The control panel is available in two configurations.
The SMM 2014 takes place from September 9 – 12 at the Hamburg exhibition grounds. The Glamox Group will be presenting itself in hall B6, booth 204.
1) At the SMM Glamox Aqua Signal presents the TL 60, a special LED luminaire for use in demanding environments on ships or in the offshore sector.
2) The new SL40 R5 series comprises different searchlights that work reliably even under extreme conditions.
Photo credit: Glamox
About Glamox Aqua Signal GmbH
Glamox Aqua Signal GmbH is a company in the Glamox Group. Glamox is a Norwegian industrial groupthat develops, manufactures and distributes professional lighting solutions for the global market. GlamoxAqua Signal is a leading supplier of lighting solutions to the world's marine and offshore markets,including recreational boats and mega yachts.
The Glamox Group is a global organization, with 1200 employees and sales and production in severalEuropean countries, as well as in Asia and North America. The annual turnover is EUR 263 million(2013). The Group owns a range of quality lighting brands including Glamox, Aqua Signal, Luxo, HøvikLys and Norselight. Glamox is committed to meeting customer needs and expectations by providingquality products and solutions, service and support.