Naming Ceremony ART 80-32 Hybrid Rotortug RT Evolution in London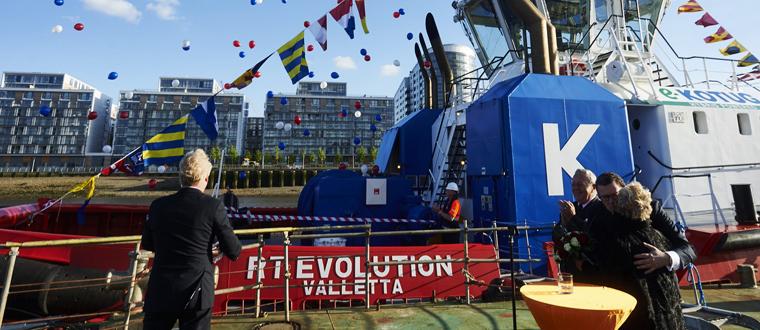 On May 18th, 2015, the Damen-built ART 80-32 Hybrid Rotortug RT Evolution was named at the Greenwich Ship Tier in London during the cocktail reception of 'Tugnology Conference'.
Mrs Elizabeth Brunton-Reed, spouse of The ABR Company's Chairman Mr Allan Brunton-Reed, performed the christening of RT Evolution in attendance of her family and Tugnology delegates. KOTUG chose the sponsor lady to express its appreciation and gratitude for the commitments and achievements of The ABR Company.
KOTUG's CEO Ard-Jan Kooren stated: "We are proud that Mrs Elizabeth Brunton-Reed accepted our invitation. We appreciate the important role of Mr Allan Brunton-Reed in bringing the maritime industry together by organising conferences, exhibitions and Tug & Salvage magazines to inspire other people for almost 25 years."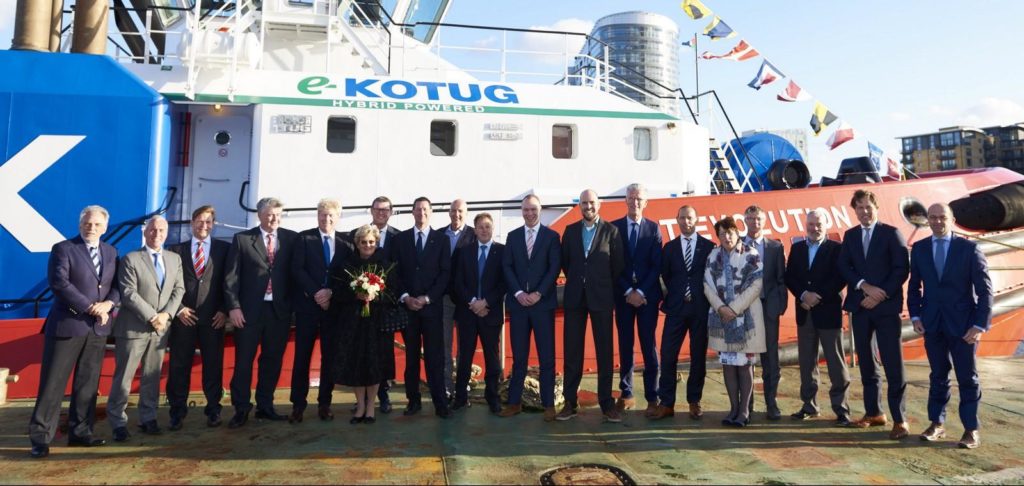 KOTUG nowadays operate three hybrid Rotortugs. RT Adriaan and RT Evolution are operating in the Port of Rotterdam and RT Emotion commenced her towage activities in the German port of Bremerhaven recently. RT Evolution and RT Emotion, both 32- metre hybrid next-generation ART80-32 Rotortugs® are new Damen-built tugs and designed by an alliance of Rotortug B.V. in the Netherlands and Robert Allan Ltd in Canada.
"It is good to show the RT Evolution hybrid tug to the tug community during the Tugnology Conference. The close cooperation between Kotug and Damen has resulted in this advanced Rotortug", explains Damen CEO Arnout Damen.
Seen as a true advancement of hybrid technology and performance, the propulsion configuration draws on the proven design of KOTUG's RT Adriaan – world's first hybrid Rotortug® built under class. The green results of the E-KOTUG series are 50% less harmful emissions, significant noise reduction, cleaner combustion and substantial maintenance savings thanks to improved fuel economy. The Rotortug's hybrid capacity is generated by three electric motors, complemented by a battery pack and managed by an intelligent XeroPoint Hybrid Propulsion System.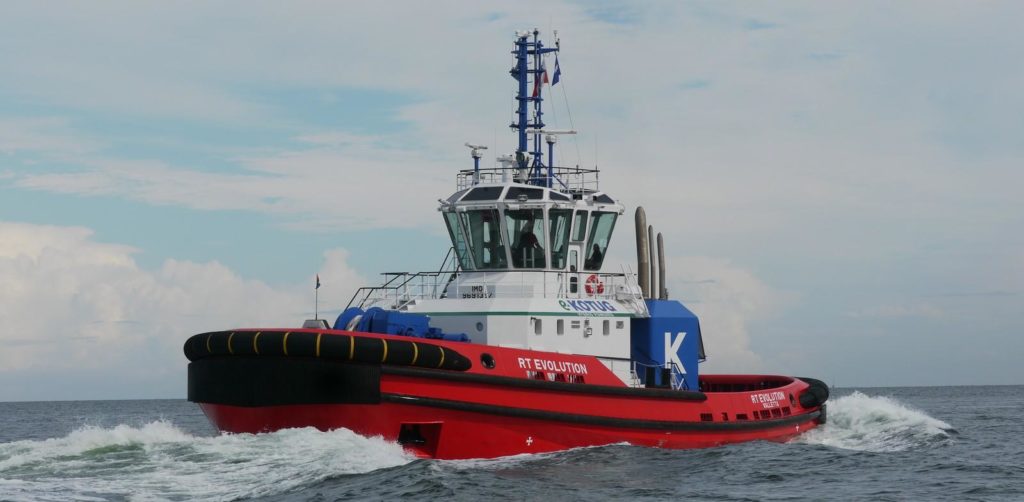 About KOTUG
KOTUG is a leading towage operator offering its innovative services on a global scale. KOTUG operates in a variety of markets including towage services to ports, terminals and at sea as well as in the salvage, offshore and dredging industry. KOTUG is committed to the highest industry standards of health, safety, environment, quality and security. www.kotug.com
About The ABR Company
Specialises in four particular areas of the international maritime industry: tugs & towing, offshore and salvage. Chairman Allan Brunton-Reed, for many years now has published a wide variety of nautical books and magazines and organised international conferences and exhibitions. The company maintains on a daily basis a 12,500+ database of people around the world who are involved in the tug, towing, OSV and salvage business – currently 116 countries. The database is used for the distribution of our bi-monthly magazine International Tug & OSV as well as the annual Tug & OSV Review and numerous supplements. It is also used for marketing our highly successful ITS Conventions and Tugnology Conferences. The company also stocks a wide range of publications dealing with the tug, towing, salvage and OSV business, which are available through The ITS Book Club.
Damen Shipyards Group
Damen Shipyards Group operates 32 shipbuilding and repair yards, employing 9,000 people worldwide. Damen has delivered more than 5,000 vessels in more than 100 countries and delivers some 160 vessels annually to customers worldwide. Based on its unique, standardised ship-design concept Damen is able to guarantee consistent quality.
Damen's focus on standardisation, modular construction and keeping vessels in stock leads to short delivery times, low 'total cost of ownership', high resale values and reliable performance. Furthermore, Damen vessels are based on thorough R&D and proven technology.
Damen offers a wide range of products, including tugs, workboats, naval and patrol vessels, high speed craft, cargo vessels, dredgers, vessels for the offshore industry, ferries, pontoons and superyachts.
For nearly all vessel types Damen offers a broad range of services, including maintenance, spare parts delivery, training and the transfer of (shipbuilding) know-how. Damen also offers a variety of marine components, such as nozzles, rudders, anchors, anchor chains and steel works.
In addition to ship design and shipbuilding, Damen Shiprepair & Conversion has a worldwide network of 15 repair and conversion yards with dry docks ranging up to 420 x 80 metres. Conversion projects range from adapting vessels to today's requirements and regulations to the complete conversion of large offshore structures. DSC completes around 1,500 repair and maintenance jobs annually.