Anti Piracy: Seychelles – Paradise Under Attack by Pirates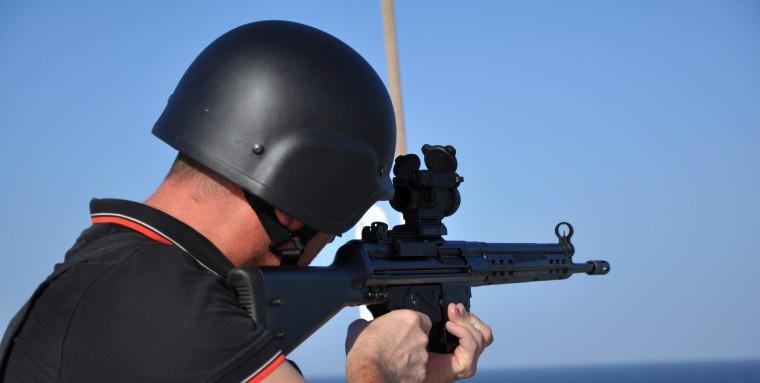 By Lilly Black
Seychelles has long had a reputation for being a honeymooner's paradise. Beautiful beaches, palm trees, year round sunlight without the heat, erotic fruit; what more could a couple ask for to set the romantic mood? But recently Seychelles' relaxing reputation has been tainted by a dark shadow that threatens to destroy their entire economy.
Seychelles is an archipelago in the western Indian Ocean, comprised of 115 granite and coral islands adding up to only 174 square miles of land. These islands extend between 4 and 10 degrees south of the equator, and lie between 480km and 1,600km from the east coast of Africa. All but a few of them lie outside the cyclone belt, allowing locals and tourists alike to rest easy from the threat of severe storms. The climate stays within 24°C-32°C year round, making it vacation perfect at all times. It is home to the Coco-de-mer tree, which boasts the largest seed in the world, the jellyfish tree, the Seychelles warbler, and many other fantastic specimens of nature.
Normally, this unique vacation haven is bustling with tourist activity. But the piracy problems have considerably slowed this vital industry, with potential visitors scared away by the threat of pirate raids. And their concern comes with good reason, given recent events. Pirate attacks have surged, and have yet to slow their pace.
A few years ago retired couple from Tunbridge Wells left Victoria, the capital of Seychelles, heading North-west aboard their yacht, the Lynn Rival. They were intercepted by Somali pirates after only travelling 60 nautical miles. Held at gun point, a multi-million pound ransom was put on their heads as they were held at a secret jungle location. But after months of frantic negotiations, they were finally freed.
Pirates attacked the Italian cruise ship MSC Melody 200 miles north of Seychelles. The ship's crew managed to fight off the pirates attempting to hijack the ship by using guns and a fire hose.
In another incident, four fishermen were rescued by the Seychelles coast guard. The men and their boat had been captured by Somali pirates. As a result of the rescue operation seven sea bandits were detained.
A number of attacks forced an entire Spanish fishing fleet into port, and the multimillion pound ransom demand of a Spanish Tuna boat in the area caused Spain to allow armed personnel on board their vessels. France has already put this plan into practice after some incidents of their own. The fleet based in Seychelles has been reduced in number from 52 boats to 45, and they each now sail with 5 heavily armed solders. Several attacks have happened since then, but have been repelled by France and Spain's respective defensive personnel.
Denmark and the Republic of Seychelles has reached an agreement that Denmark will accept, jail and prosecute pirates captured by their warship Esbern Snare. Up until recently, when pirates were detained, there was no legal recourse to hold them due to a lack of international procedure for prosecution. However, this agreement means that there is finally an active plan in place to prosecute the those who are doing so much damage in the Seychelles area. The convicted pirates will be incarcerated in Somalia.
Denmark's warship Esbern Snare is one of 28 NATO ships involved in Operation Ocean Shield, which is a NATO-coordinated anti-piracy action. Several pirates have now been captured and sentenced to long periods of jail time, which will hopefully deter further pirate activity.
The frequent attacks have caused significant decreases in the tourism and fishing industries. One fear that constantly worries those in the tourist business is the possibility of a pirate raid on one of the island's beaches, which would scare off many wealthy European tourists. This would cause an even further drop in Seychelles' already deteriorating economic situation. And fishing has suffered as well, with a 30 percent fall in catches since the pirate's arrival. This is cause for much concern in Victoria, Seychelles island capitol. The MW Brands Tuna plant is the island's biggest employer, and supplies one fourth of all the tuna eaten in the EU. If the plant was to shut down, the people who live on Victoria would have very limited job opportunities. According to Joel Morgan, known as the "Minister for Piracy", anti-piracy efforts cost $9m from a budget of $200m last year alone, taking yet another bite out of Seychelles financially.
Although the current pirate threat appears to be a recent development, pirates have actually been associated with Seychelles for a very long time. Seychelles had no population before 1756, and so became a favourite spot for buccaneers. It was used as a place to regroup, repair ships, plan raids, and most importantly, burying plunder. Pirates such as Olivier Levasseur are rumoured to have buried fantastic treasure on Seychelles, and many of these legendary treasure troves have never been discovered.