MarineCo Orders Newly Designed Damen MultiCat 2712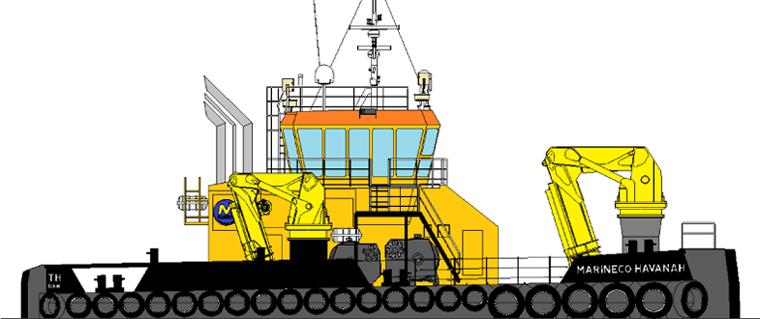 MarineCo UK  has contracted Damen Shipyards Group for a Multi Cat 2712. The vessel will be delivered in April 2015. Mr. Mike Conafray, Managing Director at MarineCo stated that, after a long evaluation, with alternative builders, Damen came through with the right vessel at the right cost,
the new vessel will comfortably  sit alongside our existing all-Damen Fleet. Marineco UK is one of the few UK operators with an all-Damen fleet. The new vessel is to be named Marineco Havanah, after the arrival of Mike and Kaye's twin granddaughters Ava and Hannah.
The Multi Cat 2712 is the second contract for this new type in the Damen Multi Cat Series, It measures 27 metres in length and 12 metres in width. The vessel is equipped with two engines and has a maximum bollard pull of 35 tonnes.
The Damen Standard  
Because of its measurements, the Multi Cat 2712 is a vessel that can be used for many purposes. A decision about the working area of the Multi Cat will be made later.
The vessel is very flexible and developed according to the Damen Standard, with attention for a logical, functional and maintenance friendly design of wheelhouse and deck layout.
Damen has a long standing relationship with MarineCo, previously delivering high speed support vessels, Multiple FCS 2610 Twin Axes, a Damen Stan Tug 2608, Multi Cats and Damen Shoalbusters to the flourishing company. As MarineCo Managing Director Conafray says himself: "We have an entire Damen fleet". MarineCo is an offshore industrial company, currently, their Stan Tug 2608 is operating in Abu Dhabi, towing rock barges 24 hours a day.
Damen Multi Cat – a versatile workboat
The Multi Cat, another Damen invention dating four decades back, is a highly successful all-round workhorse. Today, Multi Cats around the world with Bureau Veritas Unrestricted Navigation and IVW/MCA service notation steadily perform the duties they are designed for in a variety of markets, such as dredging, towing and offshore wind. From anchor, pipeline or cutter-head handling and repair, to transporting fuel, supplies, spare parts and crew transport to wind turbines. Multi Cats have a large working deck, one or two cranes and both a stern and blow roller.
The larger Multi Cats can be equipped with Dynamic Positioning e.g. DP2. From shifting dredgers from one location to another, to assisting cable-laying barges – a Multi Cat can be deployed for many river, inshore and offshore tasks.
Marineco UK
Marineco UK is an Edinburgh based operator, established in 1996 who operates various  types of Damen-built vessels working throughout the world 24/7. Marineco UK employs over 70 staff and crew from as far afield as Mexico to Singapore.
Damen Shipyards Group
Damen Shipyards Group operates 32 ship- and repair yards, employing 9,000 people worldwide. Damen has delivered more than 5,000 vessels in more than 100 countries and delivers approximately 160 vessels annually to customers worldwide. Based on its unique, standardised ship design concept Damen is able to guarantee consistent quality.
Damen's focus on standardisation, modular construction and keeping vessels in stock leads to short delivery times, low 'total cost of ownership', high resale value and reliable performance. Furthermore, Damen vessels are based on thorough R&D and proven technology.
Damen offers a wide range of products, including: tugs, workboats, naval and patrol vessels, high-speed craft, cargo vessels, dredgers, vessels for the offshore industry, ferries, pontoons and super yachts.
For nearly all vessel types Damen offers a broad range of services, such as maintenance, spare parts delivery, training and transfer of (shipbuilding) know-how. Finally, Damen offers a variety of marine components, especially nozzles, (flap-type) rudders, steering gear, anchors, anchor chains and steel works.
Damen Shiprepair & Conversion
In addition to ship design and shipbuilding, Damen Shiprepair & Conversion offers a network of 15 repair and conversion yards worldwide, with dry docks ranging up to 420 x 80 metres. Conversion projects range from adapting vessels to meet today's requirements and regulations to the complete conversion of large offshore structures. DS&C handles 1,500 repair and maintenance jobs annually.
For further information please contact
Jan-Hein Reeringh
Communications Advisor
+31 (0) 183 63 98 82
+31 (0) 612 20 77 96