DBR's Gensets Ready for Offshore Action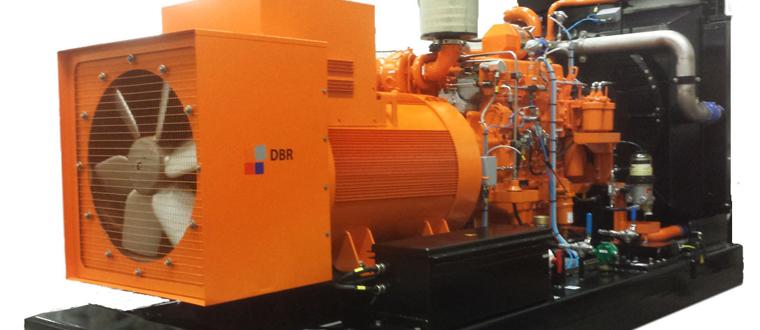 As well as standard and custom made generator sets for the maritime and offshore markets, DBR is also specialized in manufacturing ATEX-95 Zone 2 systems. Requiring significant modifications compared to the standard systems, these generator sets deliver a safe and efficient power supply to the offshore Oil & Gas industry.
"We can supply ATEX-95 Zone 2 gensets with a power range between 50 and 2,000kVA," comments DBR Managing Director Herwin Roodenburg. "These gensets are manufactured according to the latest regulations required in hazardous offshore areas."
In order to gain ATEX certification, DBR performs several modifications to reduce the risk of an explosion. "To ensure a spark-free atmosphere and to keep all surfaces below 200°C, we use water-cooled turbochargers and water-cooled exhaust manifolds. Also, anti-sparking fans are used to cool the engine," explains Mr Roodenburg. "To reduce the exhaust temperature to below 200°C we use an additional head exchanger with a spark arrestor and a flame screen."
The electrical aspects of the generator set also have to be adapted: "To create a spark-free environment, we use a marine certified control panel in an explosion proof enclosure," continues Mr Roodenburg. "We install flame traps and gas detection sensors on the air inlets as well as using ATEX-certified alternators and starter motors."
Such extensive modifications do take up more space than standard generator sets however. "We have been manufacturing Zone 2 certified generator sets for over 20 years now – so we have a lot of experience in keeping the footprint down to a minimum," he says. In fact, DBR can install all of its ATEX-95 Zone 2 certified generator sets in DNV 2.7-1 offshore frames. "This is crucial to our Offshore customers."
"As safety issues become more pertinent, the market is responding by demanding more and more Zone 2 certified generator sets," concludes Mr Roodenburg. "We are seeing significant growth in the South-East Asian market in particular."
Based in Sliedrecht, the Netherlands, DBR provides customized solutions in the field of power supply for offshore platforms, ships and onshore applications.