With Zero Barnacle Growth After 63 Months in Major Biofouling Hotspots, Tanker Vessel M/T Calypso Validates Selektope® Antifouling Ability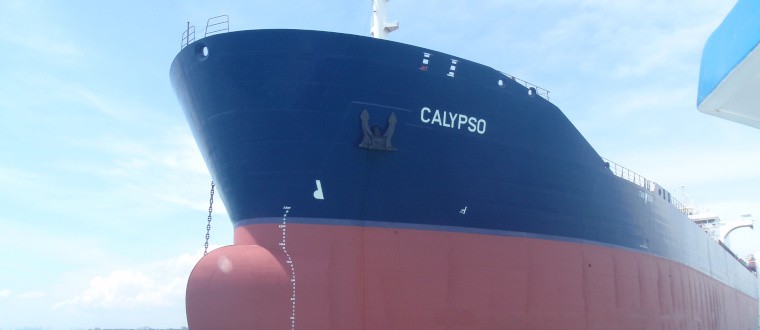 Performance analysis of M/T Calypso, the first vessel coated with a 60-month paint system containing Selektope®, demonstrated average speed loss of just -0.5% during the service period
Swedish biotechnology company, I-Tech, has announced that the M/T Calypso has demonstrated zero barnacle growth after a 63-month operation thanks to its proprietary antifouling technology, Selektope®.
In November 2015, the vertical sides and bottom of the hull of Team Tankers-operated tanker, M/T Calypso, were painted with a 5-year Selektope®-containing, copper-free antifouling product. The period tested the efficacy of the first 60-month paint system containing the active antifouling agent, and saw the vessel operate through heavily impacted fouling areas known as 'hotspots' across global routes, formally completing its operations earlier this year.
During this period, M/T Calypso displayed an average weighted speed loss of only -0.5%. Analysis of the M/T Calypso's performance was carried out using Molflow's AI-ship modelling tool "Slipstream", training multiple Neural Network models to describe the vessel's behaviour at certain points in time and comparing their predictions for calm atmospheric and oceanic conditions.
This performance compares favourably to industry averages — separate data collected by coating manufacturer Jotun shows an average of 6% annual vessel speed loss, as a result of reduced hull optimisation created by fouling, based on data collected from sensors to enable performance-based monitoring based on standardised principles (ISO 19030)[1].
In addition to sailing in hotspot areas, M/T Calypso spent long periods at anchor where there is increased risk of hard marine fouling by barnacles, whose larvae can only attach to the hull when the vessel is at anchor or moving at slow speeds of up to 6 knots. Regular underwater hull inspections during operation reported almost a complete absence of hard fouling in any of the vertical sides or flat bottom of the hull, and the ship's hull was not cleaned at any time during the coating's service life.
M/T Calypso laid at anchor for one month while waiting for dry dock, exposing the hull to a very high fouling risk. When the ship was taken to dry dock and inspected in February 2021, after 63 months of operation, the hull's paint showed a normal amount of wear but no growth of barnacles.
Commenting on the strong performance of Team Calypso, I-Tech AB CEO, Philip Chaabane: "Despite the fact that Team Calypso has been active in the harshest conditions for marine fouling for the past 63 months, data on the ship's sustained performance show that the Selektope®- containing antifouling paint has helped maintain the ship's efficiency. The owner of this tanker will benefit from the fuel savings that can be associated with the power of Selektope®'s ability to protect the hull from barnacles. Data analysis and inspections of the hull provide strong evidence that proves Selektope®'s high-performance protection against hard marine fouling, regardless of the ship's activity or movement patterns."
Biofouling, especially 'hard' fouling caused by shell-forming marine life such as barnacles incurs significant performance penalties for vessels due to their increased hydrodynamic drag created by their volcano-shaped shells. Studies show that a vessel with just 10% barnacle coverage requires an increase in shaft power of 36% in order to maintain the same speed through the water compared to a vessel free of hard fouling, resulting in significantly higher fuel costs and emissions. Tackling biofouling is an increasing priority for vessel owners. As climate breakdown raises global sea temperatures, biofouling hotspots are growing, while congestion at ports around the world means vessels are spending longer waiting at anchor; all while regulatory pressure to reduce emissions is growing.
Capt. Pär Brandholm, Senior Performance & Technical Manager at Team Tankers International: "After operating predominantly in tropical and sub-tropical regions, the fact that that the average weighted speed loss is significantly lower than for other vessels in our fleet, is hugely impressive – and will have a tangible impact on fuel costs and emissions. We encourage all owners and operators to remain proactive in avoiding the performance penalties created by hard fouling and assess their operating profile, performance data and consider whether the antifouling technology mix within their coatings will provide adequate protection."
The case study report on the vessel's coating performance can be found here.
Image: Calypso was painted with the Selektope-containing antifouling coating.